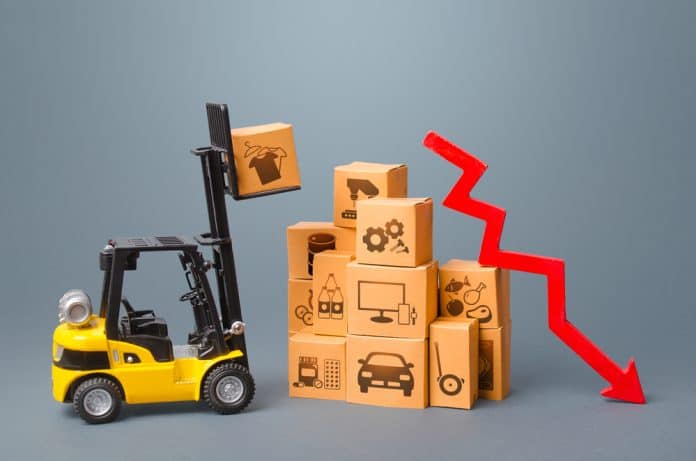 This time a year ago, there were over 100 cargo ships stationed off the coast of California awaiting their turn to unload in the ports of Los Angeles and Long Beach. Today however, things off the coast of Southern California look starkly different – with almost no one waiting in line. As the Economist put it, "The easing of port traffic and the opening of other supply-chain bottlenecks have led to a collapse in freight rates," which have cascaded from their mid-pandemic, all-time highs.
The Data
The cost of shipping a standard, 40-foot container from China to the West Coast of the U.S. lie at just $1,400. This figure is down a shocking 93% from its peak in September of 2021, when the cost to ship a container from China to the Ports of Los Angeles was approximately $20,000 according to Freightos, an online freight marketplace.
These market conditions and figures mirror those of February 2020, just before the pandemic really struck much of the world. Costs for other major routes have seen a similar trajectory, as consumers look to save during times of such high inflation. An estimated 40% of inflation between 2019 and 2021 was caused by shocks to the supply chain, according to The Federal Reserve Bank of New York.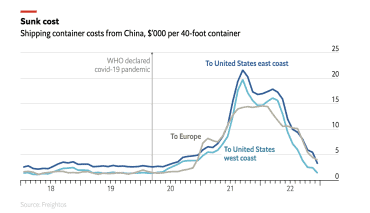 Another common metric used to calculate the overall productivity of the shipping industry are TEUs – or twenty-foot equivalent units. According to Global Port Tracker, U.S. ports handled 1.78 million TEUs this past November, down 15.8% from November 2021, and a substantial 11.3% decrease month-over-month from October of 2022.
November of 2022 marks the first time since July of 2020 that U.S. ports have handled less than 2 million TEUs. "After nearly three years of COVID-19's impact on global trade and consumer demand, import patterns appear to be returning to what was normal prior to 2020," Hackett Associates Founder Ben Hackett said.
In Conclusion
While U.S. ports have yet to release their numbers for December 2022, Global Port Tracker estimates that December rates will also be below 2 million TEUs, somewhere around 1.88 million. Forecasts for January and February also look to be below the 2 million threshold mark, but some like Hackett aren't concerned.
"Nonetheless, as inflation eases and consumer spending returns, we project that growth will slowly return going into the second half of the year," Hackett went on to add. Some are looking at this lull as an opportunity to address the issues the pandemic shown light on, as there is a return to TEU volumes over 2 million expected by May of 2023.