Below is an overview of U.S. Exports, with the U.S. being the world's third biggest exporter, exports account only for 13 percent of the country's GDP.
The main U.S. exports are:
1. Capital goods (22 percent of total exports)
2. Industrial supplies (22 percent)
3. Other categories, including consumer goods (8 percent) and petroleum (7 percent). In 2018, exports of petroleum reached a record high of $172.4 billion.
According to RadingEconomics.com, in 2018, main export partners of the U.S. were:
1. Canada (18 percent of total exports)
2. Mexico (16 percent)
3. China (7 percent)
4. Japan (4.5 percent)
5. United Kingdom (4 percent)
6. Germany (3.5 percent)
Volume by TEUs for the top 10 U.S. export destinations below, according to Descartes Datamyne, shows an increase in certain volumes during 2019, mainly due to the tariff battle between the U.S. and China.
The U.S. has invested in close relationships with South Korea and Japan to find alternate destinations from China. Excluding trade partners in North America, China is the biggest destination for U.S. exports, so the volume is huge to recover from other countries' growth in U.S. export volume. The data below shows that a more than 20% decrease of U.S. exports to China affected around 5% of overall U.S. export volume. The other 15% comes from other countries' growth besides the U.S.'s top 10 export destinations.
The numbers below are based on the first eight months of 2018 versus the same period of 2019, and are in TEU (Twenty-Foot Equivalent Unit) format.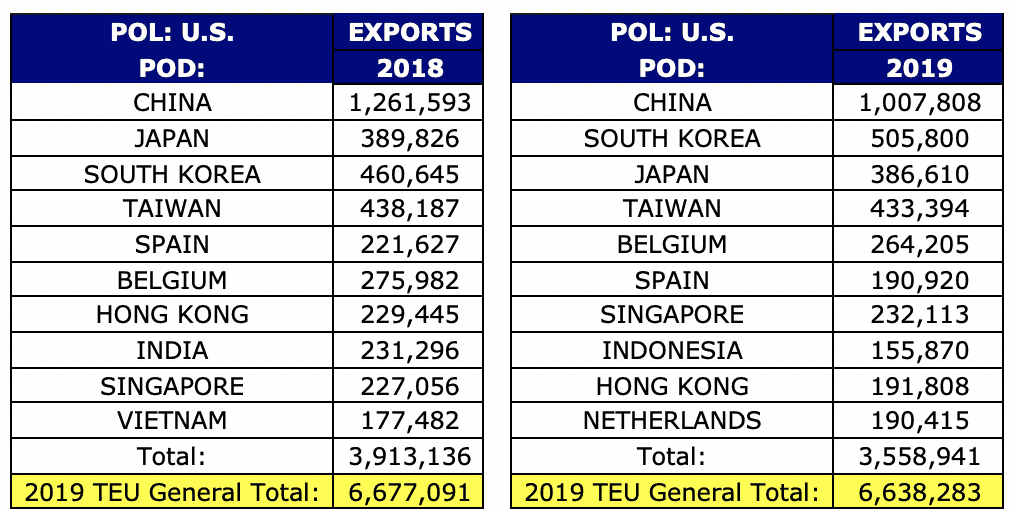 There are several reasons for the decrease in volume from the U.S. to China.
One of the main commodities which affected U.S. export volume to China is soybean and grain exports. The below picture shows decrease from 2017 to 2019 – year-by-year numbers decreased due to tariff increases from China on imports of U.S. agricultural products.
Even though China affected the decrease in soybean and grain exports, the below chart shows the increased destinations in the world versus the U.S. decrease in exports to China.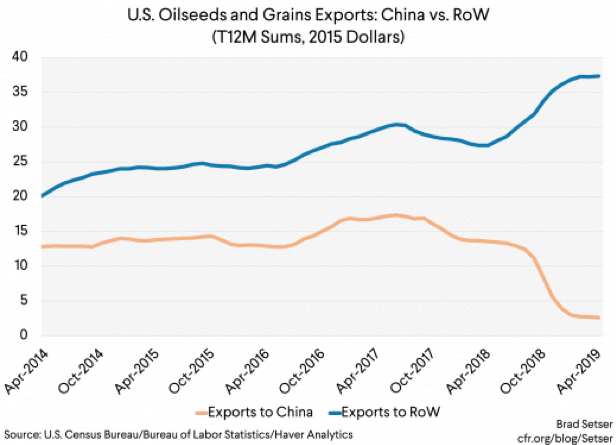 The reduction in China's purchases of soybeans clearly hurt American farmers who couldn't make up for the decrease in Chinese demand by exporting more to the rest of the world.
Overall, U.S. exports are in a depression for certain commodities. However, it's not just the U.S. that faces issues on international trade, but also other political and economic developments in Europe are affecting global economy. As a result, U.S. exports are having a hard time increasing overall.