As we roll into the second quarter of 2022 after a hellish Q1, there is but one question in everybody's mind. When will all this go back to normal? It is safe to say that all parties have adapted to the current situation, one way or another. Some parties have lost some of their workforce to a phenomenon called the Great Resignation, while others adopted to a different work style whether it is remote working, hybrid working or rotating workspaces.
However, the main question for the shipping industry has always been locating less-challenging places to ship cargo from.
The first seaport to be affected by the crisis was the Ports of Los Angeles and Long Beach, which are still somewhat congested to this day. The first solution was to re-route some of the cargo to Seattle and Oakland, which port authorities were confident that they could take the load off and regulate the cargo flow. That did not happen due to too many vessels trying to call the ports in question. Soon after, those two ports were congested worse than the ports they were trying to help. We can safely say that there are a lot of factors that go into the supply chain game such as rail connections and drayage availability.
Nowadays, almost all of the U.S. West Coast is congested for a long time so both exporters and importers turned their gaze to Gulf and East Coast Ports. Now, the U.S. East Coast shipping situation has turned sour since every port has taken their share from the congestion that engulfs U.S. seaports. Since the second option that the import market chose was the Port of Houston, the biggest petrochemical importer/exporter port in the U.S., it has proven very problematic due to slowing down the petrochemical trade in the area. The Port of Houston now faces equipment shortages, a lack of workforce due to vessels piling up and extensive supply chain problems compared to early pandemic levels. Despite all these issues, cargo handled has rose a whopping 22% in the period of December 2021/January 2022/February 2022 compared to the December 2020/January 2021/February 2021 period according to data from the Port of Houston.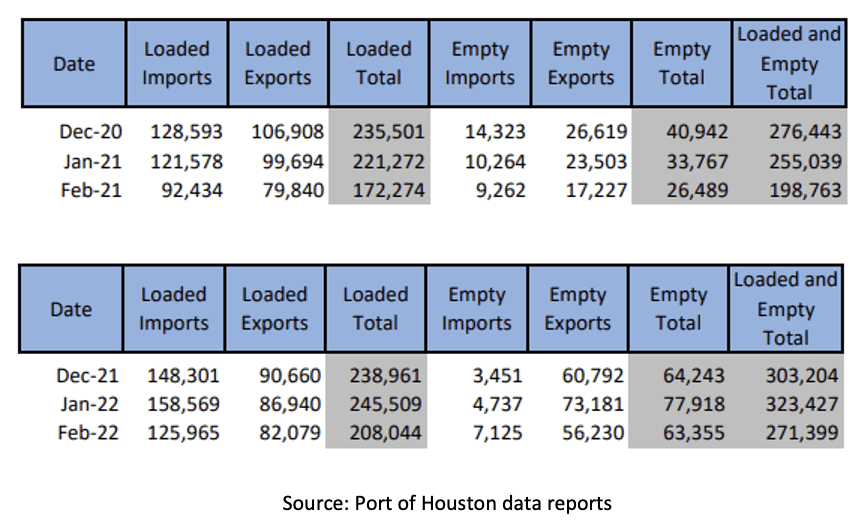 Due to the Port of Houston's congested status, cargo that was traditionally was moving through Houston has been re-routed to U.S. East Coast ports, especially Savannah and Charleston due to proximity. Although we had seen many bad examples of the piling up strategy, due to lack of direction, these two ports are also now congested. Recently, several shipping lines stopped their service to Charleston, and the existing space is very limited with the remaining carriers.
So, what can be done to fix these congestion issues and imbalances?
It is imperative that any party in the shipping business, whether you are an exporter or importer or a service provider, keep an eye out for these situations, try to predict the next move, and take extra action to prepare.
It is not always so easy to predict which port is going to be congested next, but diversifying the cargo origin and keeping cargo close to several ports is an expensive but safe choice. We all must accept the fact that last minute solutions are very rare, and planning based on these solutions will cause unreliable shipping patterns. Always take swift action based on professional opinions, always be on alert for good opportunities that is presented to you by your service providers, and acknowledge the fact that we are in different market conditions than before. So no matter how farfetched it may seem, the solution might be that farfetched option that you are presented with.
As always, we at MTS Logistics are here for you with all your endeavors, standing by to provide more than you expect.