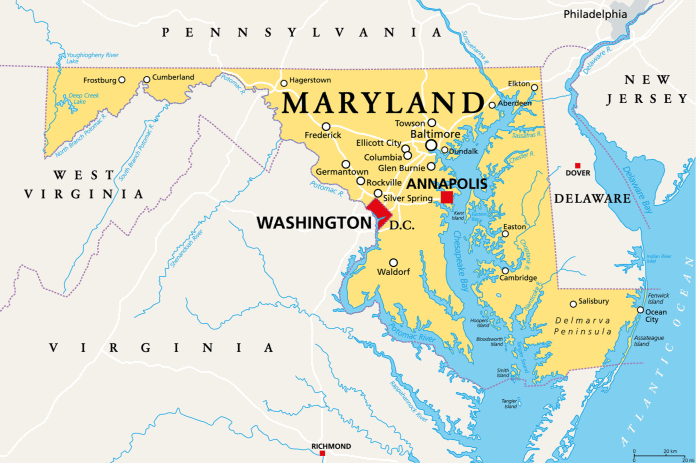 It's been a year since the world watched in nervousness and anticipation as Evergreen container line's ship Ever Given became lodged in Egypt's Suez Canal. That incident snarled container traffic through one of the world's most critical key waterways, and called into question how so-called "mega container ships" can safely navigate certain waterways.
Now, as if history is repeating, Evergreen is in the news again as another of its large vessels is stuck – in the state of Maryland.
Evergreen's vessel Ever Forward is grounded in the Chesapeake Bay after departing the Port of Baltimore a few days ago. Port officials in Maryland confirmed the ship was not causing delays, and the vessel is not stuck in a narrow waterway like the Suez Canal. There is plenty of maneuverability in the Chesapeake Bay.
According to the U.S. Coast Guard, Ever Forward became grounded after entering 25-foot deep waters, a shallow place for such a large vessel. The ship was traveling through the Craighill Channel, where water is typically 50 feet deep and went slightly off course. Along with state and local partners, the U.S. Coast Guard is assisting with the refloating and towing effort around the vessel.
Despite the similarities to the Ever Given situation that plagued the supply chain last year, officials stress that disruptions will be minimal.
Although its sister vessel Ever Given caused the supply chain to be severely affected for almost a month last year, port officials stress that ships can pass to and from the Port of Baltimore with minimal disruption. Ships are permitted to pass at reduced speed through the area.
There are other differences, too. Ever Forward is only 334 meters long, whereas Ever Given was about 400 meters long. And, Ever Forward only holds just over 12,000 TEUs of cargo, whereas Ever Given had capacity for up to 20,000 TEUs.
Despite these differences, removing Ever Forward is still proving to be a challenge for the U.S. Coast Guard and related parties, and it may be a while longer until the ship is dislodged and refloated.