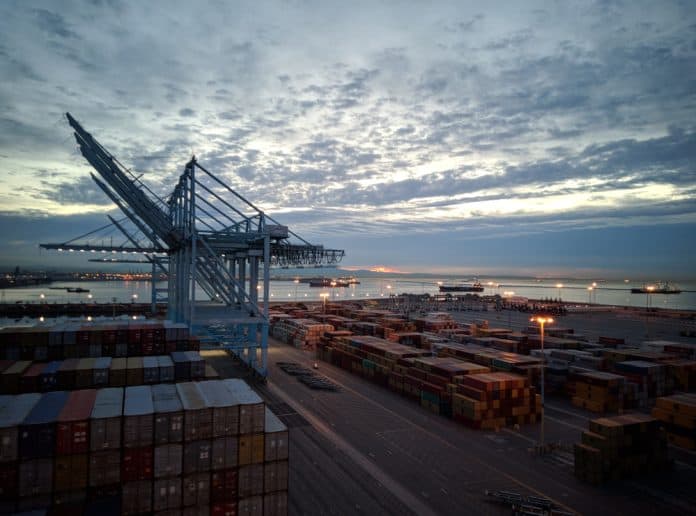 Port congestion on the U.S. West Coast, which has been an issue for months now, has shown improvement in key statistics such as container dwell times, chassis street dwell times, and vessel backlogs. The improvement has mainly been due to many importers switching ports while labor contract negotiations have stalled, according to the Executive Director of the Port of Los Angeles. Even though this sounds like good news, ports on the East Coast and in the Gulf have been struggling with these same issues for a while now, making a dent for the overall U.S. freight supply chain.
Shifting the Delays
Eugene D. Seroka, Executive Director of the Port of Los Angeles stated, "we shifted the problem from one coast to another," on a virtual press conference on Wednesday, October 19th.
Jay Timmons, CEO of the National Association of Manufacturers (NAM), added that "prolonged contract negotiations between the International Longshore and Warehouse Union (ILWU) and West Coast terminal operators represented by the Pacific Maritime Association (PMA) have seriously disrupted supply chain planning efforts by NAM members." Tense contract negotiations between US freight railroads and their unions contributed to the uncertainty. "Labor uncertainty is a big supply chain issue," Timmons went on to add.
According to the maritime data from the Journal of Commerce's Port Import Export Reporting Service (PIERS), a private source, U.S. imports from Asia increased 11.8% to the East Coast and 29.2% to the Gulf Coast, meanwhile showing a 1.7% decrease in the West Coast for the first 9 months of this year through September. On July 1st, the ILWU coastwide contract expired, giving place to many instances of cargo-handling disruptions. These tend to increase when negotiations start to drag into the fall in past contract years.
What it Means
"Improved flow is directly corelated to decreased cargo volume in the West Coast. Less cargo means fewer trucks and fewer delays," said Matt Schrap, CEO of the Harbor Trucking Association (HTA). In January, the average turn time for trucks was 92 minutes, as opposed to 71 minutes for September in the Los Angeles and Long Beach area as per the aforementioned HTA's latest research.
Continuing with the latest data, back in January there were 109 ships backed up in Los Angeles-Long Beach at the peak. Currently, there are only seven ships backed up as of Tuesday, October, 18th, according to the Marine Exchange of Southern California. During January, containers would dwell on the docks for over nine days. This was the biggest contributor to congestion. Currently, the average time for containers leaving the terminal by truck is 4.2 days, showing a 70% decrease from the peak in the Fall 2021 season.
Still Grappling with Delays
However, not all developments are good news. Average dwell time for containers in the Long Beach region to leave via rail is 15.5 days in September, currently above five times the normal three-day dwell time for rail containers when railroads are efficiently running. It is showing a slight improvement from 16.5 days in August, but as mentioned earlier there is room for improvement.
Chassis equipment shortages have also seen a slight improvement. From 11 days in early September to 9.7 days for a 40' street dwell time. "Laden import containers sitting on chassis at warehouses has been the major cause of the chassis shortages in Southern California," stated Ron Joseph, Executive Vice President and Chief Operating Officer at Direct ChassisLink. The desired dwell time is four days, showing we are heading into the right direction but there is still a long way to go before the Port of Long Beach is operating at peak performance.