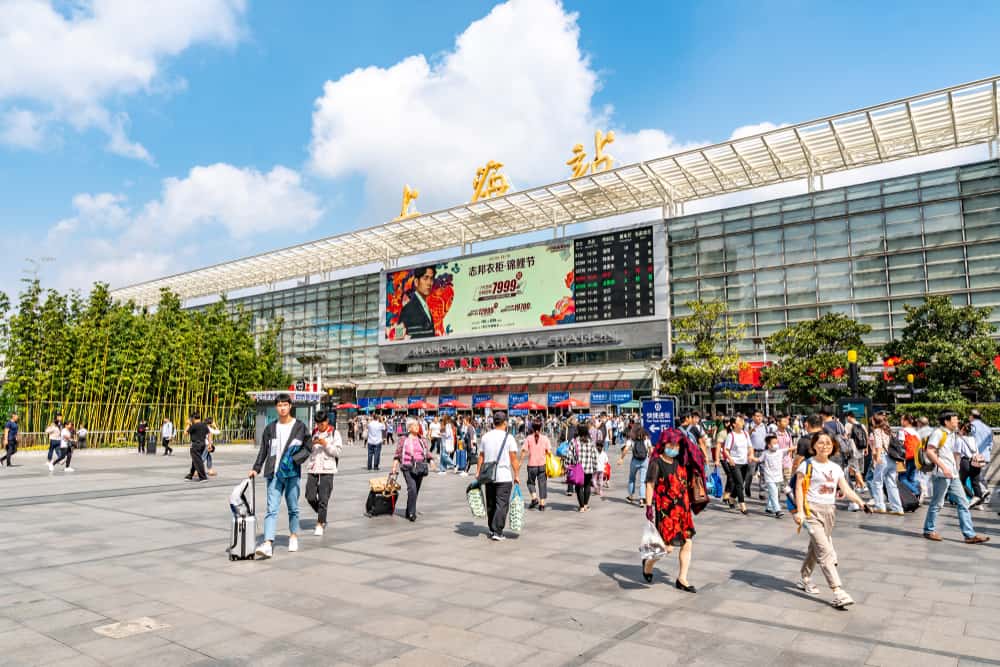 China is preparing for its Golden Week holiday.
Golden Week in China occurs twice a year, first in the winter for Lunar New Year and then again for National Day. China's National Day Golden Week is October 1st through October 8th. The Mid-Autumn Festival will coincide with China's National Day this year, leading to an eight-day holiday instead of the usual seven days. Golden Week began in 2000 as a government directive to grow the domestic tourism market. Golden Week is the largest migration in the world – around 600 million travelers plan to go sight-seeing or visit with family and friends.
Instead of people wining and dining in the comfort of their own home, and even amid COVID, people want to get out more for a consumption "upgrade" of sorts. Gaining new experiences and seeing new places are popular methods for holiday spending. Certain areas of China will see a big increase of travelers this year. Over 500 Chinese attractions have reduced or waived entry fees to encourage travel and boost spending. According to the travel booking platform Ctrip, the Yellow Crane Tower in Wuhan is a top attraction this year, followed by Disneyland Shanghai. It is worth noting that last year's Golden Week generated RMB65 billion, around $9.5 billion USD.
There has been nine months of pent up demand to travel, but even so last year's 782 million total trips will not be matched. Since people cannot travel abroad, domestic travel will increase in record numbers. According to ticketing platform Qunar, there is a 10% increase in domestic flight bookings. Based on pre-bookings, the average airfare is at a 5-year low around 895 yuan ($132 USD). This is of course due to the overcapacity of available flights. Increased consumer confidence in travel is thanks to large scale test-and-trace campaigns. Also, visitors must use a smartphone app which will display a large green signal to allow entry. The app monitors travel and records if they have been to any of the countries COVID hot spots within two weeks.
Here are a few rankings to provide a general idea of how large a contributor China is to the global supply chain.
China is Australia's largest trading partner. One-third of Australia's exports go to China, iron-ore being the leading export. China was the European Union's second-largest trade partner, which accounts for nearly 16% of the EU's combined imports and exports (the U.S. accounting for 18% of EU's total). Within the EU, Germany is China's largest partner accounting for 18.6% of Germany's total trade. The U.S. is at a lower percentage accounting for 13.4% of total trade in 2019. Only the EU (including the United Kingdom), Mexico and Canada had more trade with the U.S. EU at 20.5%, Mexico and Canada at nearly 15% each.
China has a key role in global trade and the manufacturing supply chain. This can include materials going into China, being converted into finished goods, or components being partly made in China and then exported for further production elsewhere. Based on the World Bank's 2018 World Development Indicators, China was the largest exporter of goods in the world at $2.4 trillion or roughly 17% of global manufactured exports. Second is Germany at $1.3 trillion, or 9.9% of the global export total. The third largest exporter, accounting for $1 trillion, or 7.3% is the U.S. However, China's dominance is even higher when considering Hong Kong. Hong Kong was the fifth-largest exporter at $550 billion, or 4.1% of the global total. A large percentage of the goods counted as Hong Kong exports are in fact coming from China.
Eastbound rates are sky-high as a cargo rush of loaders push to ship before the week-long shutdown. According to the Shanghai Containerized Freight Index (SCFI), last week's rate levels were $3,856/40' to US West Coast ; $4,625/40' to U.S. East Coast. Despite warnings from Chinese and U.S. regulators, carriers may further impose GRI's. The Chinese Ministry of Transport suggested carriers add more capacity and to stop "aggressively" increasing the rates. The US Federal Maritime Commission (FMC) also gave notice by stating they are "closely monitoring blank sailings, utilization of equipment, and "revenue trends" in the current volatile environment".
Many retailers are operating at pandemic-driven peaks. For how long the peak season will last is to be seen. According to Ware2Go, a UPS company, "a holiday spike will push peak-season demand to fill and ship orders to unprecedented levels". Container demand is high, leading to shortages at various China and Vietnam ports. Forty-foot containers are particularly in high demand. Shippers are trying to load as much cargo as possible before the holiday shutdown. On the U.S. side, the Port of Los Angeles reported their strongest month ever in August. The unpredictability of consumer demand has caused volatility across supply chains. Chassis shortages, labor shortages, port and rail congestion to name a few.
All-in-all, demand is on the rise and we look forward to finding solutions for our client's needs. Please contact your local MTS representative for suggestions to creative shipping solutions.