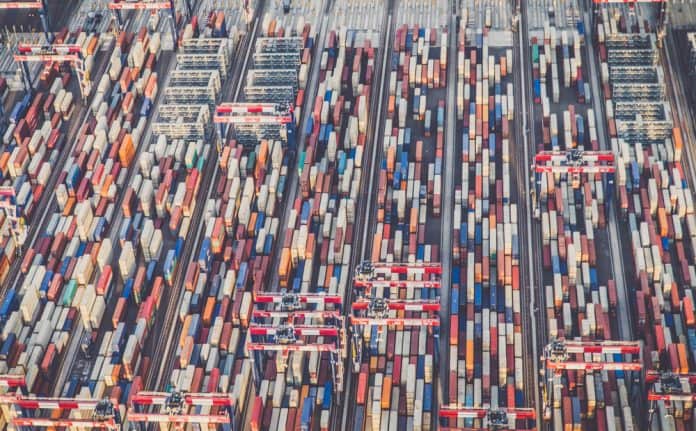 Container ships are stacking up again off Southern California's ports.
Thirty-seven container ships were anchored off the ports of Los Angeles and Long Beach in recent days. It's the highest number since February, when 40 ships waited there. The backlog, part of a global supply-chain mess caused by the pandemic, means consumers could see delivery delays for weeks.
The Southern California port complex, which has rail links to key Midwestern freight hubs in Chicago, is handling a record amount of cargo. Last year, the two ports moved a combined record 17 million 20-foot-equivalent units (TEUs) of containers, despite a COVID-related slump in the first half of 2020. The ports' forecast is to exceed that this year and move an even higher 19 million TEUs.
More cargo also means a less efficient goods movement system ashore.
Containers are stacking up at marine terminals, too, as the record volumes strain truck and rail capacity. At APM Terminals in Los Angeles, boxes are being stored for an average of nine to ten days before they move inland, compared with a pre-pandemic average of two to three days.
When the cargo is not moving quickly from ships to the shore, out through the warehouses to the consumer, everything else is going to start to back up, including manufacturers and retailers. As U.S. businesses hustle to restock inventories and prepare for the holiday shopping season, importers know it probably will take longer to get it into their systems.
This congestion, which was driven by demand for shipping also means that the cost of shipping has gone up. The current global average shipping rate is nearly four times what it was in January 2020 according to the date from S&P Global Platts. Someone is going to pay for that. It either going to come off company's profits or companies will pass it through to consumers. The longer it lasts, the more likely it is that consumers are going to pay it.