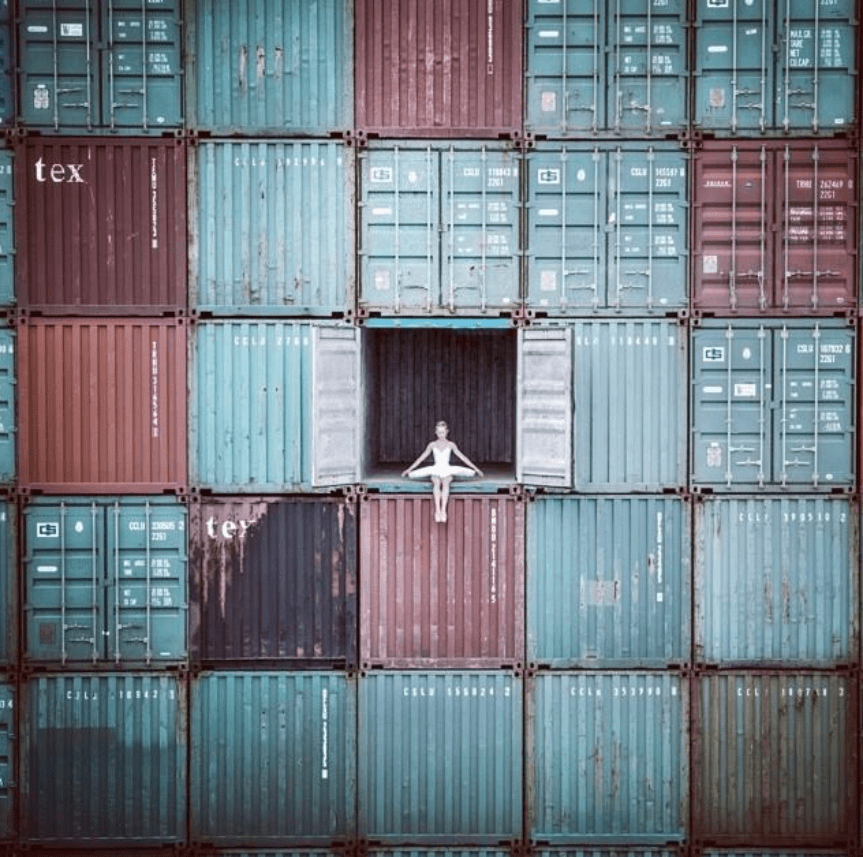 The French artist Jean René, also known as JR, is famous for his work with large-scale printed images on unconventional and glorious surfaces. Describing himself as a "photograffeur," JR has travelled around the world in search of stories to tell with his unique medium.
His search for new surfaces to apply his art even led him to a container terminal in France.
As a part of his project "Women are Heroes," JR collaborated with the Port of Le Havre to create many breathtaking images.
The work he created as a part of this project has far more depth than just being a stunning piece of art in an unconventional location. The first hint suggesting the message he wanted to send can be found in the project's title. Through this global project, JR aims to pay tribute to women all around the world. The project started in 2007, and since then, he has pasted the eyes of women on a train in Kenya, a Favela in Brazil, a demolished house in Cambodia, on bridges of Paris, the walls of Phnom Penh, the buildings of New York, and many other places.
The core of the project is encapsulated in the words of one woman he photographed, who asked, "make my story travel with you." This takes on an entirely new meaning with the Port of Le Havre stop of the project, where CMA CGM MAGELLAN (13.800 TEU) was turned into a giant piece of floating art. Using 2,600 strips of paper printed by dock workers, JR and his crew covered the containers facing starboard and port to create two eyes gazing at the world while traveling the oceans, two eyes belonging to women who will never travel across those oceans – made possible by art.
JR describes the intersection of his works with global trade in the following way: 
"We have no idea of what is in the other containers on the boat: stuff from people leaving a country to build a different life in another region, goods that will be transformed, worn, eaten in a different country. We have no idea where and how people will see this artwork but we are sure that some women far away will feel something today, and in Le Havre, we are exhausted and proud."
The video documenting the assembly of the project can be viewed at this link.
In 2016, JR and his crew returned to Le Havre, but this time to pay tribute to the dockworkers who helped him in his previous project. For their vigorous efforts, and for their contribution to JR's work, the artist raised a monumental clenched fist, the product of a combined effort of his crew and dock workers to honor their strength and sacrifice to enable the flow of global trade.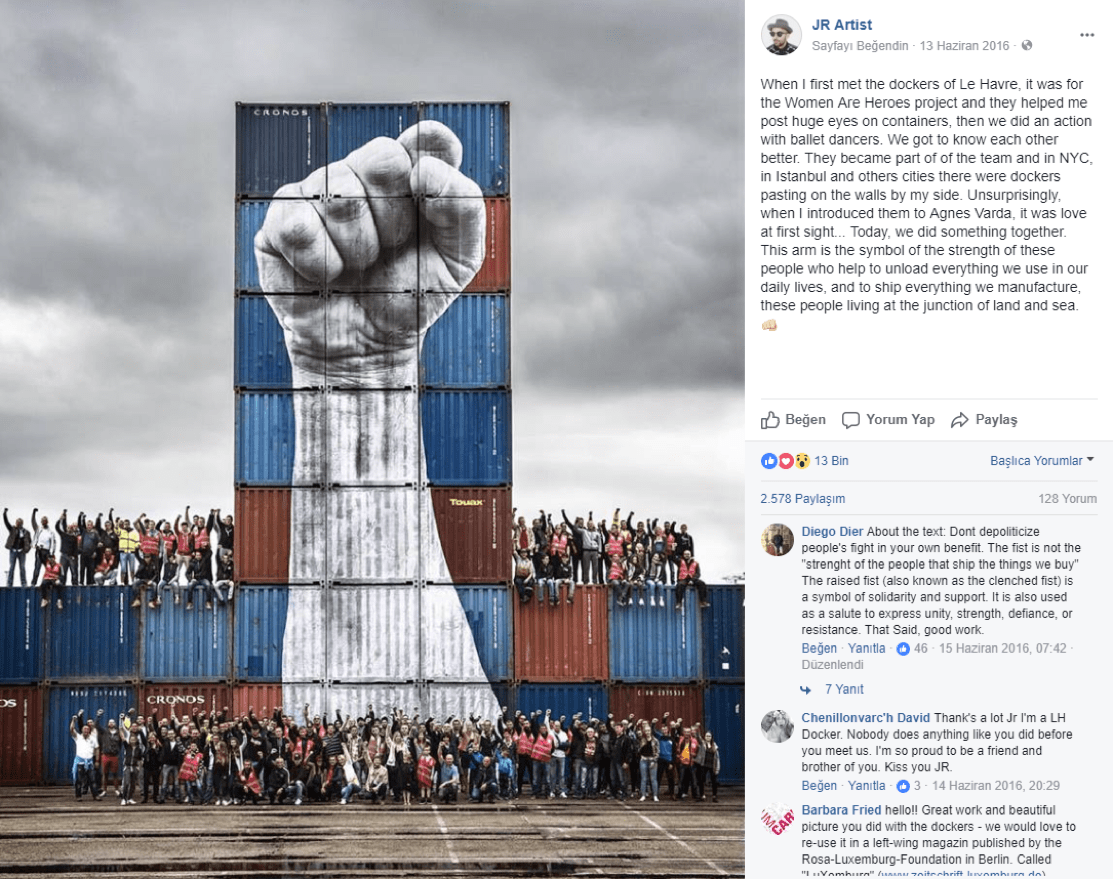 In his latest movie "Visages Villages", made with legendary New Wave film director Agnès Varda, JR returns to the Port of Le Havre to work with the women whose lives have been shaped by the port.
From a dock worker's wife to a container trucker, JR brings attention to the stories of these women. "It is important for a woman to stand up and stand tall," he says, as he prints the 70-foot images of three women on a wall of containers.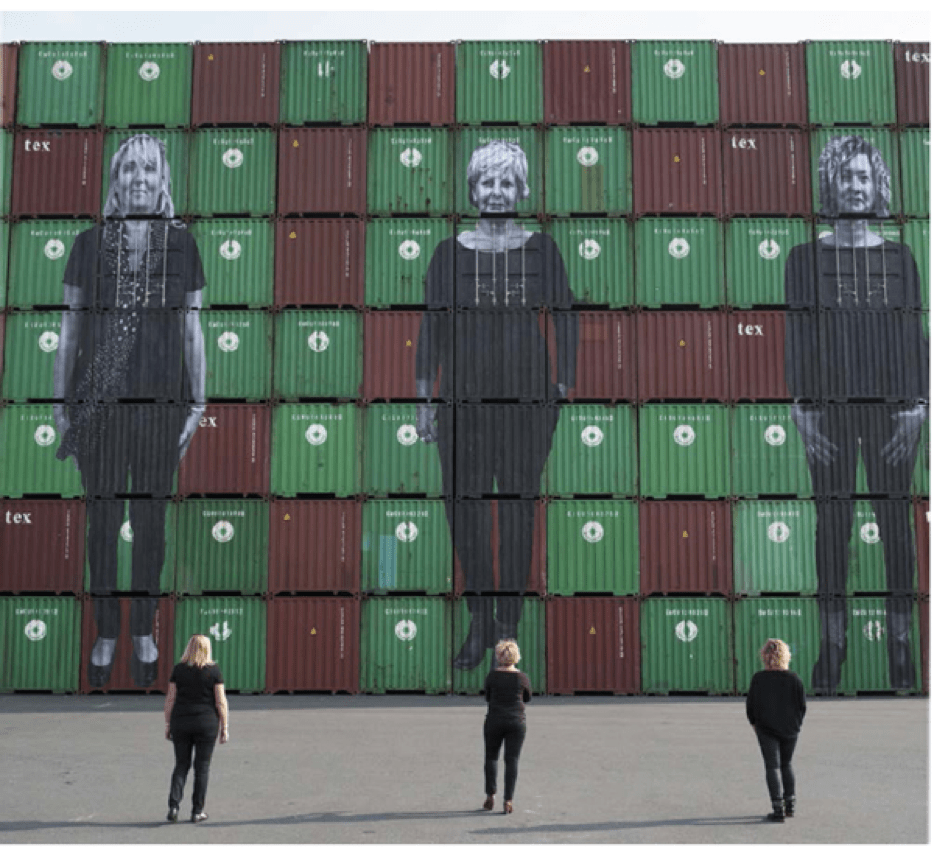 What should not be forgotten is that the Port of Le Havre is no stranger to be a subject for remarkable artists.
Oscar-Claude Monet, the great French impressionist painter, depicted the port of his hometown in 1874 with all its beauty and glory. Monet's masterpiece can be seen by visitors of the Philadelphia Museum of Art's permanent collection. Thanks to the museum's web archive, high-resolution images of the painting are also available to download from this link.
In art, many artists struggle to find their medium. Some choose to build their creations strictly in a single discipline, while others, like JR, choose not to be limited by any boundaries. His creations arise from the intersections of many different worlds with his own vision. When those interactions happened to take place at a port, he proved that even in logistics, there is room for art.