Image Source: Hexapolis
Shipping containers are revered for their durability to withstand treacherous weather overseas.
While in shipping service, a container will be utilized for 15-20 years, or until damages are too extensive for repairing. Although containers are retired after servicing the shipping industry, these steel structures can be repurposed for another 10 years or more. With various options for customizing and stacking them, these units have been reused to construct houses, hotels, offices, and restaurants, among other things. Farming is one of the most unlikely industries benefiting and being revolutionized from retired shipping containers.
Local Roots, a Los Angeles-based company founded in 2014 and the creator of TerraFarm, repurposes 40-foot containers into farming facilities capable of growing the equivalent of five acres of produce on farmland. The boxes are customized according to the specific crop, and LED lights are substituted for sunlight and then adjusted to maximize growth. Amid concerns of droughts and water shortages, the facilities require 99% less water compared to conventional farms. The design allows additional water to not be absorbed by plants, and excess vapor in the unit to be re-filtered to nurture the crops. The need for soil in traditional agriculture has also been eliminated with TerraFarms. Necessary nutrients for growth are instead provided through the water system.
The indoor environment prevents produce from being exposed to outdoor elements, which removes the need for pesticides, creating an organic product. All of these modifications, and a controlled environment, allow plants to grow twice as fast. These boxes are easily moveable and can be placed into areas with limited space, providing a local food source all year round.
Freight Farms, established in 2010 and the creator of the Leafy Green Machine™, has been an innovator in container farming with the addition of the cloud-based platform farmhand®. The software and installation of cameras provide the element of being able to remotely monitor and manage the units. Conditions and changes related to temperature, humidity, CO2, nutrient, and pH levels are available in real-time for adjustments to be made if needed.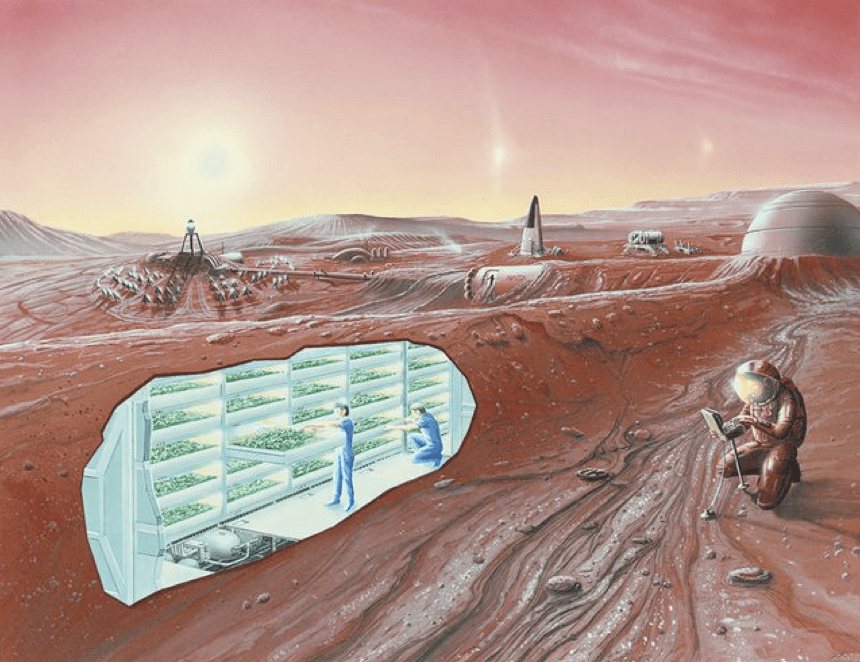 NASA has taken an interest in developing self-sustaining structures similar to the container farms and the farmhand® program to produce food in the most remote environments and extreme climates.
Through partnerships with NASA and Clemson University, Freight Farms continues to conduct further research into the possibilities of innovative systems capable of supplying food to areas influenced by disasters and working environments known for having difficult accessibility and not being ideal for food production.
Even in their retired state, containers can supply the world through constant advancements with the help of entrepreneurs.
Population growth and the demands for space and fresh produce will be large factors as to whether these farming units become a significant part of the food supply. Research put into effective farming practices is expected to not only improve conditions here on Earth, but also the prospects for space exploration.