Trade relations between the U.S. and China, and the global impact of a potential trade war between the two biggest world economies, always comes to mind first.
However, the U.S. and Europe, historically America's biggest ally politically, economically, and militarily, also face a potential trade war.
The truth is that, as said in Latin: "Alea acta est" (the die is cast) for U.S. President Donald Trump on Europe. Controversial tariffs on steel and aluminum, respectively of 25% and 10%, have begun affecting Europe, as well as Canada and Mexico.
"National security reasons" are Trump's main rational for the tariffs. Trump has not reversed promises made during the 2016 election in the name of the "America First" doctrine.
Eurostat provides charts and numbers showcasing trends. This is a good place to better understand what happened, and what will happen.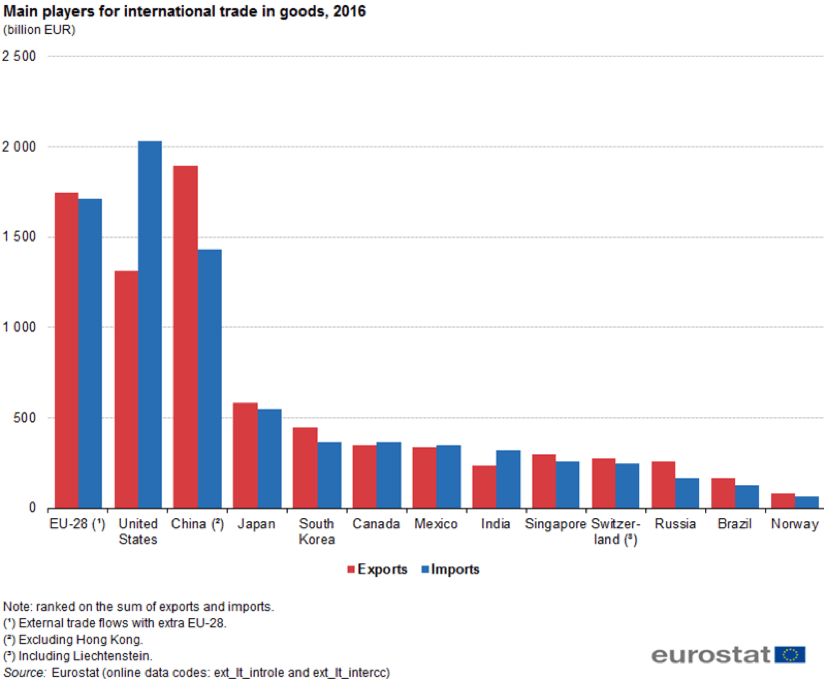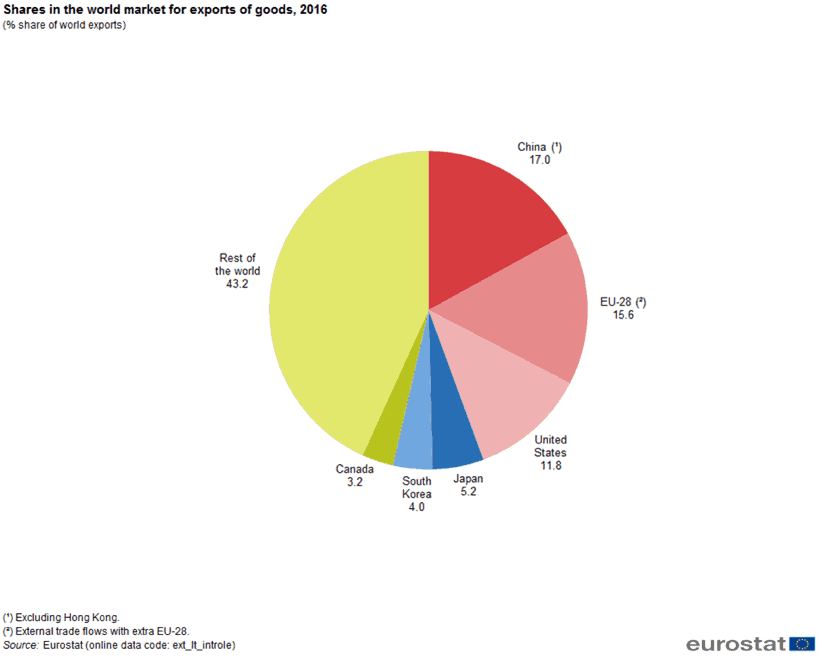 The European Union (E.U.)'s response to the tariffs is unmistakable: retaliatory measures against the U.S.
The U.S. faces tariffs from Brussels, Ottawa in Canada, and Mexico City in Mexico.
The President of the E.U. Commission, Jean-Claude Juncker, said "This is pure and simple protectionism, unacceptable." Juncker already plans to hit the U.S. hard by retaliating against "Made in the USA" symbolic products, such as Levi's jeans, Harley-Davidson motorcycles, and Kentucky bourbon.
Brussels' response is based on three main aspects:
Place duties of 25% precisely on more well-known U.S. products, among other "sensitive" things originating from U.S. states, particularly those consisting of many of Trump's voters.
Implement safeguard measures for the iron and steel industries, directly hit by U.S. tariffs. Brussels has already started monitoring imports into the E.U. for both steel and aluminum. Eurofer, the association of European steel companies, has already reported an increase of 8.4% in imports in the first four months of 2018, attributing it to turbulence created by Trump's announcements on steel and aluminum.
File a formal appeal to the WTO immediately on June 1st. According to the E.U, U.S. customs tariffs are "unjustified and illegal" for the EU, and justify international counter-action against the U.S. If necessary, the E.U. may impose further duties on U.S. products. All 28 E.U. member states must give the final approval to target a list of U.S. products for further countermeasures.
Brussels' reaction could cost the U.S. at least $ 7.5 billion, through the first round of first European tariffs.
"We will respond with all the means at our disposal," said European Parliament President Antonio Tajani. Trump's offensive on steel and aluminum could be just the beginning: the U.S. president has already opened an investigation into the import of cars in the U.S., floating a 20% tariff. Naturally, this concerns large German car manufacturers. U.S. Commerce Secretary Wilbur Ross has downplayed explaining how the U.S.-determined tariffs are very limited in scope, and says that any European countermeasures will not have a major impact on the U.S. economy. Ross warns, "We will continue to fight against commercial abuse."
U.S. tariffs on steel and aluminum had entered into force on March 1st, but Europe, together with Canada and Mexico, were temporarily exempted until June 1st, with all parties hoping to sign an agreement that would set precise quotas and limits to the import of these metals in the U.S. Such agreements were reached with South Korea, Australia, Argentina, and Brazil.
The list of U.S. products subjected to European duties contains, among other things:
Dried red beans
Some types of rice, such as parboiled or rice cracking
Peanut butter
Cranberries
Orange juice
American Bourbon whiskey
Cigarettes
Chewing and nose tobacco
Lipstick preparations
Manicures and pedicures
Numerous types of jeans
Additionally, also subjected are a series of steel products, followed by motorcycles, sail boats, motor boats, and canoes. There are also several types of cellulose, footwear, figurines, ceramic items, tempered glass, tableware, industrial and domestic washing machines, electronic translation equipment, and playing cards. The detailed list contains numerous specifications and exceptions for each product.