This past Saturday, June 10th, was great success for MTS Logistics, as we completed our 7th Annual Bike Tour with MTS for Autism with 110 bikers joining us in support of Spectrum Works, a charity which builds recognition of autism and helps young adults with autism find a job.
For the last several years, we been dedicated to the cause of supporting autism awareness. Our mission is to help individuals with autism spectrum disorders get employment opportunities, as 80% of people with autism are unemployed.
With our focus on giving back to our community, MTS Logistics recognized the serious need of supporting the cause of fighting autism.
MTS Logistics has taken action toward this cause, sponsoring a book called The Book on Autism, where all income generated from the book goes directly to autism charities, and organizing our Bike Tour annually, where MTS donates to Spectrum Works on behalf of each participating biker.
We thank each and every participant for helping us spread the word and becoming part of this great effort to raise autism awareness and get access to jobs for those with autism. Each year, we have seen increasingly more interest in MTS Logistics' Bike T0ur. This year, participants included individuals from the major global steamship lines, shippers, importers, customs brokers, and other companies within the logistics industry.
This year, bikers started to ride at Pier 84 in Manhattan at 7:30 AM – Tier 1-only riders completed 45 miles, while bikers who went on to Tier 2 completed an additional 32 miles successfully. Riders then had a break at Brighton Beach for a delicious and healthy brunch. During our brunch, we had an artist painting the autism logo for people who wanted to participate in the #GoSpectrumBlue challenge. We also had a raffle to make the event even more exciting, where MTS Logistics gave away great prizes to winners. After brunch, we rode back to our starting point in Manhattan. Overall, it was a very fun and great family and friends event.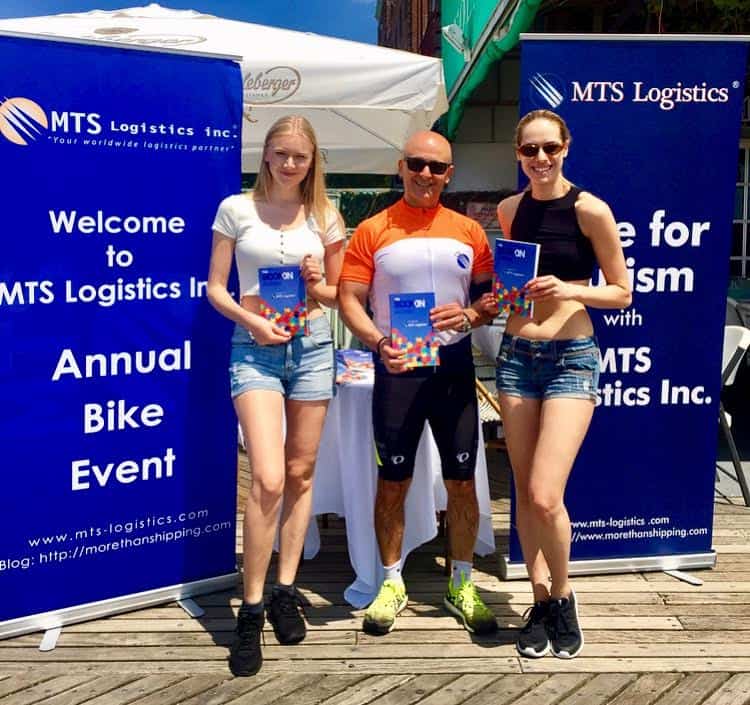 To see more pictures and details from the event, we encourage you to visit the MTS Logistics Facebook page, where you can see pictures from the event, and follow MTS Logistics to have access to our upcoming events, too.
Increasing interest and a growing number of annual participants, year-over-year, proves that MTS Logistics is on the right track to make a difference and do well by doing good, setting an example in the shipping and logistics industry. MTS Logistics truly appreciates each participant taking place in this event and helping us to give back.