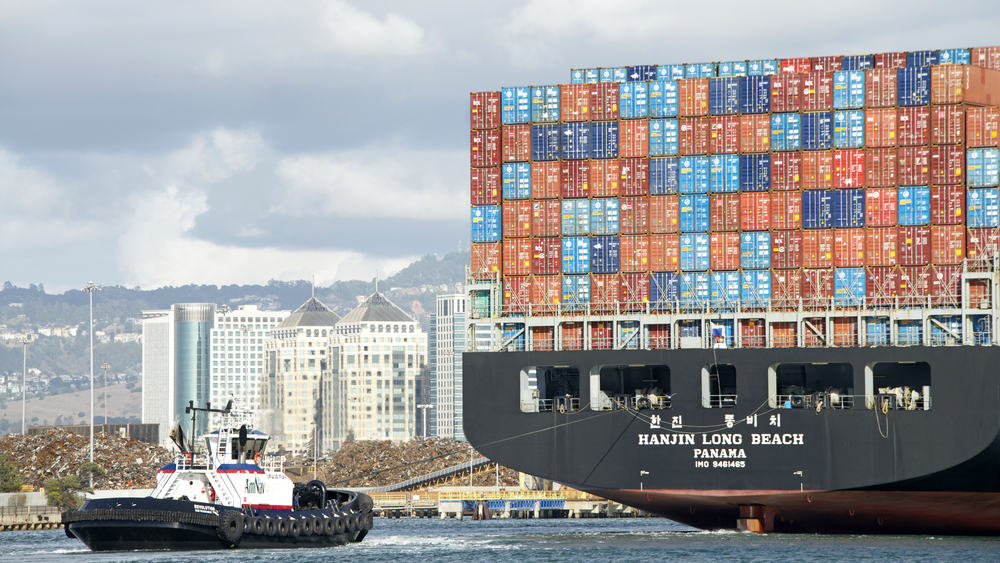 South Korea's largest shipping operator, Hanjin Shipping Company, filed for bankruptcy this past summer, due to a downturn in the shipping container industry resulting in Hanjin Shipping's financial collapse. Hanjin filed for bankruptcy at the U.S. Bankruptcy court in Newark, NJ, allowing their vessels to dock in their U.S. ports without having their cargo, equipment and ships confiscated by Hanjin's creditors after having troubles docking their ships in ports around the world.
Hanjin's terminal in the port of Long Beach was owned and operated by Total Terminals International, a company in which Hanjin held majority ownership. Judge Sherwood of the U.S. Bankruptcy Court approved the sale of Hanjin's shares in TTI, citing that it would be "the best possible deal under the circumstances and would not hurt U.S. creditors." The remaining shares of TTI are held by Terminal Investment Limited, a subsidiary of Mediterranean Shipping Company, and will be the buyer of Hanjin's shares as approved by Judge Sherwood.
The wide terms of the deal reached are necessary to prevent future collapse
The deal reached will require TIL to pay Hanjin $78 million for its shares, and forgive a $54 million debt, owed by Hanjin to TTI. Had the sale not been approved by the courts, it might have caused TTI to also file for bankruptcy, as Hanjin was its biggest customer using the terminal. TTI operated at a $37 million loss in 2016, when the terminal's volume dropped about 50%. Judge Sherwood also approved Hanjin's request for Chapter 15 status, a rule that allows businesses with foreign interests, debts and creditors to reach a streamlined process at the cross-border level. For Hanjin, Chapter 15 means that Hanjin's South Korea bankruptcy filing would be recognized by U.S. Courts, along with any sale of Hanjin's U.S. assets.
Hanjin's creditors, who say are owed "tens of millions of dollars" have opposed Judge Sherwood's approval of the sale, citing that "the sales process has not been thorough enough and executed too quickly." As a condition of the terminal sale, the South Korean courts require the funds from the sale to be transferred to South Korea for distribution. Per Judge Sherwood, "I think they are protected and I think allowing their claims to be administered here in the US, and keeping the money here in the US, would amount more to favoritism than protectionism."
The future of the shipping industry continues to change after the Hanjin Shipping collapse
After the economic downturn in the shipping industry, many large shipping lines are forming larger alliances, reducing the number of vessels or chartering their vessels while seeking to reduce operating costs. Hanjin's bankruptcy filing caused massive ripple effects throughout the global shipping industry with businesses relying on Hanjin finding their inventory stuck at sea. Retailers, such as Nike, found themselves affected by Hanjin's news. For small businesses around the globe, the effect was exacerbating. As Hanjin is dissolved by the South Korean government and its shareholders, Hanjin employees in international offices will be experiencing lay-offs and Hanjin's assets will be sold. Hanjin was one of the largest shipping operators in the globe, and is now ranked as the 24th largest operator.