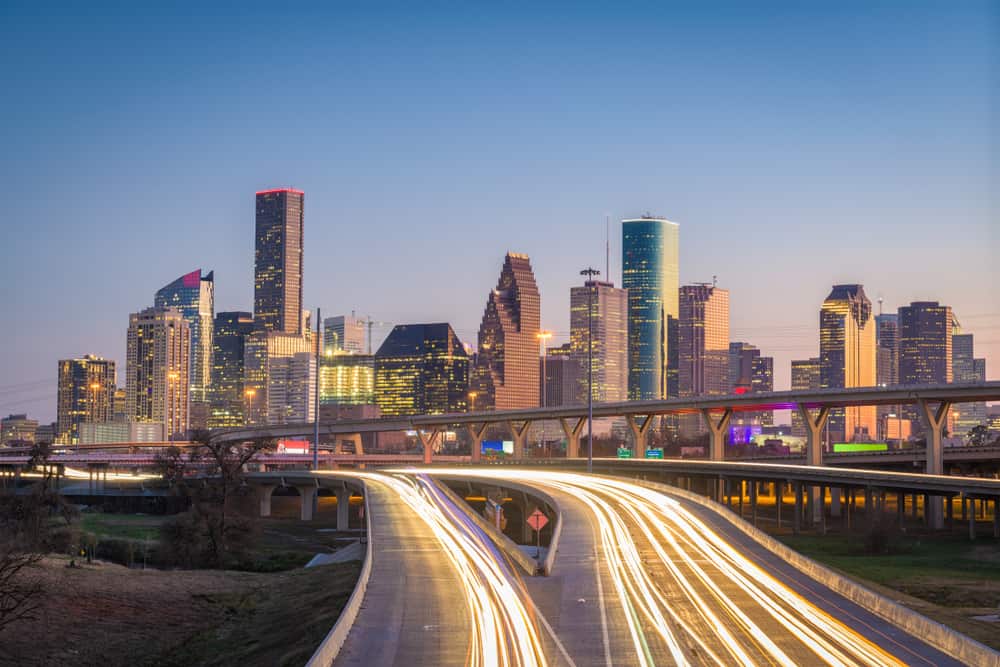 Houston is the most populous city in Texas and fourth most populous city in the U.S.
While many consider Houston an energy capital, with its sophisticated port, road, rail and air infrastructure Houston builds itself as a global hub for shipping for many companies across a wide spectrum.
Below are some of the reasons why Houston is important and critical to the shipping industry.
1. Population: Due to its rapid economic growth, Houston is attracting young professionals. Both international and domestic immigration is increasing Houston's capacity for more business immigration and a larger young population. Houston hosts the second-highest number of Fortune 500 company headquarters after New York (with 22 headquarters to New York's 45 headquarters.) Additionally, approximately 5,700 companies are actively involved in foreign trade in the region.
2. A Wide Range of Industries: Houston is a leading center for building oilfield equipment and home to many petrochemical companies, and energy giants. However, besides energy, a broad industrial base of the manufacturing, aeronautics, transportation, and healthcare industries is thriving in Houston.
3. Construction and Development: With increasing economic activity, Houston is a real estate hot spot and is attracting capital flow and development into the metropolitan area. Increasing real estate projects and aggressive development plans are feeding the construction industry and driving imports of construction materials into the region. Some common construction materials shipped to this region are steel products, pipes, stone, tile, cement, rubber, etc.
4. Houston has sophisticated port, road, rail, and air cargo transportation infrastructure: The Port of Houston has invested hundreds of millions of dollars into new infrastructure and technology. They aim to improve customer experience by leveraging new technology and capacity. Houston's Bayport Terminal received 3 new ship to shore cranes in 2018 and Barbours Cut Container Terminal, a 40-year-old terminal, is also benefiting from modernization by receiving new cranes and investment.
Road construction in Houston is also supporting a growing volume of land transport.
Within the Houston metro area, there are more than 3,000 centerline miles of freeways and expressways (more than 10,000 lane miles) currently operating. More than 900 long distance trucking companies serve the Houston area. BNSF Railway Company, Union Pacific Railroad Company, and Kansas City Southern Railway Company provide rail access for inbound and outbound cargo. Houston is also strategically located on the proposed Interstate 69 corridor that will connect Canada, the U.S. Midwest region, Texas and Mexico.
Houston also has an airfreight infrastructure that supports its expanding air cargo volume.
Houston's George Bush Intercontinental Airport and Dallas Airport together shipped an impressive airfreight volume of 40,000+ metric tons in 2018, a 16% increase compared to 2017. George Bush International Airport's cargo operations are very impressive, holding more than 1 million square feet of warehouse and office space, a perishables center, onsite fumigation center, and U.S. Department of Agriculture Animal/Plant Health Inspection Service (APHIS) center.
Houston is a global manufacturing and logistics hub.
With the strategic location of the Port of Houston, two international airports, 32 active foreign chambers of commerce, more than 90 foreign consulates, and more than 5,700 firms engaged in foreign trade,Houston is one of the world's busiest centers for both export and import activities. During the second quarter of 2018, for example, the Port of Houston handled 1,057,964 TEUs. Led by strong import volume, Houston is outpacing U.S. trade in 2018. During the first six months of 2018, Port of Houston imports from the Trans-Pacific region jumped 24 percent, a significant hike compared to overall U.S. Trans-Pacific imports, which only increased by 5 percent.
Latin America and Southeast Asia both present a growing opportunity for U.S. importers and exporters.
Almost forty percent of all U.S. exports are shipped to Latin America. This is to be expected as the U.S. has free trade agreements with 11 Latin American countries (Chile, Colombia, Costa Rica, Dominican Republic, El Salvador, Guatemala, Honduras, Mexico, Nicaragua, Panama, and Peru). Top commodities that are in demand in Latin America include (but aren't limited to) agricultural products, automotive parts and supplies, building materials and services, computers and peripherals, cosmetics, food and beverage, forestry and woodworking machinery, and industrial chemicals.
Houston receives as much as imports as exports, and there is a fine balance between export and import volume compared to other busy ports like New York or Los Angeles. Houston imports primarily come from China, Thailand, India, Germany, Turkey and other southeast Asian countries. The main commodities imported are steel, iron products, pipes, machinery parts, plastics and rubber, tires, furniture, bedding, lighting, stone products, cement plaster, chemicals, vehicles, and food products.
There are two primary types of ocean shipping services for goods shipping to Houston. 
1. All Water Service direct to Houston Port: From China, shipments take around 30 days, from India around 35 days, from West Europe around 14-15 days, and from the Middle East 20-22 days.
2. Mini Land Bridge (MLB) Service via rail connection from the U.S. West Coast to Houston Rails: Transit time on the U.S.-Pacific trade lane is around 25 days – 5-6 days shorter than all water service. For urgent shipments, this service can be promoted. Of course, due to its rail connection, MLB service is more expensive than All Water Service. It is important to keep updated on congestion issues at the U.S. West Coast, as there may be delays and a back log in rail transfer. In these cases, transit times can be up to 30 days longer for MLB service.
Steamship lines that serve Houston both via all water and via west coast are:
APL
CMA
COSCO
EVERGREEN
Hamburg Sud
MSC
MAERSK
ZIM
Steamship lines that serve Houston only via west coast rail service are:
YML
ONE
HPL
OOCL
PIL
YML
APL
CMA
COSCO
EVERGREEN
Hamburg Sud
MSC
MAERSK
ZIM
For importers, the free time at the destination differs between MLB and AWS services. All Water Service brings containers to portside, so there are usually 4 days free time given at the port. MLB service brings containers to a railyard, so there is usually 2 days of limited free time at rail.
A freight forwarder has the specialized knowledge to prepare the types of documents required for moving goods via sea, road, rail or air.
There's pick, pack, storage, distribution, warehousing and trucking considerations that need to work in sync for harmonious supply chains. As MTS Logistics, we are a "one-stop shop" in logistics needs in Houston. We expect Houston will become more important in 2019 and as MTS Logistics, we will be there to contribute to the growth of Houston.