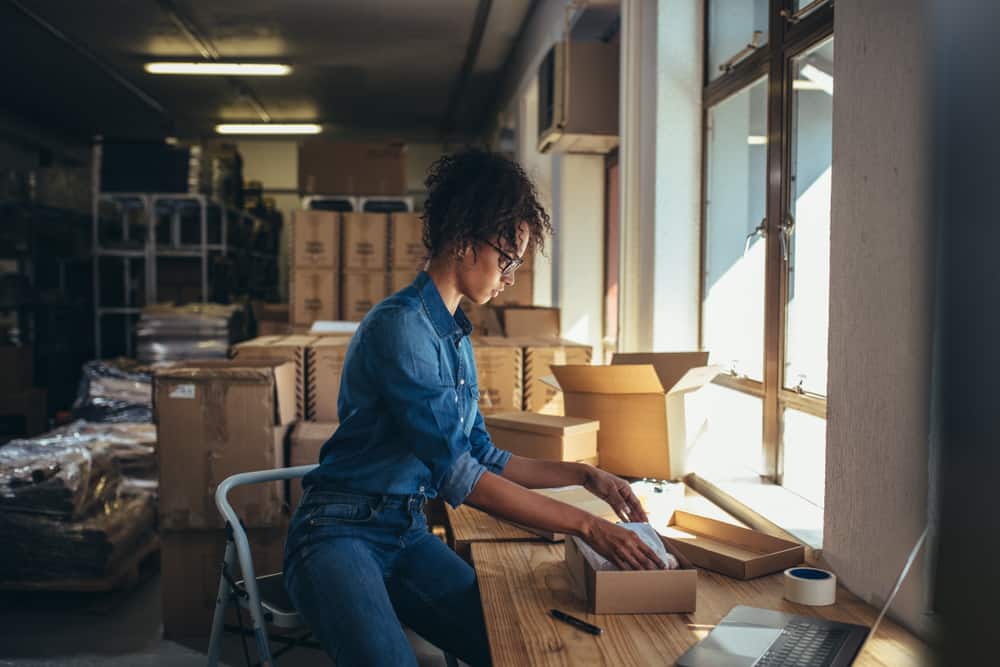 How much money does your e-commerce business spend on shipping? When running an online store, you'll have to pay for supplies and services to ship products to customers. All package couriers, including the United States Postal Service (USPS), charge money for their services. Along with a delivery service such as this, you'll have to buy boxes, bubble wrap and other packaging supplies. There's no way to avoid shipping costs when running an online store. However, there are ways to lower them.
1. Compare Rates from Multiple Couriers
Many e-commerce businesses use the USPS as their primary and default courier, believing it offers the lowest rates. While the USPS has highly competitive rates, they aren't always the lowest. For large or heavy packages, a private courier like the United Parcel Service (UPS) or FedEx may offer lower rates.
You can view a courier's shipping rates by visiting its website and using the rate calculator. After choosing a shipping service – as well as entering the weight and dimensions of your package if it's an adjustable-rate service – the calculator will reveal the cost of shipping the package with the respective courier. By comparing shipping rates from multiple couriers, you can avoid overpaying for shipping.
2. Reuse Packaging Supplies
You can reuse packaging supplies to save money on shipping. When you receive an inventory shipment from a wholesaler or vendor, save any included bubble wrap, packing peanuts or packing paper. Packaging supplies such as these aren't particularly cheap. A large roll of bubble wrap, for example, can cost over $20, while a large roll of packing paper can cost over $30. Thankfully, packaging supplies such as these are reusable. Don't discard any bubble wrap, packing peanuts or packing paper that you receive from inventory shipments or product returns. Instead, save them for customers' packages.
3. Factor Shipping Costs into Product Prices
You can offset shipping costs by factoring them into the prices of your e-commerce business's products. If a $40 product costs $4.50 to ship, consider selling it for $44.50. If a product costs $120 and costs $9 to ship, consider selling it for $129.
Of course, you don't need to factor shipping costs into product prices if you charge customers the accurate amount for shipping. But if your online store offers free or discounted shipping, on the other hand, factoring shipping costs into product prices will save your e-commerce business money.
4. Request Local Pickup
In the world of business, time is money. The sooner you get your packages into the hands of a courier, the better. If you spend 10 or more hours each week driving back and forth to a USPS office, it may reflect upon your e-commerce business's profits. All that time spent driving to the USPS office, as well as waiting in line once you get there, could be better used for customer service, advertising and conversion optimization.
Couriers offer local pickup as a time-saving, and therefore cost-saving, alternative to manual drop-offs. For the USPS, you can schedule a pickup online by visiting this link and completing the form. Both UPS and FexEx offer online pickup scheduling as well, which you can access at this link (for UPS) and this link (for FedEx), respectively.
5. Purchase Shipping Insurance from a Third Party
Insurance is always a smart investment when shipping packages to customers. If the courier loses or damages a package, it will reimburse you for the declared value. Without insurance, you'll likely foot the bill for a lost or damaged package. Rather than purchasing shipping insurance directly from a courier, choose a third-party insurance provider.
There are over a dozen third-party providers of shipping insurance, most of which cover packages shipped through the USPS, UPS or FedEx. They use a similar value-based model to calculate the cost of insuring a package, with expensive packages costing more to insure than cheaper packages. With that said, third-party shipping insurance can cost up to 40 percent less than shipping insurance purchased from a courier. By purchasing shipping insurance from a third party, you'll slash your e-commerce business's shipping costs.
6. Negotiate Shipping Rates
Depending on how many packages your e-commerce business ships annually, it may be eligible for reduced shipping rates. Couriers offer steep discounts on shipping services for high-volume businesses to retain them as customers. If your online store processes a large volume of orders, you should contact your courier to inquire about lower rates.
The USPS offers a customized pricing program for high-volume businesses. Known as Negotiated Service Agreements (NSAs), it's a legally binding contract that includes custom shipping rates. To negotiate shipping rates with UPS and FedEx, you simply need to call or email your account manager at those companies.
7. Package Multiple Products Together
If a customer purchases two or more products, consider packaging them together in the same box. With the exception of flat-rate boxes, couriers' rates are based on weight and dimension. Nonetheless, you'll typically pay less when shipping one large and heavy package as opposed to two or more small and lightweight packages.
Packaging multiple products together also requires fewer supplies, such as bubble wrap, than packaging them separately. You should still compare shipping rates for single-product packages and multi-product packages, but you'll probably discover that bundling multiple products into a single package costs less.
8. Use Shipping Software
Finally, using shipping software can lower your e-commerce business's shipping costs. How does shipping software work exactly? Although there are different types, all shipping software is designed to streamline the process of packing and shipping products. Common features of shipping software include real-time rate calculations, label printing, package tracking and courier discounts.
ShipStation, Shippo and ShippingEasy are three of the most popular types of shipping software, all of which offer a free trial.
Running an e-commerce business requires minimal overhead. You don't have to rent or lease a brick-and-mortar building, nor do you have to pay for utilities. You will, however, incur shipping costs. Rather than allowing shipping to eat away at your e-commerce business's profits, follow these tips to lower them.