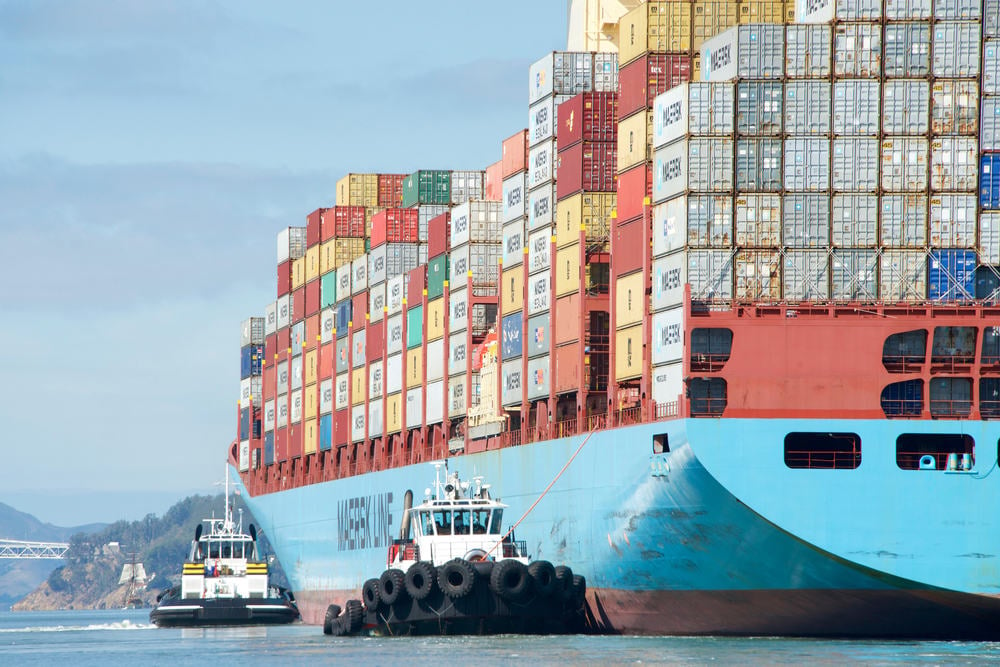 The world's largest shipping container company, Maersk, based in Denmark, has announced its future acquisition of Hamburg Sud, a German shipping line and the 7th largest shipping container company in the world. The acquisition is expected to increase Maersk's market share as a container operator. The sale price is still undisclosed but it is speculated that Hamburg Sud's purchase will cost Maersk up to $4 billion. Further details regarding the sales price is expected to com out in the 2nd quarter of the 2017 fiscal year. According to the CEO of Maersk Group and Maersk Line, Soren Skou, Maersk plans to maintain the Hamburg Sud brand in order for the integration of the two shipping companies to be simple and as seamless as possible.
Maersk will expand their access to global shipping routes.
With Maersk's purchase of Hamburg Sud, Maersk will have access to Hamburg Sud's dedicated North-South routes with the flexibility of Maersk's global network. Maersk plans to retain Hamburg Sud's employees and subsidiaries based in Chile (CCNI) and Brazil (Alianca). The acquisition will allow Maersk to develop new products and more direct port calls with shorter transit times. It is reported that Hamburg Sud will replace 60% of the revenue lost when AP Moller-Maersk separates into its energy operations that include exploration, production, tankers and drilling.
Founded in 1871, Hamburg Sud, previously known as Hamburg South American Steam Shipping Company or Hamburg South America Line, was first established  through a conglomerate if 11 Hamburg, Germany based merchant houses providing shipping services to Brazil and Argentina. During World War I, Hamburg Sud lost 50 of their vessels forcing the company to charter ships for their business. In 1957, Hamburg Sud pioneered containerization between North American and Australia/New Zealand. As of December 2016, Hamburg Sud operates 130 vessels that have a capacity of approximately 625,000 containers. The German shipping container line currently has 5,960 employees in over 250 offices worldwide. In 2015, Hamburg Sud had a turnover of $6.7 billion. Of that $6.7 billion turnover, approximately $6.3 billion was generated through Hamburg Sud's shipping container line activities.
Maersk has a long history in the shipping industry.
Maersk was founded in 1928 and is now the largest division of the AP Moller-Maersk Group, a Danish business conglomerate, as well as the world's largest shipping container line employing 25,000 land-based employees in over 370 offices worldwide as well as 7,000 sea-based employees. Maersk operates over 600 vessels with a container capacity of 2.6 million. Maersk's first voyages include east coast US voyages to Asia through the Panama Canal and expanded into voyages from North America to Europe routes. Maersk's 2015 revenues totaled approximately $31 billion, lower than expected revenue due to a financial downturn in the shipping industry caused by oversupply.
The acquisition of Hamburg Sud by Maersk will be subject to regulatory approval in Australia, Brazil, China, the European Union, Korea and United States. The regulatory process is expected to last until the end of 2017.
[su_box title="How can MTS help you?" box_color="#053b82″]
We at MTS Logistics, Inc., are prepared to help our customers navigate the trade, shipping and logistics world in 2017 and will keep you up to date on any developments in the industry over the next few months.
Call us today at 212-594-3117 or e-mail us at [email protected] to discuss how we can help you navigate your shipping needs.
[/su_box]