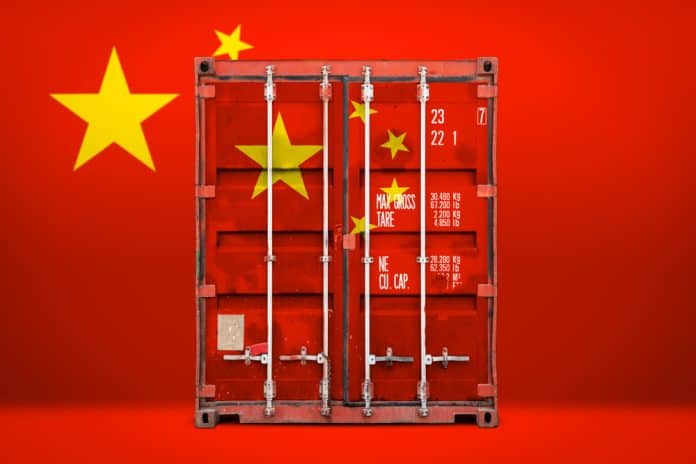 It's an open secret that China's economy slowed significantly and that the Chinese government expects slower growth in the wake of the Covid pandemic. After all, official Chinese government economic figures recently set a goal for the Chinese economy to grow by 5% in 2023 – a much lower figure than has been published for most of the past decade.
Today, Maersk is warning of a prolonging Chinese economic recovery.
Shipping giant Maersk is out with a new warning: despite the Chinese economy staying resilient in the wake of the Covid pandemic, other factors such as a Chinese real estate market crash and repeating factory shutdowns in 2021 and 2022 have slowed down the Chinese economic recovery. As a result, Maersk expects that China's economic recovery will be slower and more dragged out than previously-expected, according to reporting from the Financial Times.
Now, new data is out showing that some of the largest industrial groups in China are reporting profits down by nearly 25% percent – a development first reported by Reuters. The global market and U.S. companies had been hoping for faster growth, in the wake of the abandonment of Chinese President Xi Jinping's zero-Covid policy late last year.
The new global head of Maersk's parent company AP Moller-Maersk, Vincent Clerc, drew parallels to the 2003 outbreak of Severe Acute Respiratory Syndrome (SARS), where the Chinese economy was affected over a longer period and recovery was slow.
What does the slower Chinese economy recovery mean for the shipping industry?
First of all, Chinese consumer spending is down, as much of China's household wealth was concentrated in real estate, which saw a major collapse over the past year. Therefore, Chinese manufacturers will be expected to produce less goods for Chinese consumers, at least in the short-term. This means manufacturing capacity remains high, should global retailers such as those in the U.S. need it.
Additionally, there is a leftover inventory backlog from last year's supply chain crisis among international retailers. Although retailers purchased a lot of inventory to counter the supply chain issues and most of it has been used up, companies are not racing to buy more goods from China's factories. One main reason for this is that some companies simply reconstructed their supply chains to exclude China being involved. In those situations, manufacturing is now taking place in other countries or domestically.
Finally, global shipping companies like Maersk are bracing for profits to drop in 2023 – in some cases by high double-digits, as the last two years will be looked at as largely a fluke due to the supply chain crisis and Covid pandemic. Shipping rates were way up from previous years, which artificially inflated profit numbers and will do the same to profit decreases. Shippers may have to wait until at least later this year to see some "normalcy" in their reporting financials.