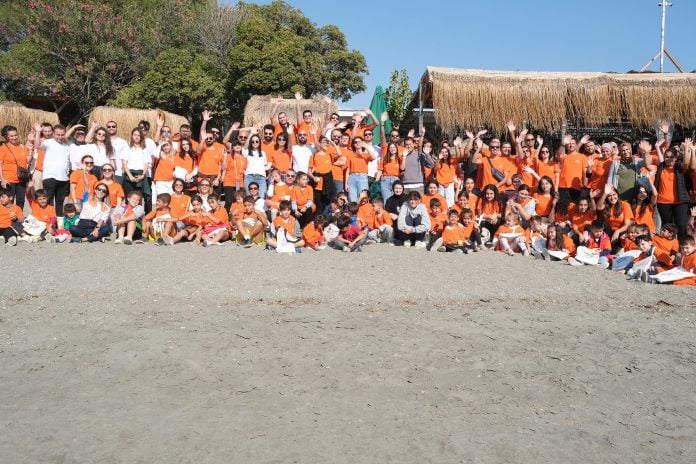 MTS Logistics recently held an educational environmental training and cleanup event on the beach in Izmir, Turkey.
This past Saturday, October 8th, in Izmir, Turkey, MTS Logistics held its second annual Clean Oceans Project (called Temiz Deniz Projesi in Turkish) in Seferihisar. We had 250 participants, with 80 of them being children between age 4 to 15.
Our first aim was to include more children into our Clean Oceans Project and training this year as we are passing the torch to Gen Z and Millennials, the caretakers of our future. These younger generations are the ones who will carry environmentalism one step further. Our mission through the Clean Oceans Project is to enable everyone to undertake the education needed to make a difference and give them a platform for their actions to have an impact.
Children are our future and MTS Logistics is training them today to tackle tomorrow's challenges and improve our planet's future.
We at MTS Logistics believe that the sooner we train our children to protect our oceans, seas, and the world, the better the results will be for our future. Picking up trash, learning the importance of recycling, and teaching participants what are their carbon footprint is are all good habits for children to learn through the activities held during the Clean Oceans Project.
MTS Logistics went above and beyond to make the strongest impact possible in the shipping industry by not just cleaning up the trash on the beach, but more importantly, educating tomorrow's leaders. We equipped every event participant – young and old – on how to be the change they want to bring to the world, and how to actually perform the steps needed to make a difference.
This year's Clean Oceans Project event sought to make a difference through learning and training to give people the tools they need to bring change.
At this year's Clean Oceans Project event, we held a lecture before we started cleaning.  The lecturer was Nermin Sena Ozger from Yasar University. She presented on several topics including how to protect our oceans, what are carbon footprints and how we can reduce our own, how we can help by recycling, and learning about composting.
We also showed participants a real-life example of someone who is demonstratively making a key difference in the future of the environment.
Ozger also mentioned her own project where she is working to create artificial reefs by recycling mussel shells. This was a very impressive example of how one person can contribute to the habitat of sea creatures and restore our natural ecosystems. It was very exciting and promising to see the shine in our children's eyes for our future.
After the lecture, we started our cleaning activity at Akarca Beach, where all participants – including children – made a difference by picking up trash and cleaning the beach.
Following our cleaning event, we held a drawing contest. We had 3 different age groups: 2-6 years old, 7-11 years old, and 12-16 years old. The ages between 2 and 6 had a drawing session to share their creations. Ages 7-11 and 12-16 participated in the contest. We had a lot of fun.

At the conclusion of the event, all participants left with some tools needed to be the change that they want to see in the world.
We prepared gift bags for our all attendees so that they will remember this important and meaningful day for a long time. Inside our gift bags were a notebook, a pencil with seeds that can be planted to grow a plant, a pencil case made with recycled material, and a book about marine life in our seas.