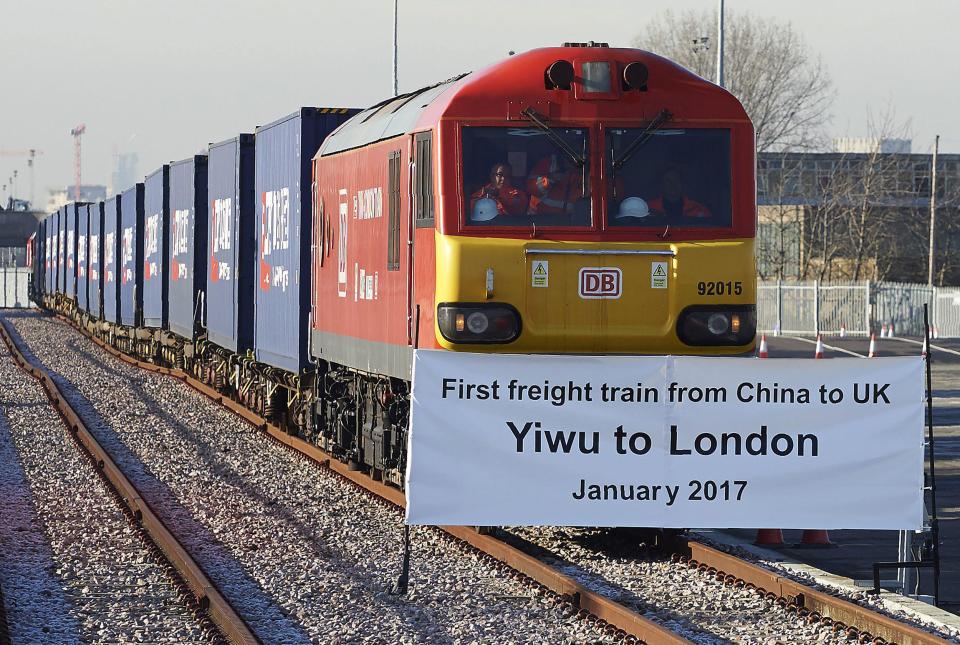 This past Monday, April 10, 2017, marked a historic moment in logistics history, when the first-ever freight train departed the United Kingdom en route to China. A new direct route from the United Kingdom to China has been established under the collective initiative known as the new "Silk Road." China has established a new trade route between the United Kingdom and China, with a train loaded with British goods. After approximately a three-month pause, the return leg of the new Silk Road has finally reached its final destination of Yiwu, in the eastern province of Eastern China.
The 7,500 mile (12,000 kilometers) route had a transit time of about 18 days, and established a regular direct trade route. The train arrived carrying 30 containers, loaded with soft drinks, vitamins, pharmaceuticals and baby products. The first shipment of cargo by rail comes less than two weeks after the United Nations Prime Minister Theresa May triggered Article 50 of the Treaty of Lisbon, which gives any European Union member the ability to leave the European Union. Many are referring to this as a "divorce" of Britain and the European Union. This action alone has made it critical for the United Kingdom to obtain trade deals with countries around the world.
This new route has proved to be less expensive than sending freight by air, and is a faster voyage than sending cargo by ship.
Although these new freight trains have been marketed as faster and less costly, they are limited in capacity of containers. Freight trains can typically carry only 30 to 50 containers, compared to as many as 11,000 40-foot containers (or over 19,000 20-foot containers) that ship carriers can transfer in one voyage. The route passes through seven countries, including France, Belgium, Germany, Poland, Belarus, Russia and Kazakhstan. China continues to be a global leader, and its initiatives are part of its "One Belt One Road" program aimed at potential global economic growth.
The One Belt One Road Initiative launched in 2013, and is the centerpiece of China's economic diplomacy.
One Belt One Road connects Africa, Asia, and Europe along five different routes. China's One Belt One Road program has revived its ancient Silk Road trading routes. London is now the 15th European city to offer freight service via direct rail link with China.
Xubin Feng, the Chairman of Yiwu Times Industrial Investment which organized the service stated, "We have great faith in the UK as an export nation and rail provides an excellent alternative for moving large volumes of goods over long distances faster."
This milestone marks the first export train, and the start of a regular direct route between the UK and China.
The linking of the UK can be seen as a potential game changer after the idea was met with many skeptics. In terms of volume capacity, these freights trains currently cannot compete with its greatest competitor, ship carriers, but this may be the start of remarkable things to come.