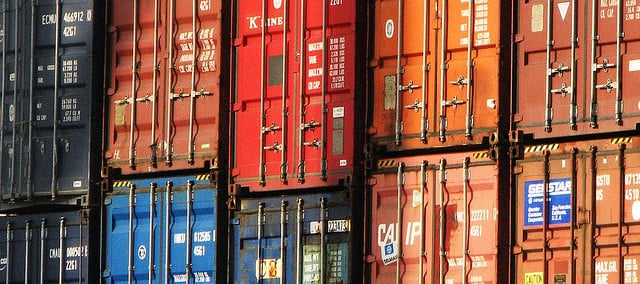 Everyone in the international shipping industry is talking about the latest news that Amazon has received a license from the FMC to operate as a NVOCC from China to the United States. Amazon is not the first e-commerce company which gets its own license to control their own freight. Walmart did the same thing; however, Walmart didn't start their business through e-commerce first. In that sense, Amazon's move in the shipping industry will be an example to its competitors. My forecast for future move will be coming from Alibaba.com since they are more trade sense company than Amazon already is. 
A San Francisco-based logistics startup, allows Amazon China to sell ocean freight services through its Beijing-based subsidiary, Beijing Century JOYO Courier Service Co. The move comes after reports of Amazon considering entering into the air cargo business, and its purchase of thousands of trailers for U.S. delivery. As an NVOCC, Amazon would carry its cargo under its own bill of lading.
As most of the people in the shipping industry is aware of, the ocean freight drop down since last year has affected by the US currency appreciation. Oil price depreciations take attention from the people who are in the international trade arena. Everyone has changed their strategy and wants to take advantage of the low freight rates; Amazon is just one of them. They wanted to change their strategy in the delivery service. They are dealing with the local warehouses here in US, due to labor cost is still being a huge cost in the shipping industry. For that reason, Amazon is trying to cut down more on complex warehouse/buyers/shipping companies, and trying to control the freight under Amazon's contracts. They also want to ship the cargo from China under Amazon's Bill of lading. This way, Amazon won't have to deal with different buyers and warehouses to bring the cargo to their own warehouse. This will be beneficial for the shippers in China, and therefore they won't need to worry about finding a freight forwarder to move the cargo to USA, then a warehouse in USA again. At this point even move the cargo from any warehouse in USA to Amazon's warehouse. This will cut down this complex process and too many parties being involved.
Amazon's ocean freight services will be far more beneficial to Chinese sellers than to American buyers. Chinese suppliers would love direct access to Amazon's vast American customer base. However, the idea of buying ocean freight is far less appealing for US companies selling on the Amazon Marketplace. On the other hand, Amazon China can provide freight forwarding services to Chinese companies looking to move products directly into FBA warehouses, or even by cross-docking the goods for direct injection into Amazon's courier network. Sharing the invoice price and supplier name is a non-issue for Chinese companies selling to Amazon or directly to its customers.
In the ocean space Amazon is a growing player; one container line executive on Thursday estimates its annual trans-Pacific volumes to be in the neighborhood of 50,000 40-foot containers or FEUs. That is significantly lower than Walmart, which ships roughly half a million FEUs. However, the best ocean service in terms of rates, capacity and service reliability, which Amazon will likely achieve will be as a direct shipper under its own name. In other words, as beneficial cargo owner or BCO, not as an NVOCC. What gets carriers to offer the best price and guarantee the best service is volumes which Amazon is already amassing under its own name. Establishing an NVO for its volumes is not a strategy adapted by other retailers, who also have gone down the route of direct contracting as a way to ensure they achieve competitive rates and service. Largest ocean BCOs are the ones that receive the best rates and service. The opportunity for Amazon would come from requiring the consumer product companies whose goods it sells through its website to ship their volumes under Amazon's contract, thereby adding to Amazon's volumes. This is how Walmart has built up its ocean volumes and obtained the lowest ocean freight costs, thus supporting its longtime strategy of driving out supply chain costs and passing those savings along to customers.
Amazon China now has the appropriate paperwork to provide ocean freight services for other companies. This is Amazon's first step toward entering the $350 billion ocean freight market.
This is a smart and long overdue move for the company. By offering ocean freight services, Fulfillment by Amazon (FBA) will make it easier for its customers to move goods into the company's logistics network.
As I mentioned above that my forecast about next move may come from Alibaba.com, since they are more in the trade with the US buyers. Even they are in the cross-trade with different buyers and sellers. This may be more beneficial for Alibaba.com buyers/sellers, since this will made trade easier in terms of transportation/freight process with different customers. Nowadays everyone take a look at the products online. If they see any price along with the freight price option, buyers can make their total cost arrangement before they determine their selling rate based on the estimate numbers. We can call it all in one package to the buyer with a very low cost.