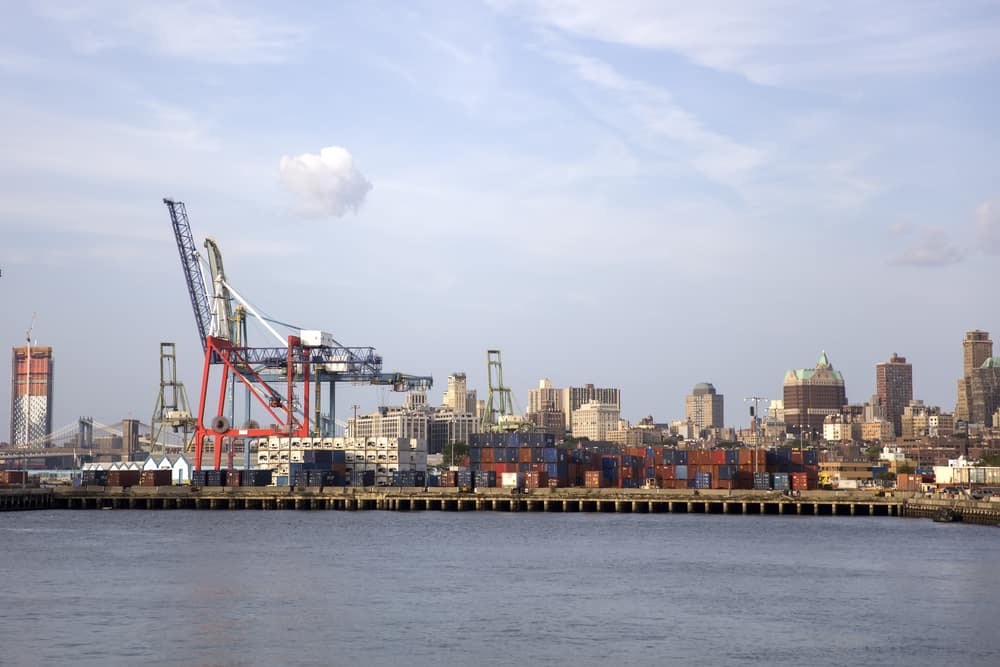 The Ports of New York and New Jersey are struggling with "higher than expected" waiting times on rail-bound import cargo, after severe weather triggered delays in the Midwest, resulting in rail car shortages and reduced train lengths, port officials said.
The problem, which has mainly affected shipments leaving the ports' Express Rail terminals, has been building up at a slow pace for several weeks, and after reaching a peak last week, has continued uncontested, the Port Authority of New York and New Jersey said. The terminal most affected was Express Rail Elizabeth Terminal, which sits between Maher Terminals and the APM Terminals facility in Elizabeth, and is used by both. The Port Authority also said the Express Rail Newark Terminal, at the Port Newark Container Terminal, was affected, although the terminal advised it had witnessed only minor impact.
On Monday, the authority sent a letter to all port users, addressing the problem and saying that it is working alongside CSX Transportation and Norfolk Southern Railway to "ensure that adequate quantities of empty rail equipment are routed to Express Rail terminals in a timely fashion to clear the rail backlog as quickly as possible."
The authority said the problem had affected other East Coast ports, too. The ports of Philadelphia and Baltimore stated they had not experienced any issues, as did the South Carolina Port Authority.
CSX said its services into the Ports of New York and New Jersey had not been affected by "winter weather storms." Nevertheless, a statement released by the railroad stated that "we have been working closely with the terminal staff" at the port "to ensure they have the necessary equipment and assistance to restore their daily operations."
CSX is experiencing a major overhaul that was started by the late E. Hunter Harrison, who died Dec. 16th. The "precision railroading" strategy, which was designed to create a faster, on-time, and leaner network, is being followed by his successor, James Foote. Since last March, when Harrison began to implement his strategy, CSX has discontinued hundreds of domestic intermodal services and destination pairs to build cargo density, uprooting the railroad's hub-and-spoke system and closing eight hump terminals. Along the way, CSX postponed hundreds of locomotives and reduced payroll by 4,700 employees and consultants. The railroad plans to eliminate another 2,000 jobs in 2018.
Tom Adamski, who works for First Coast Logistics, a Kearny-based trucking company, stated that the Express Rail Terminal appeared "overwhelmed" when he has taken imports and picked up exports there, usually on their way to or from the GCT Bayonne Terminal in Bayonne. GCT Bayonne uses Express Rail, because it because it does not yet have its own rail link, although on-dock rail infrastructure is currently being built.
For an import, "to access the container, normally it would take you half an hour," said Adamski. But recently, "It might take an hour, an hour and a half for them to be able to access the box because of the congestion and volume of cargo that was there."
"It will rectify itself," he said. "But, it's not going to be any quick fix."
The port authority said the problem began with poor weather in Chicago and the Midwest, as snow and ice disrupted train schedules in the region that had "caused closures and delays all impacting their ability to get rail cars" to New York and New Jersey.
"Empty rail cars are not being brought into NY/NJ at the rates they typically are to meet our demand," the authority said in a statement. "Our imports destined to the Midwest remain on the dock until there are sufficient empty rail cars available."
Because of these disruptions and car shortages, trains are shorter than necessary, and cargo is being left behind, the authority stated. "Railroads are making decisions about how many cars they can provide to our terminals," the authority said.