In early December 2018, the U.S. President signed into legislation a bill reauthorizing the Federal Maritime Commission (FMC).
Impending changes to the FMC's authority were inevitable, considering the last five years of major carrier consolidations in the shipping sector.
The shipping industry saw the catalyst of carrier consolidation in 2014 when MSC, Maersk, and CMA CGM tried to form the P3 alliance but were denied Chinese approval. Since then, we have seen the forming of new alliances, new carrier joint ventures, and the devastating sinking of prior giants such as Hanjin. After half a decade of reconfiguration, the shipping industry remains with three major alliances that, according to Alphaliner, collectively represent 79% of the world's maritime market. 2M, Ocean Alliance, and The Alliance have left only 21% (only 19% percent if we consider 2M + HMM) of the market for smaller shipping companies, which raises concerns over anti-competitive agendas. Thus, we have the reauthorization of the FMC.
As noted by FreightWaves.com, "the legislation included some of the biggest revisions to shipping statutes in 35 years" which, given the growth we've faced within the last five years alone, is a necessary adjustment. These amendments to the FMC Authorization Act of 2017 concentrate chiefly on anti-trust issues clearly connected to rapid carrier consolidation and the creation of alliances, mergers, and acquisitions.
Below is an infographic summarizing shipping carrier alliances, as of April 2018.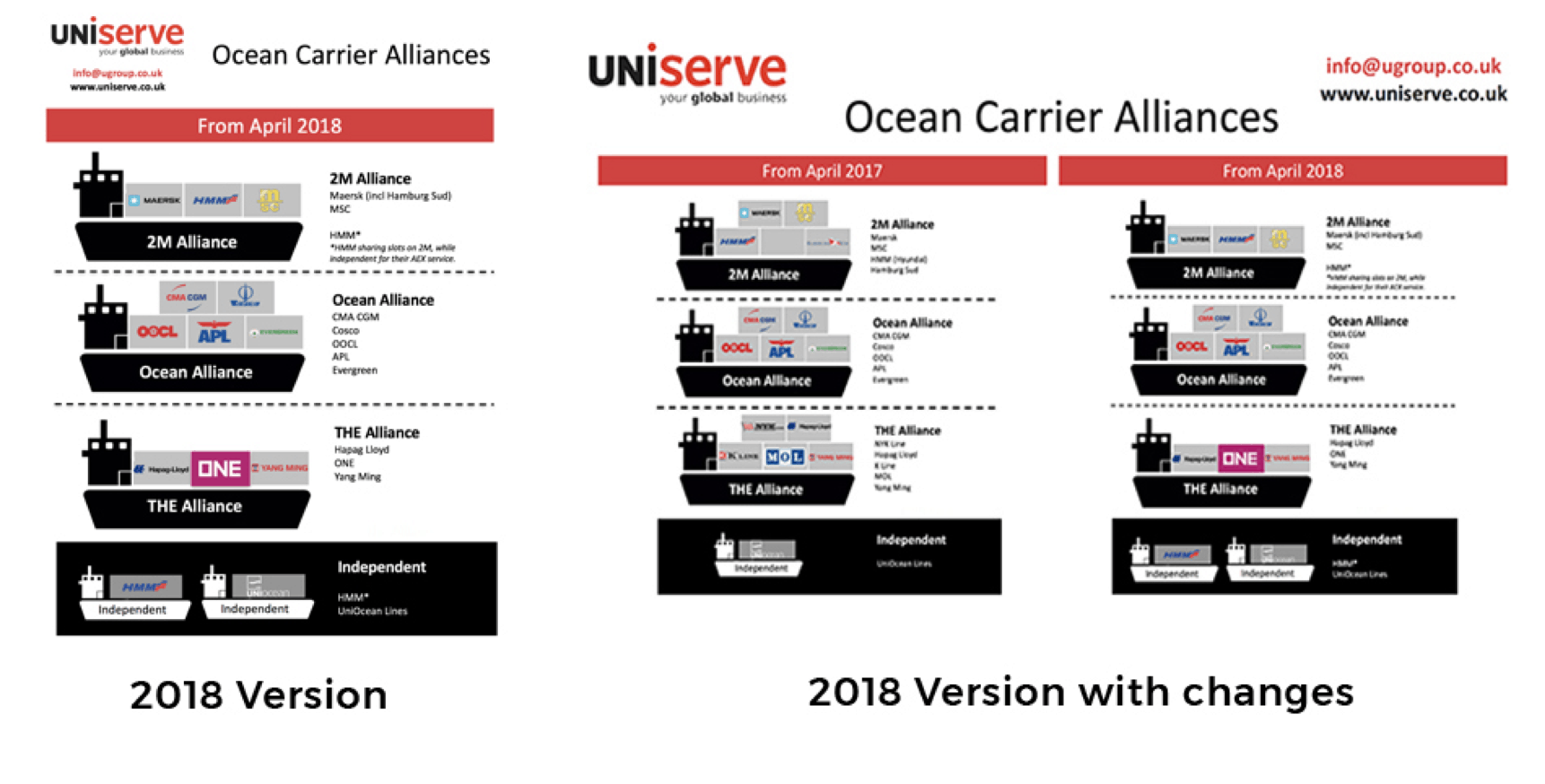 Once the re-authorization bill goes into full effect, it will allow the FMC to investigate anti-competitive actions among carriers.
This will, in turn, protect entities such as U.S.-based terminal operators, harbor pilots, tugboat operators, and equipment suppliers from exaggerative carrier pricing that could hinder funds towards much-needed infrastructure and technological developments.
It is the first time the FMC considers other service providers when regulating tariffs and costs, and it comes at an interesting time. Only recently, Maersk, ZIM, HMM, and SM Lines have announced the implementation of street-turn fees ($30, $40, $50, and $75 per container, respectively). The controversial announcement of the new fees has received negative feedback from truckers and shippers alike. Street-turns are more efficient, better for the environment, and do not create a cost-burden for ocean carriers – so the additional costs appear to be merely a profit push.
The new legislation was not able to be implemented until the government shutdown ended, last Friday.
The FMC was completely closed during the shutdown. They did not respond to any inquiries or complaints and all tariff approvals had to wait until the shutdown ended. Carriers, NVOCCs, and all affected entities must be sure to submit all filings, changes, or renewals once the FMC resumes operations. And, once the FMC returns, we'll see the impact of the reauthorization bill.