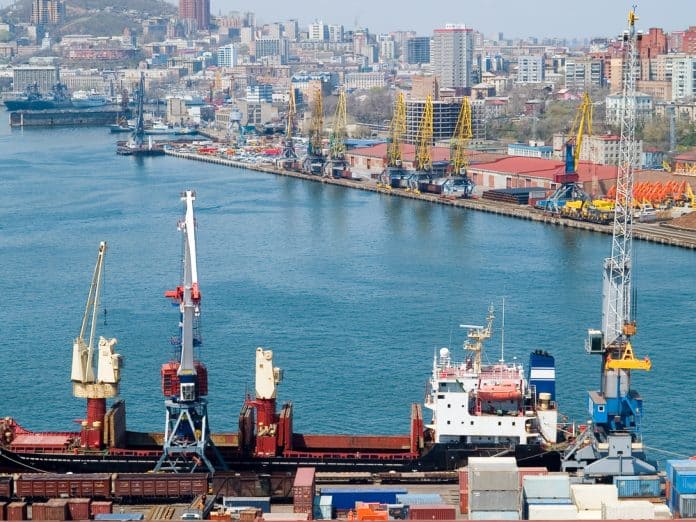 Yesterday, three of the world's largest ocean shipping companies announced that shipments to and from Russia will be suspended effective immediately.
The three shipping giants – Mediterranean Shipping Company (MSC), Maersk, and CMA CGM – announced the drastic move in response to Russia's invasion of Ukraine, an unprovoked act of aggression against the European continent. As of yesterday, cargo shipments to and from Russia are suspended.
In a statement, each of the three big ocean carriers made separate announcements in a coordinated effort to send a statement to Russian leadership – and the world – that big business will not stand aside while Russia moves into Ukraine. MSC, the world's largest ocean shipping company, announced it was temporarily stopping cargo bookings to or from Russia, with the exception of "food, medical equipment, and humanitarian goods." Maersk suspended all shipments throughout Russia, but also excluded food, medical equipment, and other humanitarian goods. CMA CGM followed suit with its own suspension, while also increasing its own cyber awareness alert level after Russia threatened and unleashed targeted cyber attacks throughout Ukraine.
The three big carriers followed moves made by ONE and Hapag Lloyd, who previously suspended Russian shipments earlier in the week.
Taken together, the moves between the all major shipping parties is almost certain to substantially affect the Russian economy, as Russia supplies almost one-sixth of all global commodities. Shipments of oil will also be impacted, and Russia is one of the largest oil producers in the world, just after the U.S. and Saudi Arabia.
Other major commodities exported by Russia include coal and wheat, the latter being supplied to several NATO nations in both Eastern and Western Europe. With Ukraine also being a major wheat producer, that commodity among others is sure to be affected by the latest Russian-borne conflict.
What do the moves mean for shipping rates, which were already hitting all-time highs before the Russia-Ukraine conflict?
Oil prices are already skyrocketing to levels not seen since 2014. Before long, oil prices are likely to hit 2008 highs, sending gas prices soaring to almost an average of $4.00 a gallon. But, while consumers are likely to notice pain at the pump and in stores where certain commodities are sold, ocean container shipping rates are projected to increase dramatically again.
In an interview with the New York Times, various supply chain consultants said it is possible that container rates should increase to as much as $30,000 a container – triple the average of $10,000 per container that the world has gotten used to over the past year and a half. Additionally, the Times noted that Russian airspace closures mean longer flight times for a lot of air freight, surely to drive up prices, too.
Amidst all the volatility in Europe and Asia due to the Russia-Ukraine conflict, we at MTS Logistics will keep you posted on all major developments relating to shipping, logistics, supply chains, and more to help you plan for the near and distant future.