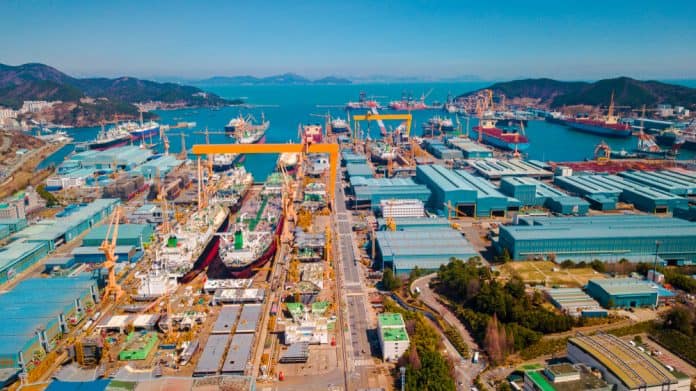 Even though global shipbuilding demand may be plateauing after an unusually strong year, South Korean shipbuilding companies saw demand reach a six-year high this spring.
For the month of April 2022, South Korean shipbuilders saw the most ship orders since 2016. However, the largest market share for shipbuilding still is in China, where there were 45 new ship orders, for a total of over 1.5 million tons. According to new reports and an analysis of market research, South Korea saw 16 new vessels ordered with a total of 820,000 tons. Compared to China, that is approximately half the total demand seen between both countries.
When the data is fully analyzed, it appears that South Korea received just under 50% of total shipbuilding orders worldwide in 2022. This achievement is a good sign for South Korea's ambitious shipbuilding goals that it set last year. In September 2021, South Korea pledged to completely dominate main rival China, while also minimizing the Japanese shipbuilding industry. The country's goal is to build up to three-quarters of all the eco-friendly vessels that emit little to no carbon, by the year 2030.
South Korea has a long history of shipbuilding.
The country has been building ships for centuries, and it is one of the most experienced shipbuilders in the world. South Korea is also home to some of the largest shipyards in the world. These shipyards are able to build very large vessels, and they have the latest technology to do so. This allows South Korea to build ships faster and more efficiently than other countries.
China also has a history of shipbuilding, but it's more recent.
However, China's shipbuilding industry only began to take off in the last few decades. This is due to the Chinese government's investments in the industry. The Chinese government has poured billions of dollars into the shipbuilding industry, and this has allowed China to become one of the leading shipbuilders in the world.
Now, the big question is if a slowing down global economy means that shipbuilding will further slow down, or if South Korea will continue to be able to meet its stated goal of producing 75% of the world's next-generation carbon-neutral ships.