Chemicals are the major exports of the U.S., representing 9.2% of all U.S. goods exports.
Considering 96% of manufactured goods are directly touched by chemicals, the chemical space is also very likely to be affected by moves in consumer/industrial markets. According to the American Chemical Council (ACC), chemical industry shipments fell by 13.5% in 2020. The industry started a recovery in 2021, but is not expected to be back to pre-COVID levels until 2022.
In the meantime, U.S. chemicals exports are expanding in 2021 as economies and production lanes are opening. With the changing pandemic-related restrictions in different parts of the world, this recovery will be a vulnerable one. Based on new closings, openings and guideline changes, demand is going to fluctuate. One of the biggest challenges that customers are going through is forecasting. Supply prices had been going up with many commodities and demand has marginal up/down moves which make it very difficult for shippers to plan.
In 2020, U.S. chemical exports fell by 7.6%, they are expected to rise 5.8% in 2021 and projected to increase to 13.8% based on ACC outlook reports. With imports also improving from a 5.1% fall to a 1.6% recovery, the chemicals industry will keep its net export position.
The major reason why exports figures are not coming back as strong is the shale gas-related Resin/Plastic market.
Basic chemicals represent 68% of all U.S. chemical exports. As the major segment of basic chemicals, the resin industry had a very rocky road. See the chart below for a representation of the chemical industry.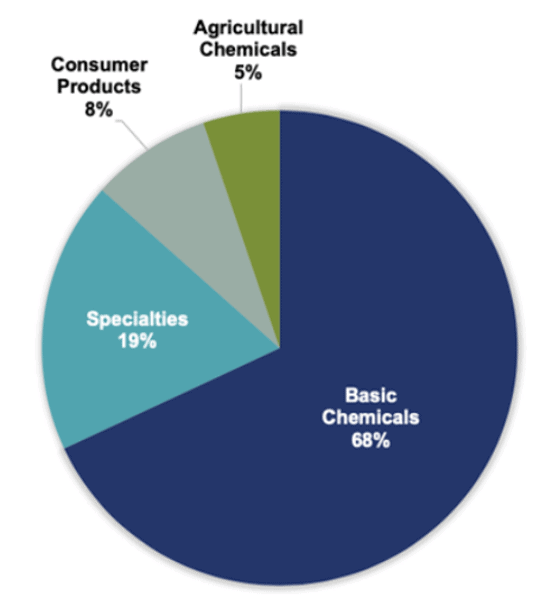 Winter storms, force majeures and an extensive demand for plastics in the domestic market created the perfect storm for resin exports. 2021 volumes had dropped significantly.
Based on mainly exported resin HS codes, in the first 6 months of the 2021, the U.S. had shipped 35% less resin than during the same period of 2020. The uncertainty about product prices and availability continues and the industry is worried about another major storm before the end of the 2021 season.
In the meantime, the chemical industry still has significant challenges with excess inventories and capital expenditures which will be held due to transportation delays and congestion. $22 billion in working capital and $23 billion for equipment and infrastructure may be required to handle those issues.
Operating costs are expected to increase by $29 billion in the following 10 years due to supply chain/logistical inefficiencies.
So, what is the 2022 outlook for the chemical industry?
According to the ACC, there is an expectation of a 13.8% increase for U.S. chemical exports, while imports will have a similar recovery of 13.7% in 2022. I do expect the situation with logistics and supply chains is not going to ease until mid-next year (at the earliest.) This will put pressure on export equipment availability, trucking power and space issues on containerized exports.
In 2021, because of the slowdown in resin, especially Gulf Ports have not felt as much pressure as they would if volumes were at their regular levels. Once domestic demand/production stabilizes and hurricane season passes with no incidents (fingers crossed), shippers in the U.S. Gulf will have a different challenge – shipping their goods. Exporters from both coasts will continue to struggle with port congestions and trucking power. And, shippers located in inland areas will race for rail space. Hopefully by mid-2022, the import market will become stabilized which will assist the situation for U.S. chemical exporters to be normalized.