When considering how ocean freight is shipped, the shipping industry offers many different types of carriers, based on the type of commodity and the clients' shipping needs. If we are moving automobiles, we could ship on RORO vessels. If moving oil, the vessel option could be a tanker. Finally, if we are moving 40'DV or 40'HC, we could book space on a containerized vessel. Like the ocean freight industry, air freight can be moved with different carriers, depending on the customers' needs or commodity requirements.
Different Types of Air Freight Carriers
Passenger Airlines: Passenger airlines are the companies that you see when you book your vacation flights. They are airlines such as Southwest Airlines, Alitalia, and Turkish Airlines. These companies, though they exist to move people, will often offer for sale the space in the belly compartment of the airplane which is typically where passenger luggage is stowed (see Figure 2-3.) Passenger airlines have many weight and space limitations for the cargo they will accept, but they can be a convenient option due to the number of frequent flights to destinations.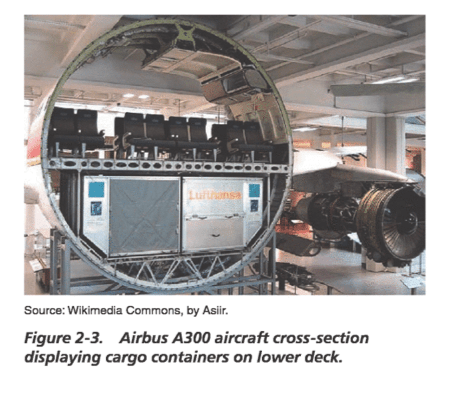 All-Cargo Carriers: As the name connotes, these carriers move air cargo and offer freight services, but do not offer passenger services. All-cargo carriers have less weight and dimension limitations due to the wide-body and containerized cargo aircrafts in their fleet which leave plenty of room for larger, heavier items, such as aerospace and automotive parts and materials. This category also includes heavy-lift cargo freighters designed for project cargo. Since heavy-lift freighters are uncommon, their charter services are highly specialized and rarely operate on a scheduled basis.
Integrated Express Carriers: These carriers will move your cargo from the door at point A to the door at point B. They will pick-up your shipment from origin via truck, fly it to it's destination terminal, then deliver it to the destination via truck. Some of the most popular integrated express carriers in North America are UPS, FedEx Express, and DHL (though DHL discontinued their domestic pick-up and delivery service in the U.S. as of 2009.) These types of carriers rely heavily on their air cargo hubs, where they will unload the cargo, sort it by destination, and load it onto the appropriate outbound aircraft – all through the use of automated sorting. This process allows for quick turnaround times and extensive delivery capabilities.
Combination Aircraft Carriers: Carriers that have both passenger and freighter aircrafts in their fleet are known as Combination Aircraft Carriers. Examples of such companies are Lufthansa and Emirates.
Be sure to choose the right air carrier for your needs and note that the next time you go on your vacation to Cancun and your airline limits the amount of free luggage you can take, consider that it could very possibly be due to the extra space needed to ship some high-end apparel, time-sensitive machine parts, or pharmaceuticals!