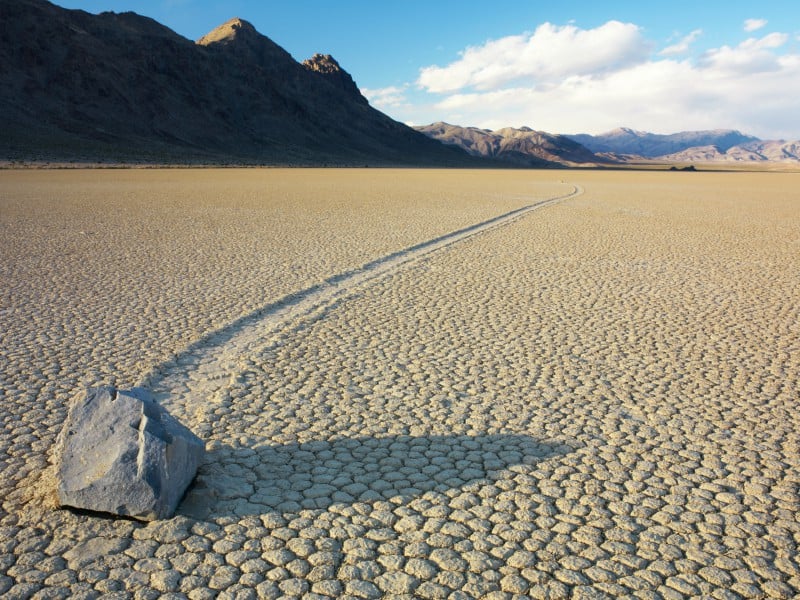 Death Valley National Park in California is home to a mysterious place called the "racetrack playa". It is a three square miles dry lakebed that has hundreds of stones, some of which weigh up to 700 pounds. These stones mysteriously move on their own in different directions and leave behind distinct trail tracks. Depending on the type of stones, their trails can differ in both direction and length. For decades geologists and visitors alike have been trying to understand the mystery behind these "sailing stones". No one has seen these stones actually move and the only evidence are the long trails, which seem to suggest someone or something is moving them, creating these unique trails.Over the years many theories have been put forward. Some researchers have suggested dust devils, earthquakes, strong winds, and magnetic attraction as possible causes for this "sailing stones" phenomenon. While others have attributed this to supernatural, outside force or aliens. One reason for this is perhaps because of the 1994 mysterious disappearance of a 700-pound boulder nicknamed "Karen" that suddenly reappeared two years later. Like many mysteries, such as Crop Circles and UFOs, the sailing stones remained at the top of Mystery fans' list until a few years ago when a group of researchers led by Richard Norris of the Scripps Institute of Oceanography resolved the mystery.
Equipped with GPS and high tech digitals camera, recorded time laps that captured how these stones move. According to the researchers, the stones move primarily in winter season with when certain conditions are met. A saturated yet non-flooded surface, thin layer of ice, and a very strong and sustained wind are required for these stones to "sail".
Rainwater from surrounding mountains at the Racetrack playa fills up the flat lakebed. Cold temperature freezes the water overnight, forming thin ice sheets. Then strong winds move the stones slowly towards different directions.
The research was formally presented to online scientific journal PLOS ONE by Mr. Norris as the mystery was finally scientifically proven and resolved.
Besides the Sailing Stones, the Death Valley offers many other attractions to visitors, including hiking, camping, and even stargazing at the Racetrack Playa, which offers an amazing view of the Milky Way galaxy.
To learn move about these "sliding stones", please watch: https://www.youtube.com/watch?v=uyHcs7B27Zk
To learn more about the Death Valley National Park, please visit: http://www.nps.gov/deva/index.htm