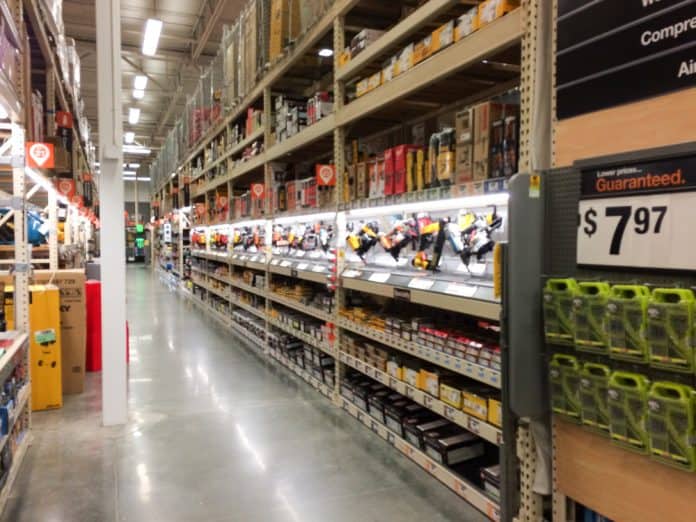 We recently reported on U.S. retail giant Walmart's entry into last-mile home/business delivery with a new shipping service, GoLocal. Now, Walmart has signed its first large customer for the service, home improvement retailer The Home Depot.
In an announcement today, Walmart put out a press release disclosing its new massive customer, and letting the public and markets know that The Home Depot may start fulfilling orders using Walmart's GoLocal service as soon as this month. The company's plan is to roll out the service to a broader variety of markets by the end of 2021.
Not all items will immediately be eligible to use Walmart's GoLocal service to be shipped.
As part of the partnership, The Home Depot will be initially using GoLocal to ship smaller items – items easier to ship. These items may include things like small hardware tools, paint, certain chemicals, etc. The partnership would not initially allow for larger, difficult-to-ship items to be delivered through GoLocal.
The main reason that Walmart's GoLocal service will not initially allow for larger shipments is simple: the service is meant to provide same or next-day shipping, similar to what is offered by Amazon. The logistics required to ship larger, complex items makes them impractical to ship at last minute's notice on a new shipping infrastructure.
Walmart launched the new service to try and compete with Amazon and other retailers.
In a statement provided as part of its press release, Stephanie Smith, who heads up supply chain operations at The Home Depot, said "This partnership brings us even closer to our goal of offering same-day or next-day delivery to 90 percent of the U.S. population." That is Walmart's goal: to build a last-mile shipping operation to compete with other e-commerce giants. When customers order from Amazon, or some other big-box retailers, they are able (in many cases) to select a Same-Day or Next-Day shipping option. Walmart wants to do that, too.
Besides The Home Depot, Walmart hopes for other big-box retailers and major brands to join the service as companies seek to evolve post-COVID and offer flexible fulfillment options for customers who are wary to enter a retail store, but want something immediately. If Walmart is successful, it could further revolutionize the shipping process for many brands, as well as brands' relationship with their consumers.