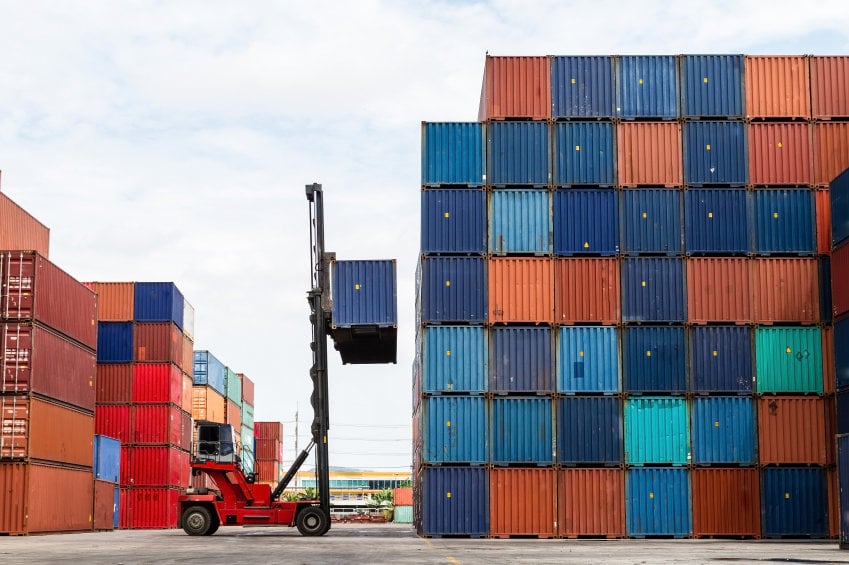 This is a question I have heard since the first day I started working in the shipping industry. The main reason behind this question is price oriented. It applies to any purchase, if you go directly to the source you can get a better deal, right? Well, in this case I cannot agree.
I can't promise you that after reading this article you will be as excited about Freight Forwarding Services as this guy, but I will give you good reasons to reconsider working directly with carriers.
In the past a company would sign their contracts and for 6 months their rates would be the same, so there would be no need to make changes whatsoever – rate levels would be steady, and since the commitment was made with more rightly forecasted amounts, space wouldn't be a big issue. After the last crisis though, we saw that signing contracts might not be the most competitive way to do business. The main reason being that the rates you sign for have no guarantee to get you on the vessel. Once the vessels are full, in order to get the space you need, you will pay extra to your contracted carriers. The same thing applies for the other carriers. The tough part is that those changes happen so fast that if you work with a couple of carriers and you don't have any other carrier options (not mentioning NVOCC) then you can end up paying marginally high amounts, because everybody's priority is their own clients.
On the other hand, when the market is down it's down for everyone – competition is open. The market has free falls and rates are changing literally every 3-4 days (for imports majorly). In this high paced environment there is no way to keep your contract updated. So you might end up paying higher than market price for 2 weeks until your contracted rates are revised and up to date.
Every carrier has different surplus and deficit areas that get more marginal in slow seasons. On transpacific trade there are more than 15 carriers. As a medium sized exporter if you have 2-3 carriers that you are contracted with and they have low inventory in Chicago, they will be providing you high rates. Another 2 carriers that you don't have contracts with might have a surplus. At that point there is no doubt you would be more competitive with those other 2 carriers that you didn't sign a contract with.
Working with a Freight Forwarder you have access to all these options in the high and low seasons. On transpacific import trade, the top 50 Freight Forwarders have an estimated average of 8-9 contracts with steamship lines. They commit major volumes to those carriers. So by working with only 2 forwarders with whom you don't need to even make a commitment to, you will have access to the updated, competitive rate levels not only with 1-2 carriers but with all carriers in the world's largest trade. Since you don't have a commitment you can also check your options at all times.
Another way to look at it is that each carrier has a single sailing per week on one trade lane. You have pending orders in China/India, and with the last crisis you are working with less and less inventory. While this is the case, how can you survive with one sailing per week?Forwarders/NVOCC's can provide you 6-7 different sailings on a single trade lane.
We shouldn't forget one of the most important factors. Forwarders/NVOCC's don't sell rates (at least good ones). There is more fierce competition among forwarders then the carriers. There are more than 1500 Freight Forwarders/NVOCC's only in New York. With this kind of competition they have to make sure that they are also adding value besides offering competitive rates. That's why you can see huge investments by freight forwarding companies into IT/communication systems, customer service trainings, niche and general logistics services not only in their domestic markets but around the world. An example of these additional services, in my company you can actually see your cargo "live" getting into our warehouse in Shanghai on the web. Later on you can see the activities on your shipments just like courier tracking.
Lastly, when you think about it, as an importer/exporter you have so many things to deal with. First of all you have customers and suppliers that are your major business partners. You have cargo quality issues, customer's payments, L/Cs, and your own competition – which is not even domestic anymore but global. On top of all that, when you work with a carrier you need to make sure your bookings are made on time by your suppliers. You need to do your own order follow up, you need to check with the carriers yourself to receive the proper info that is crucial for you. If a problem occurs YOU need to deal with it in order to avoid paying extra charges either in USA or overseas. Your time and your people's time is the most valuable, and when you work directly with a carrier you can not save that time.
The bottom line is that there is definitely much more to it than a couple of figures on a rate sheet. This is why I think that importers/exporters should consider working with Freight Forwarders/NVOCC's.