Wind power in the United States has it roots set in the 1940s, when a 5-turbine project was launched in Pettibone, North Dakota.
From 1974 until the mid-1980s, the U.S. government worked with the energy industry to create large commercial wind turbines.
In 1975, NASA developed a program to create a utility-scale wind turbine industry, and throughout that initiative, 13 experimental wind turbines were put into operation, which pioneered many of the multi-megawatt turbine technologies in use today.
Starting from such a small level, today, the U.S. produces 4.7% of its energy from wind power.
Every state in the U.S. has either an operational wind energy project, a wind-related manufacturing facility, or both.
The below map shows the actual existence of wind-related manufacturing facilities (red bullets) and wind energy projects (blue bullets.)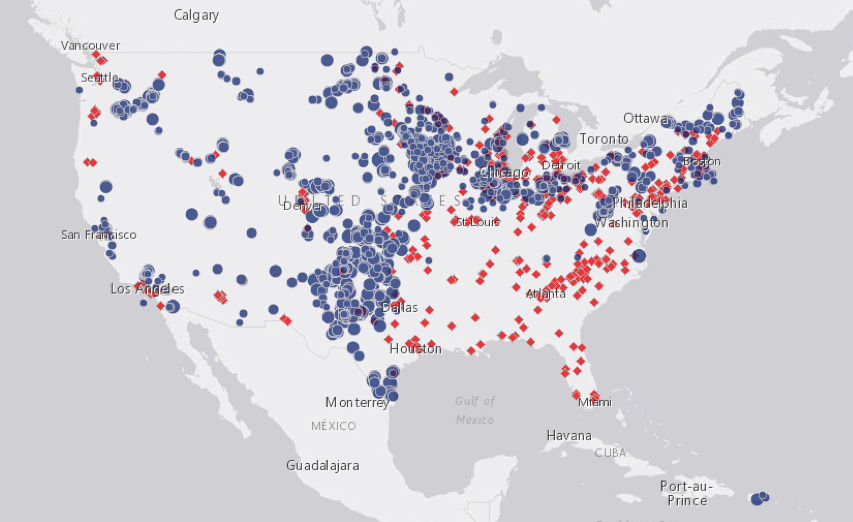 What makes the wind energy market even more dynamic is the participation of Fortune 500 companies in the industry. Companies like Amazon, Facebook, and Microsoft have energy-efficiency targets, and they are finding wind power to be a reliable and profitable solution. These companies are called Non-Utility Customers.
There are two ways for corporations to join the wind energy industry.
First, they may elect to sign a power purchase agreement (PPA) with wind power producers.
Google is a good example. Google signed a 225-megawatt Power Purchase Agreement (PPA) to acquire the electricity generated by the Bethel Wind Energy Facility, located in Texas, for the company's data center operations.
Facebook also recently entered into a PPA for its 300 million Papilion Data Center, looking to procure renewable energy from the Rattlesnake Creek wind project in Dixon County, just west of South Sioux City. It is situated between the towns of Allen, Emerson, and Wakefield.
Alternatively, companies can choose participation via direct wind project ownership.
IKEA is one of these companies. The company bought Hoopeston Wind in Hoopeston, Illinois in 2014, and in 2015, purchased a 165-megawatt wind farm in Cameron County, Texas. These acquisitions are the largest IKEA Group renewable energy investments globally, to date, and will make a significant contribution to the company's global energy consumption by 2020.
Within the highly-dynamic and demanding nature of the wind power market, transportation also plays a critical role. This is a significant part of the project's cost structure. It requires a high level of collaboration between the manufacturers, and third party logistics providers.