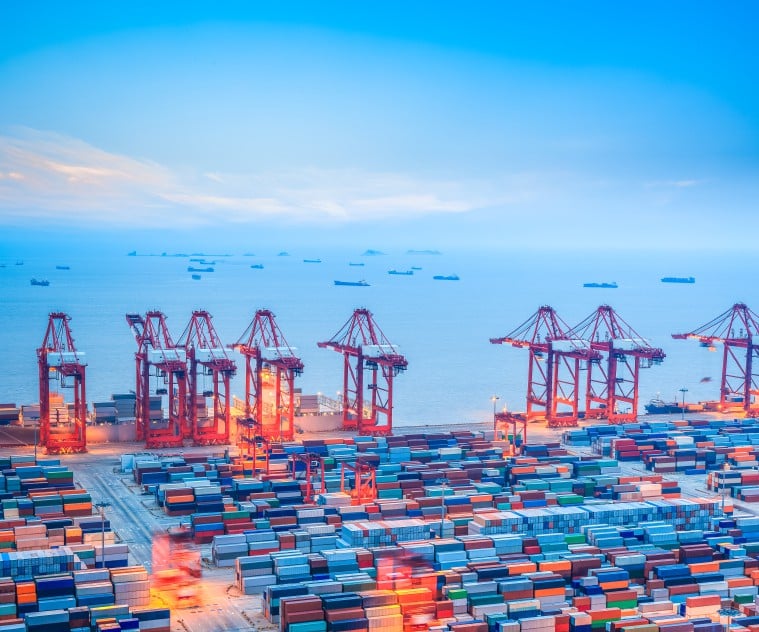 Hanjin Shipping has been in the news. As trade flows have slowed, especially from China, most of the ocean carriers have been struggling with weakening demand and over capacity for years now. We hear some of the carriers have come under pressure to even sell their vessels, and some other smaller shipping operations have already gone through bankruptcy.
One of the largest ocean carriers, Hanjin Shipping, has been unprofitable for many years. This unfortunate situation has also pressured their board of directors, who mentioned last Wednesday they may decide on its future course, including whether to file for court receivership.
Before we go through the consequences of Hanjin's sudden collapse in one day, let's take a look at some statistical info to better understand their important role in global shipping industry:
Hanjin Shipping is the world's ninth-largest container shipping company by capacity.
In May there was a six-member group that formed The Alliance in order to compete with global giants such Maersk Line and Mediterranean Shipping Co. Hanjin Shipping was part of this Alliance.
Hanjin moved 3% of containers globally and up to 10% off these shipped between Asia and Europe.
Some Asia-based brokers estimated Hanjin's daily capacity at 25,000 shipping containers.
Hanjin employed approximately 4,800 people worldwide.
According to an industry source, Hanjin accounts for around 7% of the Asia-U.S. cargo trade.
Since May 2016, Hanjin has been under a creditor-led debt revamp program. In order for Hanjin to survive, a creditor said they would need minimum one trillion dollars won in short-term liquidity. Hanjin had debt of 6.6 trillion won ($5.9 billion), so last Wednesday Hanjin's main creditor Korea Development Bank ended up rejecting the funding plans which led to a record decrease in the company's shares. Now, the company will have to find its own way to survive. In the wake of filing receivership, a big mess has been created and this unfortunately has created a catastrophe not only in Hanjin's operations, but also worldwide in the whole shipping industry.
Here are some big changes that occurred last week after the immobilization of Hanjin in the middle of the busiest season:
Hanjin has immediately stopped taking new shipments in Asia.
Many shipping companies came up with general rate increases and surcharges effective this week.
Capacity issues became more important than increasing ocean freight.
Including the ports in Shanghai and Xiamen in China, Valencia, Spain, and Savannah, had blocked access to Hanjin ships because of concerns that they wouldn't be able to pay fees. That has stranded 45 Hanjin-operated ships at sea and more than 500,000 containers.
In many ports, Hanjin vessels have dropped anchor off the coast and canceled plans to berth.
This sudden collapse of Hanjin had a huge impact also on retailers in the U.S. and elsewhere during the busy holiday-stocking season.  According to the U.S, National Retail Federation, there are "millions of dollars" of goods stuck on water.
On 2nd Sept Hanjin confirmed they will suspend their participation in the CKYHE Alliance. All Asian shipping partners are trying hard to find alternative carriers to ship goods as retailers in the U.S. and Europe for the holidays.
Hanjin has been given some time, until 11/25, by The Seoul Central District Court to come up with a plan to continue to operate. According to the Korean  government, this news is considered as granting Hanjin more time for an orderly liquidation since the court does not want to create chaos by ordering an immediate one.
As of this week, we were informed from overseas that there are rumors in the Korean shipping Industry that the government has to seek a compromise instead of a catastrophe. Apparently, shipping experts claim that in order to ride out the current crisis, authorities need to help save Hanjin Shipping. In a joint emergency meeting, the vice chairman of the Korea Shipowners Association Kim Young-moo claimed that "to save Hanjin Shipping by financing 500 billion won is the fastest way to solving the current situation.''
This week, news mentioned The Hanjin Group basically made a decision to give emergency financial support to Hanjin Shipping to put it under court receivership for the company's liquidity.
If the plans fall and Hanjin fails to recover, they would become the biggest company in the industry to go under. We hope to hear some good news that the contingency plan helps Hanjin to straighten out this mess for less damage overall. Our operation team keeps monitoring the situation and they will update all our customers as we have additional info.