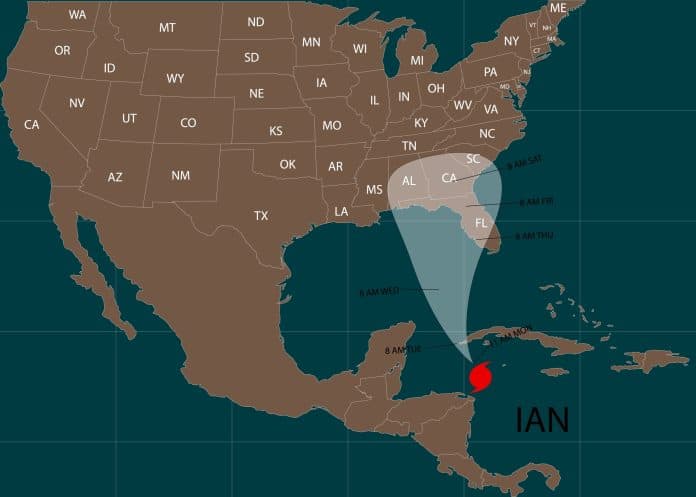 Ports all throughout Florida prepared for Hurricane Ian, and in the Southeast of the U.S. such as Georgia and South Carolina, ports have prepared for Tropical Storm Ian. The tropical storm is expected to move north and make landfall along the U.S. East Coast before going out to sea after hitting Florida this week.
The Storm
Although wind shear could have lessened in severity before it reached Florida, the National Hurricane Center (NHC) accurately predicted that it would intensify into a major hurricane over the eastern Gulf of Mexico. Significant wind and storm surge impacts throughout sections were anticipated and experienced.
Effect on Ports
In anticipation of strong winds within 48 hours, the Captain of the Port for Sector St. Petersburg established Port Condition X-Ray. The Coast Guard issued a warning for the ports of Tampa, St. Petersburg, Manatee, and Ft. Myers, instructing big commerce boats to be ready to leave or request permission to stay in port. As we all saw on television, the west coast of Florida got hammered and shipping is slow to resume there.
Similar warnings were issued by the Port Captain in Miami, who mandated lower container stacking heights for box storage and preparations for departure for major commerce ships.
The Georgia Ports Authority announced on Wednesday that the Garden City Terminal at the Port of Savannah will operate during the daytime hours through Thursday with truck gates opening at 4 a.m. EDT and closing at 6 p.m. as Tropical Storm Ian is predicted to march toward Georgia and the Carolinas.
Savannah's Ocean Terminal will operate as normal from 7 a.m.-5 p.m. through Thursday. The Port of Brunswick will also maintain normal operating hours from 7 a.m.-5 p.m. through Thursday.
Emergency management experts in the eastern Florida Keys concluded after analyzing the storm's path that there is no need to issue a general evacuation order, as the storm's center is predicted to pass far to the west.