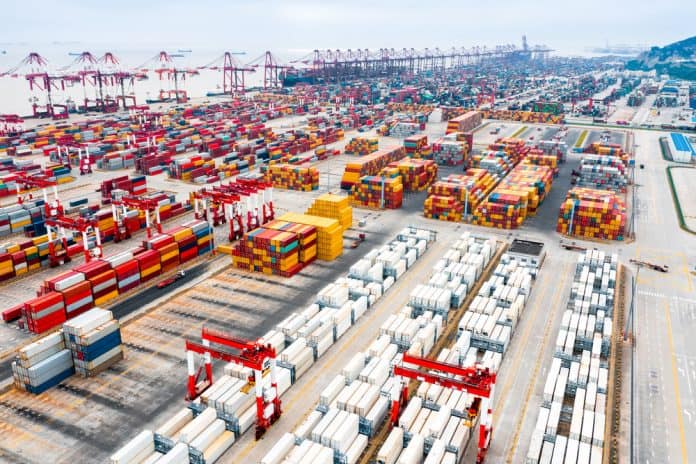 Following previous reporting that Chinese ports in certain regions of the country are facing Covid-related lockdowns, the problem may be getting worse. The Covid situation has intensified throughout the entirety of China. Now, locally-transmitted Covid cases in the country have been detected, threatening further delays and closures in key cities. The Port of Shanghai is just the latest example affected by the outbreak of the Covid Omicron variant. Throughout the rest of China, other key ports are also being tested under immense pressure.
With shipping traffic being diverted from the Port of Ningbo, Shanghai is seeing more and more delays with increased demand.
The Port of Ningbo is located close to the Port of Shanghai, so it has become an attractive destination for shippers looking to get around the shutdowns at Ningbo, where many port/trucking workers have been quarantined due to Covid rules. Although the Port of Shanghai is the world's largest container port, it is not immune to any of the issues plaguing the rest of the world's supply chains and ports: quarantine measures, sick workers, increased and pent-up demand, and diversions/delays.
Of course, the newest delays are coming at almost the worst time. Nearly two years after the Chinese Lunar New Year started back at the beginning of the Covid pandemic in 2020, the Lunar New Year is approaching again. This time, a combination of Covid-related quarantines as well as the traditional nationwide shutdown of factories, ports, etc. around the holiday period will mean even further delays for shippers.
Throughout the rest of the country, other key ports have faced Covid-related challenges over the past month, too.
The city of Shenzhen – dubbed the Silicon Valley of China, loaded with technology companies – faces a Covid outbreak which is affecting port operations there. The Port of Shenzhen, also one of China's busiest ports, has seen delays add up after the Covid outbreak led to new quarantine measures and many port workers out for testing and quarantines. New restrictions there have been put in place to ease the backlog, and in some cases, cargo is being refused.
Additionally, the Chinese city of Tianjin – with its sprawling financial district some have dubbed the Manhattan of China – is being tested after a Covid outbreak there forced workers to be tested en masse. Trucking capacity has been reported as down significantly due to the ongoing mandatory testing measures.
As Chinese officials try and stem the tide of Covid, seemingly ignoring signs that the virus is here to stay, the country will have to balance its economic output with extreme quarantine and testing measures that are not sustainable over the long-term. Other countries that tried the "Zero-Covid" approach, such as Australia and New Zealand, have since backtracked and decided it was time to accept the inevitable: this virus is here to stay and will become endemic. The best thing China and other countries can do to promote economic growth is adopt new standards that accept the "new normal."