Many people think that shipping containers is as simple as moving an object from point A to B.
Within the shipping industry, most people know that this is most definitely not true. Behind the scenes in the shipping industry, which literally has changed global economies (imagine the U.S. and China without container trading,) there are so many variables, alternatives, and opportunities, all contributing to the increasing complexity of the world of shipping.
One of the biggest challenges for anyone entering the shipping industry for the first time is to have access to all of the industry's basic and specific notions. This information opens the doors to a better understanding of what shippers are talking about.
Correct terminology and abbreviations also play a fundamental role within this complex industry. Speaking the same "shipping" language can help avoid misunderstandings, which most of the time lead to errors and negatively affects service performance and revenue.
Let's start with very basic terms:
FCL: Full container load
LCL: Less than container load
Containers: Types, and Associated Terminology
Standard Container/Dry Van/High Cube: STD/DV/HC

Most common sizes 20 feet and 40 feet (20DV/STD – 40DV/STD – 40HC)
40HC is 1 foot taller than STD 40' container
We also have 45HC – 5 feet longer than a regular 40HC

Flat Rack: FR (Used for cargo Over weight/height/width)
Open Top: OT

Used for cargo over weight/height
Associated with this we might hear also "In Gauge" – "Out Gauge."
In Gauge means the dimensions of the special cargo are smaller than or equal to those of the container
Out Gauge dimensions are bigger and exceed container dimensions

Platform: for cargo Over weight/height/width/length
Reefer Containers: 20RF/40RF/40HR same dimension as regular containers
Tank Containers: 20TK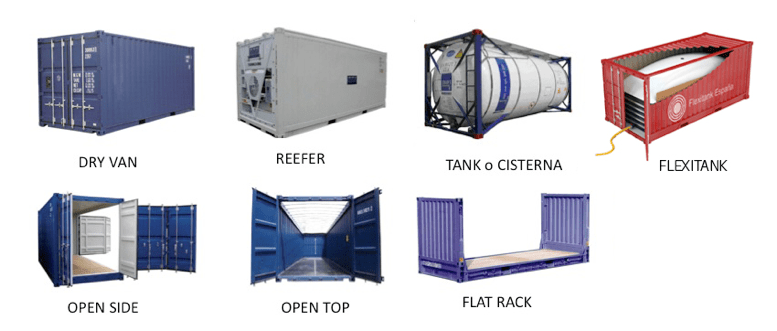 Here's the measurement system associated with containers, which is also used to size vessels:
TEU: Twenty Equivalent Unit. One 20' is equal 1 TEU (1 slot)
FEU: Forty Equivalent Unit. One 40' is equal 2 TEU or 1 FEU (2 slots)
Below is a quick recap of the Weight and Dimensions of standard containers:
Dimension
20'ST
40'ST
40'HC
45'HC
20'x8'x8'6″
40'x8'x8'6
40'x8'x9'6″
45'x8'x9'6″
Length
5.900 mm
12.034 mm
12.034 mm
13.556 mm
Width
2.352 mm
2.352 mm
2.352 mm
2.352 mm
Height
2.393 mm
2.395 mm
2.700 mm
2.700 mm
Weight
20'ST
40'ST
40'HC
45'HC
20'x8'x8'6″
40'x8'x8'6
40'x8'x9'6″
45'x8'x9'6″
Max Gross Weight
30.480kg

(67,197 lbs)

30.480kg (67,197 lbs)
30.480 kg

(67,197 lbs)

30.480 kg

(67,197 lbs)

Average Tare
2.230kg

(4,916 lbs)

3.740 kg

(8,245 lbs)

3.900 kg

(8,598 lbs)

4.700 kg

(10,261 lbs)

Maximum Payload
28.250 kg

(62,280 lbs)

26.740 kg

(58,951 lbs)

26.580 kg

(58,598 lbs)

25.780 kg

(59,039 lbs)
Sailing Schedule-Related Terminology:
POL: Port of Loading
POD: Port of Discharge
Port Pairs: combination of ports at origin and destination
ETA: Estimated time of Arrival
ETD: Estimated time of Departure
ATA: Actual time of Arrival
ATD: Actual time of Departure
MLB: Mini land bridge
Rotation: Order in which the ships call the various ports
Transit Time: time from port A to port B
Direct Service: when a container leaves and arrives on the same ship
Transshipment Service: when a container leaves on a ship and arrives on a different ship
Intermodal Terminology:
Pre-carriage: transportation between point of origin and POL
On-carriage: transportation between POD and final inland destination
Live load: pick up the empty container at the port/depot, go to the customer facility and wait without leaving, for the container to be loaded and then returned to the port/depot to drop the full container
Live unload: pick up the full container at the port/depot, go to the customer facility and wait without leaving, for the container to be unloaded and then return to the port/depot to drop the empty container
Drop & pick: the only difference with the live load/unload move is that the container is dropped at the customer facility and the trucker comes back after a certain amount of time to pick it up (2 trips)
Drop & hook: same for drop and pick but the trucker instead of leaving without container on the first trip, picks up another empty/full at the same facility to be returned at the port/depot
Chassis split: when the container is not located in the same place as the chassis and the trucker needs to bring the chassis to the container location. For example: If an ocean port doesn't have any chassis available or the trucker doesn't own chassis, the trucker may travel to a nearby chassis pool first, pick up the chassis, and then proceed to the port from there.
Pre-Pull: A pre-pull is when the trucker pulls an FCL container from the port/depot and stores it at the trucker's yard instead of immediately delivering it.
Stripping: is the unloading of various small consignments from a single container, usually done at off site / forwarder's facility
Documentation Terminology:
Owner: whoever owns the goods
Shipper: whoever ships the goods (can be either "proprietary shipper" or NVOCC)
Consignee: whoever receives the goods
Notify: whoever is to be notified when cargo arrives
Beneficial Cargo Owner: BCO (Shippers with direct contract with Carriers)
NVOCC: Non-Vessel Operator Common Carriers.
Freight Forwarder: Intermediary between Shipper and Carrier
Broker: Intermediary at destination (usually notify) to clear Customs
Master Bill of Lading: BL

It works as:

Contract of Carriage
Receipt
House Bill of Lading: BL issued by the NVOCC to the Customer
Manifest: Collection of BL for Vessel/Voyage
Types of Payments:
Prepaid: Charges paid at POL
Collect: Charges paid at POD
Elsewhere: Charges paid in a country which is not the at POL neither the POD
Type of Charges (The Most Common):
Commercial Charges:

Ocean Freight: OF (the money due for the carriage of goods)
Bunker: BUC (cost for the fuel used by the vessel during the voyage)
Arbitrary: Charge to cover the cost of a feeder vessel to get the container to the main port
Seasonal Charges:

Peak Season Surcharge: PSS
Winter Surcharge: For example, it is applicable during winter season to ports in Russia
Congestion Surcharge: to cover the cost of exceptional congestion at POL and/or POD
Operational Charges:

Wharfage: WHA (A charge assessed by a pier or dock owner for freight handled over the pier or dock or for a steamship company using the pier or dock)
ISPS: International Ship and Port Facility Security Charge
THC: Terminal Handling Charge
Roll Over Fee: if the container gets rolled on the next vessel due to Shipper's error
Equipment Charges:

Per Diem
Storage
Detention
Demurrage
The purpose of this article is to provide some fundamental information, useful when you first enter the world of the shipping industry, but much more could be mentioned. If you have any essential information that should be added, we at MTS Logistics, encourage you to contribute with a comment.
Specific topics on some of the above-mentioned information have been already written on our blog.
Here are a few examples of topics with further information: