The latest Global Shipping report from Descartes points to an increase in April 2023 U.S. container import volumes, with much of the gains coming from increased trade with China.
Increased imports from China led to higher U.S. container imports in the month of April 2023, the newest Descartes Global Shipping Report shows. For the first time, it appears that imports may be returning to near-pre Covid levels, though there is a big gap from last year's all-time highs due to the supply chain woes that were plaguing the U.S. and the world.
Compared to March of this year, imports from China into the U.S. were up nearly 27%, which is much more in line with what was seen in the pre-Covid spring months, according to the report.
After decreasing every month since August 2022, as the supply chain crisis waned, China to U.S. container imports grew strongly last month.
The exact numbers were as follows for container volumes. April 2023 saw 2,020,197 TEUs, up 9% from the prior month. Year-over-year, the volumes were down nearly 18%, but that is to be expected with supply chain issues and focus having largely disappeared. And, perhaps, most surprisingly, April 2023 shipments increased over 5% from the last pre-Covid April: April of 2019.
At the Port of New York and New Jersey, container imports grew by almost 55,000 TEUs in the month of April, compared to the prior month. A similar story was in place at the Port of Savannah, where almost more 25,000 TEUs were shipped in April, compared to lower volumes in March. On the U.S. West Coast, the Ports of Los Angeles and Long Beach saw increases of more than 22,500 and over 17,700 TEUs, respectively.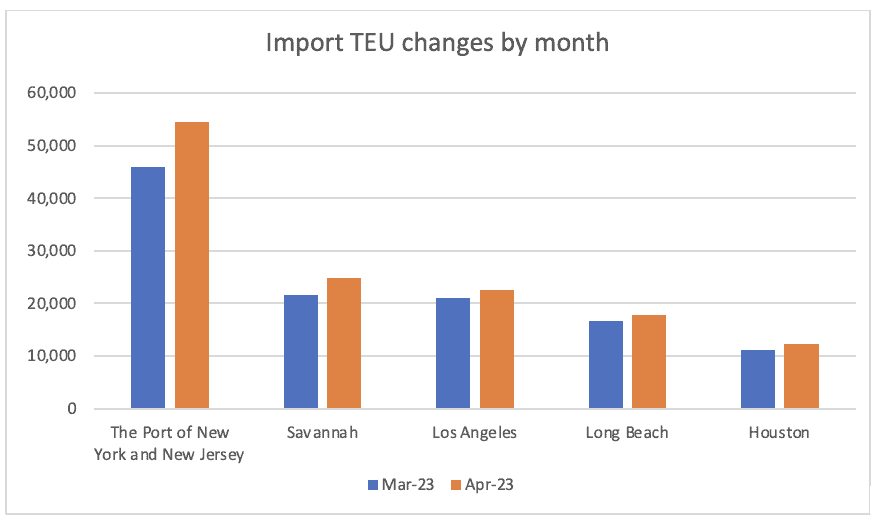 China led the way in increases in U.S. imports, but other countries saw growth, too. For example, Vietnam to U.S. imports grew over 18,200 TEUs between March and April of this year.