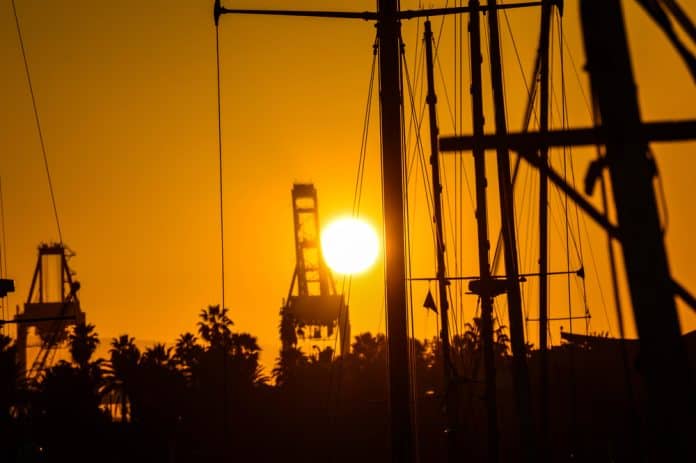 Leading U.S. ports are seeing a very busy spring, as disruptions in the global supply chain continue to cause delays and congestion. This has resulted in some of the busiest periods in recent history for both U.S. East and West Coast ports. While shipping rates remain high, they have decreased somewhat in recent weeks as some disruptions have eased.
U.S. ports are under a lot of pressure as they try to handle the increased volume of traffic while also dealing with supply chain disruptions.
It's clear that increased volume has been a challenge for both the East and West Coast ports, as shipping delays made container shipping a household topic in the U.S.
On the West Coast, April proved to be the busiest ever for the Port of Long Beach. The Port of Los Angeles-Long Beach complex as a whole saw high volume, as the Port of Los Angeles experienced an April that was its second-busiest ever. This was even more remarkable when you consider that year-over-year cargo volume actually fell amid global supply chain lockdowns in China, among other disruptions. Volume at the Port of Long Beach was nearly 821,000 TEUs in April, an increase of 10% year-over-year. At the Port of Los Angeles, the port handled handled over 887,000 TEUs, almost 100,000 fewer TEUs than last year, but still its second-best April ever.
Making less news, but still very significant, was the fact that U.S. East Coast ports also set new records in April.
When April volume numbers started to trickle out, the dominance of U.S. West Coast ports was no question. After all, many Americans have seen the images of ships docked in the harbor outside the Port of Los Angeles-Long Beach complex. However, U.S. East Coast and Gulf ports also surprised. Georgia, which encompasses the busy and leading Port of Savannah saw container volumes increase over 6% over last April, while Virginia, which includes Norfolk, had April declared its second-busiest month ever. On the Gulf Coast, the Port of Houston handled more than 330,000 TEUs, for its busiest April to-date.
Container rates have begun to fall as the industry works to try and reach a new equilibrium. But will it last?
Recently, major container shipping rate indices saw rates fall from their recent highs clocked during the peak of the Covid pandemic reopening process. Decreases were recorded on the Freightos Baltic Daily Index (FBX), and rather significantly, the Shanghai Containerized Freight Index (SCFI.) Since China has not shown any sign of withdrawing its Zero-Covid policy, the real question is how long these decreases can last. If any equilibrium has finally been reached, consumers are not yet feeling it and shippers are left with much anxiety from the last two plus years.