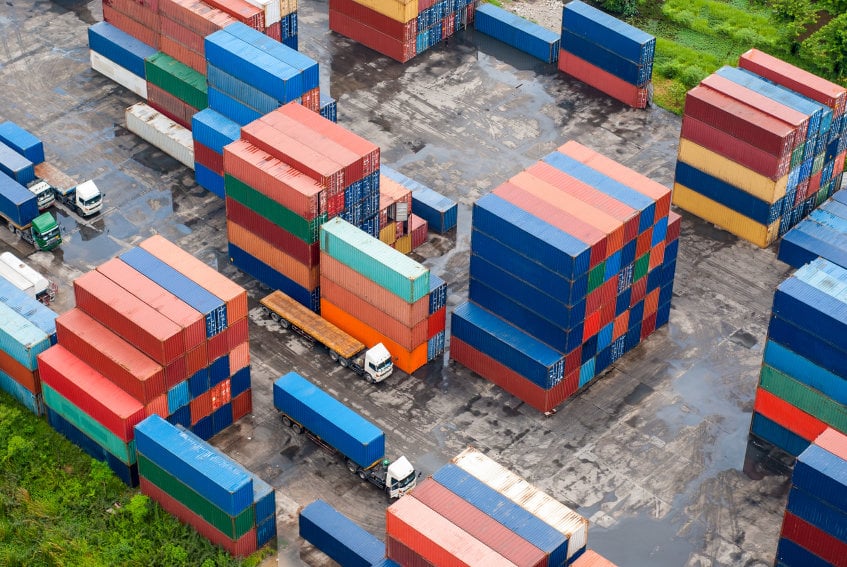 If you live in the Midwest USA, as I do (Wisconsin), have you ever wondered how your children's Christmas toys, your flat screen television, or your furniture got to the stores where you made your purchases? You knew that they were not "made in USA" but were likely from some off shore location in Asia. But what were the transportation methods that got them from so far away into the stores and onto the store shelves for you to so easily and inexpensively make your purchases? Here is a little historical information you may not have known.
Thanks to Malcom McClean's introduction of a standardized container box in the mid – 1950's the first generation of intermodal infrastructure was born here in the USA. Soon afterward, USEC exporters would no longer be dependent upon the labor intensive and costly method of break bulk shipping of dry goods. At that time, hand loading a ship cost $5.86 per ton of freight. Using McClain's method of standardized containers reduced that cost to only 16 cents a ton to load a ship, a 36-fold savings. Containerization also greatly reduced the time to load and unload ships. McClean knew that an ocean vessel is only earning money for the ship owners when it is at sea moving cargo. Not while it is at port being loaded or unloaded.

McClean's first product in 1956 was developed for RO-RO or roll-on, roll-off vessel transportation with the truck taking on a dominant role in the infancy of intermodal transportation. Initial service offerings were from port NY to Florida, Texas, and Puerto Rico. Acceptance however of this new transportation method was slow due to resistance from the stevedore unions and the lack of heavy crane equipment at the port/terminals to load and off load. Still, with the standardization of container design and the very evident reduction of labor costs and dock service time the industry grew with competitors joining this new market. The old method of moving ocean cargo solely by break bulk has ultimately been pushed aside globally for what was a revolutionary new method of ocean transportation.
The next or second generation of intermodal infrastructure was heavily influenced by the American consumers demand for goods being imported from Asia. Starting in the late 1960's containership transportation was inaugurated from the Far East to the United States. As the Asia to USA trade grew the need for cost effective intermodal land bridge services across North America between the US West Coast and the US East Coast as well as into the USA Midwest led to heavy focus on steel wheel transportation. That is the rail intermodal system.
The great distances between the US West Coast and the USA Midwest made rail combined with truck transportation a very competitive way to transport imported ocean container freight. The intermodal industry became even more cost competitive with the introduction of double stack rail cars (lower chassis to allow 2-high stacked containers) and time-definite scheduled services. In today's system we are accustomed to ocean containers moving through the ports quickly and effectively with the combination of rail and truck service to the USA inland destinations.
With the widening of the Panama Canal currently underway, a third generation of intermodal transportation in the USA is still possible. Inland waterways and rivers such as the Mississippi and Illinois can offer the intermodal transportation industry ability to move containerized freight via "Marine Highways". Marine Highways with barge traffic is not a new concept. In China, many manufacturing facilities are moving away from coastal areas into the interior. China effectively uses its rivers to move container freight by barge to an ocean seaport for loading onto a mother-ship. This same concept could be used here in the USA, adding an additional intermodal arm to the current intermodal solution here in the USA.
However intermodal transportation is handled in the future it is clear that inland ports are here to stay and multiplying. The Journal of Commerce (JOC) recently hosted an event in Chicago, the inland Port Logistics Conference. Most people with geographic knowledge of the USA would not consider cities like Chicago, Kansas City, Atlanta, Memphis, Denver, Atlanta among other locations as a US Seaport. Set aside the fact that none of these cities is actually located on an ocean and consider for a moment that they are simply a waystation for these "ocean freight containers" moving to their final destination in the USA Midwest or other interior locations in the USA.
Not all of these USA inland ocean import shipments are moved intact in the ocean container. Some are transloaded from the original ocean container into domestic intermodal equipment and then still moved inland on steel wheels (railroad service) to the "inland port". With improved on-time performance by the railroads and in conjunction with the trucking companies (drayage service) who move these containers from the rail the ocean carriers are able to commit to their customers a higher percentage of on-time arrival. The Class 1 railroads played an active role in developing this logistics model in the 1990's by further developing the inland ports. Establishing intermodal logistics parks that combine rail access with extensive warehouse space and easy access to the USA highway system has made the long-haul rail and short-haul truck intermodal model very cost effective for US importers.
CenterPoint Properties was the host of the JOC Port Logistics Conference this year. In 2002 CenterPoint opened its intermodal center in Elwood Illinois (outside of Chicago) with the BNSF (Burlington Northern Santa Fe) Logistics Park as its centerpiece. This year an adjoining intermodal facility was opened with the Union Pacific Rail facility as its centerpiece. Combined, the Joliet and Elwood facilities will handle about 2.5 million TEU's (twenty foot equivalent units) this year. If you look at these Chicago area facilities as an "inland port" it puts them in the top 5 ranking of USA ports. With further build out and construction these locations are capable of handling an additional 3.5 million TEU's annually.
There is still and always will be an ebb and flow between shipping intact containers versus transloading to domestic intermodal trailers on the US West Coast. Labor costs, fuel prices, intermodal rail pricing, and the availability of manpower for trucking will influence importers decisions on the most effective method for their individual needs. Still another factor will be the demand for ocean containers to move US ocean export shipments. Container repositioning costs are important to the ocean carriers in determining where or whether they will allow their containers to move inland in the USA.
I hope that this has given you some insight into how many factors go into placing product on store shelves for the American consumer and additionally how those factors drive the final cost.