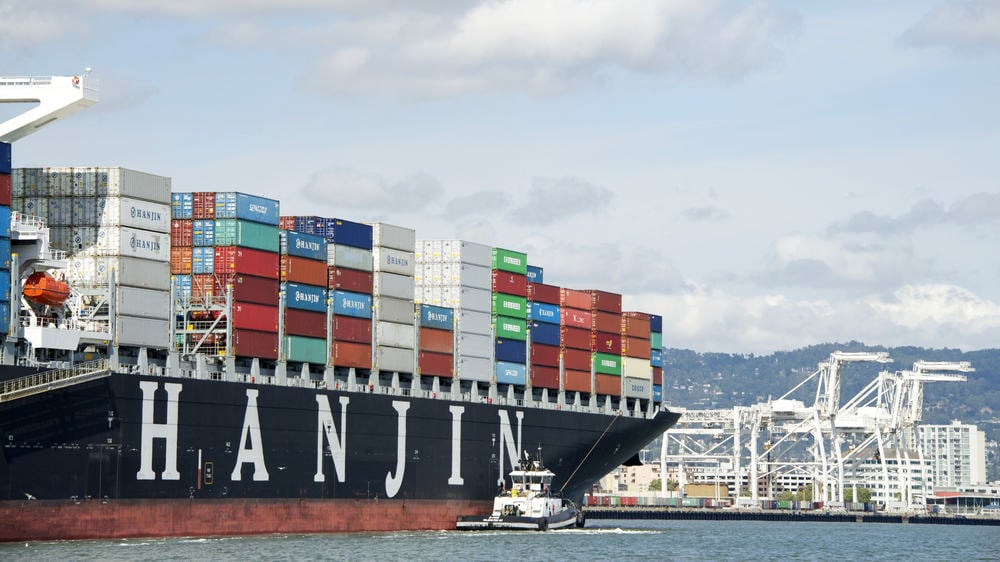 Historically, we all know that going into Spring, cargo volumes start picking up and begin to build. Slack season imports are about 20 percent less than those peak season volumes. This year, it's been almost eight weeks that spot rates in eastbound Pacific transit have been decreasing. See the chart below:
When we analyze East Coast rates, here's what we see.
According to the Shanghai Shipping Exchange's Shanghai Containerized Freight Index, from Shanghai to the U.S. East Coast, the spot rate for shipping a 40-foot equivalent unit was $2,625, about 59 percent higher than in Week 12 of 2016. For U.S. West Coast rates, a 40-foot equivalent unit is $1,288 from Shanghai to Los Angeles, about 72 percent higher than in 2016. There are no expectations of significant swings in spot market rates, due to a few reasons such as the ongoing process of new contracting season, the entrance of the carrier alliances, and the introduction of new vessels next year.
This year, a senior market economist projects that from Asia to the U.S., containerized imports will increase almost 7 percent. Cargo volumes should start increasing in the next few months, as we will soon enter the summer-fall peak season. This will kickstart a gradual rise in spot rates. I believe we could still conclude that market conditions this year are definitely better than last year. High capacity and low import growth pushed spot rates to decrease in the first half of the year. In 2016, we saw record-low levels in the eastbound Pacific, $1,496 per FEU in Week 26, and for the U.S. West Coast, the record-low rate was $725 per FEU in Week 17.
I believe that in spite of higher spot rates this year than last year, it seems that negotiations of new contracts between BCOs, NVOs, and Steamship lines, are slower than in 2016. We all know that this is just blurry vision that slows down everything, caused by uncertainties about the restructuring of carrier alliances, and financial risks of some shipping lines. One particular financial risk happened on August 31, 2016 – this was an important date in the history of the shipping industry, due to the sudden bankruptcy of Hanjin Shipping, one of the largest shipping carriers.
They tried to find liquidity, and restructure, but eventually all Hanjin Vessels have been arrested, and ports have refused to work with Hanjin Ships. When we compare Hanjin's financial crisis with some other carriers, it's not wrong to say that Hanjin's bankruptcy has been one of the largest container shipper's collapse in history. There were huge consequences. Continuing into 2017, we have seen negative impacts from this collapse in the market. In 2017, we came to notice that BCOs, for instance have a different approach to carriers – they are focused more on the financial security of carriers they will sign a contract with.
The industry is anxious after Hanjin's collapse, because they are scared to think about who will be the next Hanjin.
Everyone wants to take their time and think before signing their service contracts with carriers. We hear some large shippers are still reluctant to accept rate offers made by carriers, because the idea is to delay a bit longer forcing the carriers to lower their rate figures. The numbers are around $1,000 per 40-foot container to the West Coast to large importers. We have seen much lower contract rates last year of around $750.
We hope there are no more drastic rate decreases like those in 2016, and that the market finds its own balance.