As Shanghai emerges from a two-month long lockdown, pent-up demand may continue to flood the already congested Southern California ports.
According to Drewry Shipping Consultants, there were about 260,000 TEUs that did not ship out from Shanghai during April. If the reopening after Chinese New Year is any indication of what is to come, it may take a couple of weeks before we see a bullwhip effect take place.
China's largest production hub is opening back up so there will be many companies in a hurry to purchase raw materials. Once their exports are in full swing and finished goods are leaving China, U.S. ports will receive a surge of containers. As of this week, there are already about 25 container ships waiting to berth at Los Angeles and Long Beach. The number of ships will increase as shipping peak season is approaching. Importers are stocking up for back-to-school merchandise and holiday goods.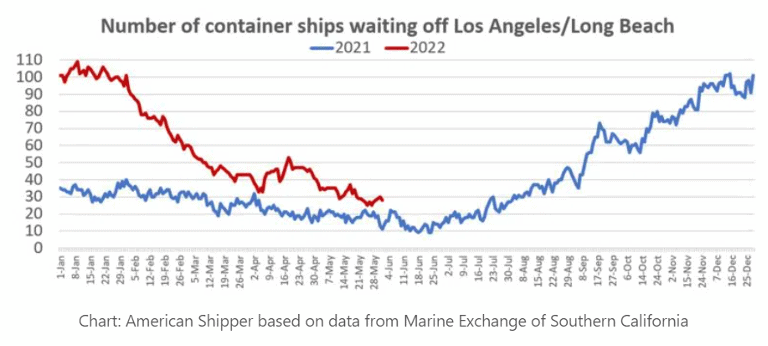 The Container Port Performance Index, a report by the World Bank and S&P Global Market Intelligence team, lists U.S. West Coast ports as the least-efficient worldwide. Los Angeles and Long Beach ranked dead last out of the 370 ports on the list. Los Angeles and Long Beach peaked with 109 vessels waiting at the beginning of this year. The report takes operational efficiency into consideration such as total port hours per ship call. The index and essential data are meant to find gaps and opportunities for improvement that would benefit all key stakeholders in global trade, including governments, ocean carriers, port and terminal operators, shippers, businesses in supply chain and consumers.
"We are well into the second year of volatility in container shipping as both port and inland terminal congestion abound in marketplaces from China to the UK and seemingly everywhere in between. This has not only caused headaches for cargo owners the world over as they struggle to get their goods to their destinations, but also has cascaded into the structure of the industry itself", said David Lademan, container markets editor of S&P Global Commodity Insights, on their latest Commodities Focus podcast.
The situation is still very fluid.
To hedge against further disruptions, try to be flexible in routing options. Submit bookings with at least two weeks notice prior to cargo ready dates. If possible, use alternative gateways such as East Coast and Gulf Coast ports. If cargo is going to the U.S. Midwest, such as Chicago, try routing via Canadian railways Vancouver or Prince Rupert. All options are on the table as there could be more continued global shocks to the supply chain. Please contact your local MTS representative for suggestions to creative shipping solutions.