When MTS Logistics recently announced the launch of our Miami Office, the choice of Florida for our next office to position us as we rapidly grow was a deliberate choice. After all, Florida is a key engine of the U.S. and world economy. Today, we'd like to show you why Florida is critical for MTS Logistics' future growth – and the growth of America.
Overview
While many consider Florida a vacation destination hosting hundreds of miles of beaches and world-famous theme parks, with its pro-business government, low tax rates, streamlined regulations, and a dynamic growing population, Florida is an economic superstate and the 4th largest economy among U.S. states. Coupled with sophisticated and extensive international commerce and shipping infrastructure, along with many large-capacity deep sea ports, road, rail, and airports, Florida is a major hub both for domestic and international transportation.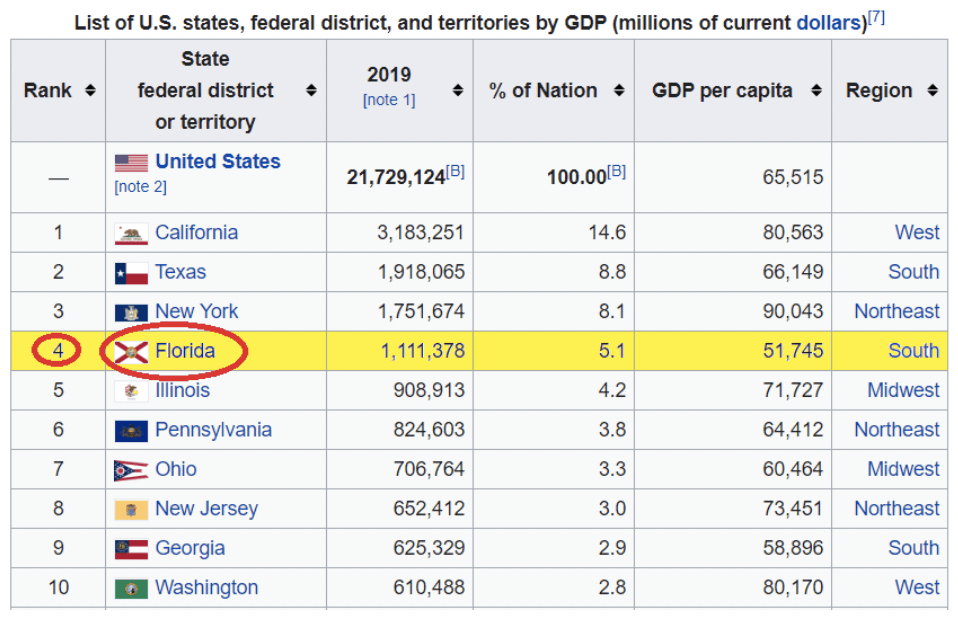 Why Florida?
1. Business Climate and Tax: Consistently ranked one of the best states for business, Florida keeps regulatory requirements and business taxes low. That, along with its stable economy and zero personal state income tax, make it a great place to do business. Florida has no state personal income tax, and a comparatively low 5.5% top marginal corporate income tax rate.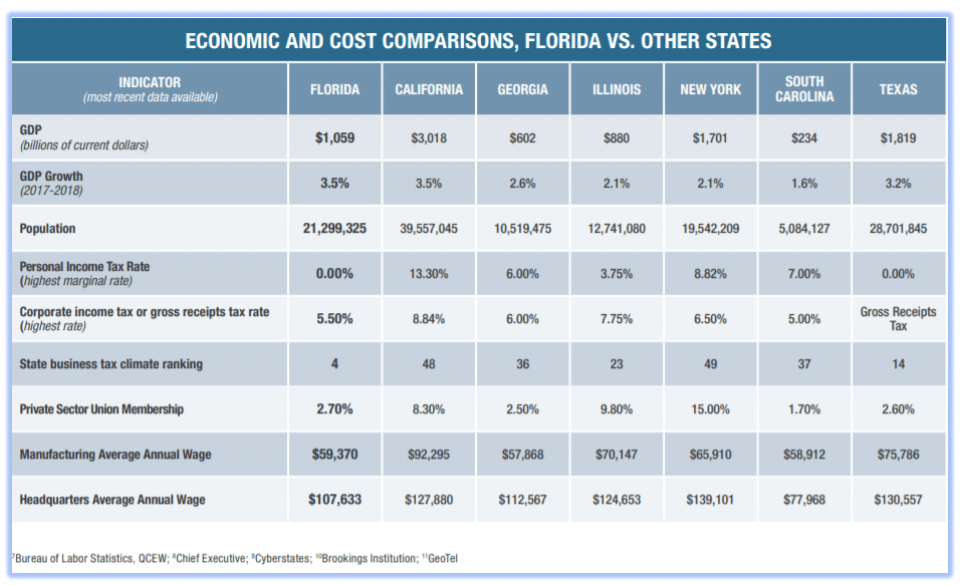 2. Global Access: Success requires global access in today's business world. Some $150 billion worth of goods goes through Florida's seaports and airports annually. Florida's strategic geographic location makes it a major gateway for merchandise trade between Latin America, the Caribbean, Europe, and the world.
3. Its Economy and Population: Florida is now the 3rd most-populous U.S. state with a population of over 21 million residents, and 125+ million yearly visitors. Florida can open up new growth opportunities. Florida's trillion-dollar-plus economy would make it the 17th largest economy in the world alone, much larger than The Netherlands and Turkey, and about the same size as Indonesia.
4. Global Trade Center: Over the past 10 years alone, the total value of Florida's merchandise trade has nearly doubled, reaching $153.6 billion in 2019. Florida companies act as key suppliers, and buyers for countries worldwide, shipping goods made locally in Florida, along with a large spectrum of imported goods moving in and out of the state. Florida is hosting several thousand affiliates of companies based outside the U.S., including hundreds of hemispheric or regional corporate headquarters.
5. Gateway to Latin America: Florida is the America's commercial crossroads. Due to its strategic geographic location, advanced infrastructure, access to finance, and multi-cultural and multi-lingual workforce, Florida serves as the principal gateway to Latin American and Caribbean markets for both U.S. and overseas companies. Florida accounts for 29% of total U.S. trade with Latin America and the Caribbean.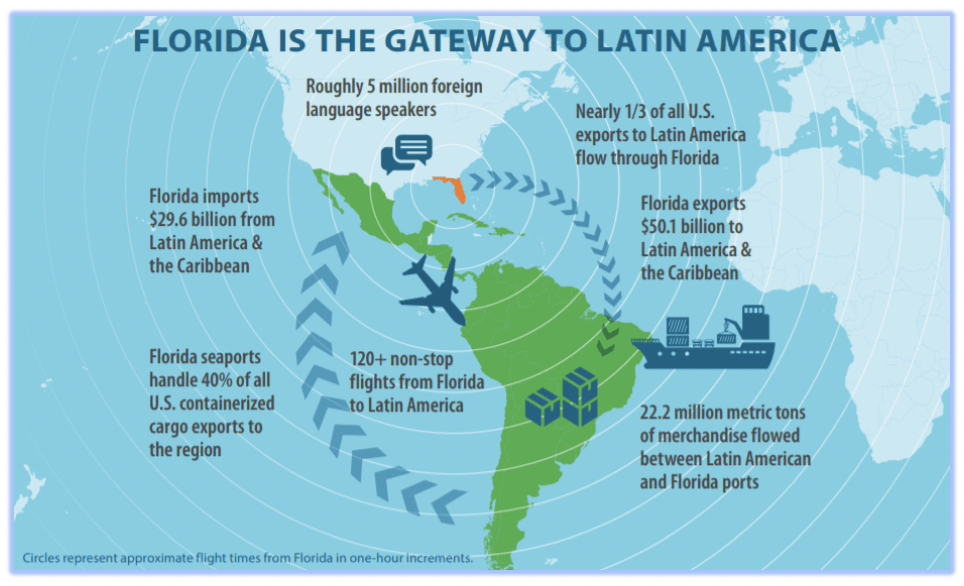 Major Industries in Florida
Florida's vast, dynamic market offers tremendous business opportunities for a large spectrum of companies across different sectors. Here are the most notable ones: 
Aviation and Aerospace: Second in the U.S. for Aviation/Aerospace businesses focused on aircraft and parts, avionics, UAVs, space vehicles and exploration, MRO, flight simulation and training, and air transportation.
Manufacturing: Second in the the U.S. for Manufacturing focused on electronic components, transportation equipment, and metal fabrication. Florida's average annual manufacturing wages are 22% lower than those in Texas, and 36% lower than California's.
Information Technology: Fourth in the U.S. for High-Tech Businesses focused on photonics/optics, modeling/ simulation, microelectronics, communications, and software.
Financial and Professional Services: Second in the U.S. for Finance and Insurance businesses, banking, trade finance, insurance, legal services, creative design, engineering, consulting, marketing, and shared services. In fact, Miami has the largest concentration of domestic and international banks on the U.S. East Coast after New York.
Life Sciences: Second in the U.S. for Medical Device Manufacturing businesses and second in the U.S. for Pharmaceutical Manufacturing businesses, focused on medical devices, pharmaceuticals, biotech R&D, and healthcare.
Defense and Homeland Security: Third in the U.S. for Defense Systems Manufacturing businesses focused on missiles/weapons, cybersecurity, disaster preparedness/response, and training.
Logistics and Distribution: Third in the U.S. for Logistics and Distribution businesses focused on value-added logistics, logistics IT, defense logistics, and trade/transportation.
Cleantech: Seventh in the U.S. for the overall size of the clean economy, focused on energy, efficiency, and environmental services.
Agriculture: Fourth in the U.S. for total vegetables harvested focused on its signature citrus products, floriculture and bedding, nursery, propagative materials, sod, food crops grown under glass or other protection, and mushroom crops.
Construction: Unlike many other states, Florida Construction growth is way above the U.S. average due to its growing economy. Florida construction and real estate has been booming for the past ten years.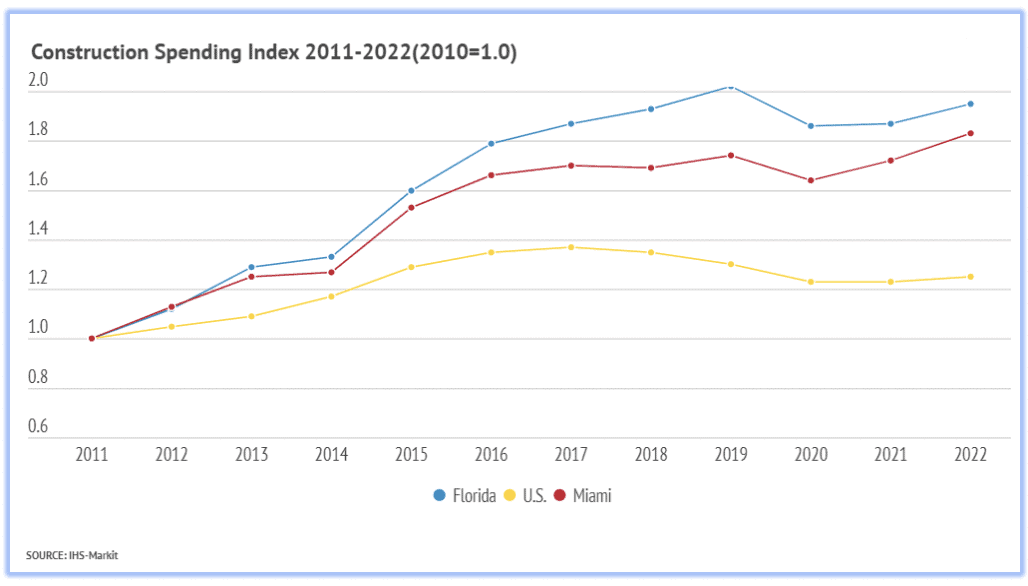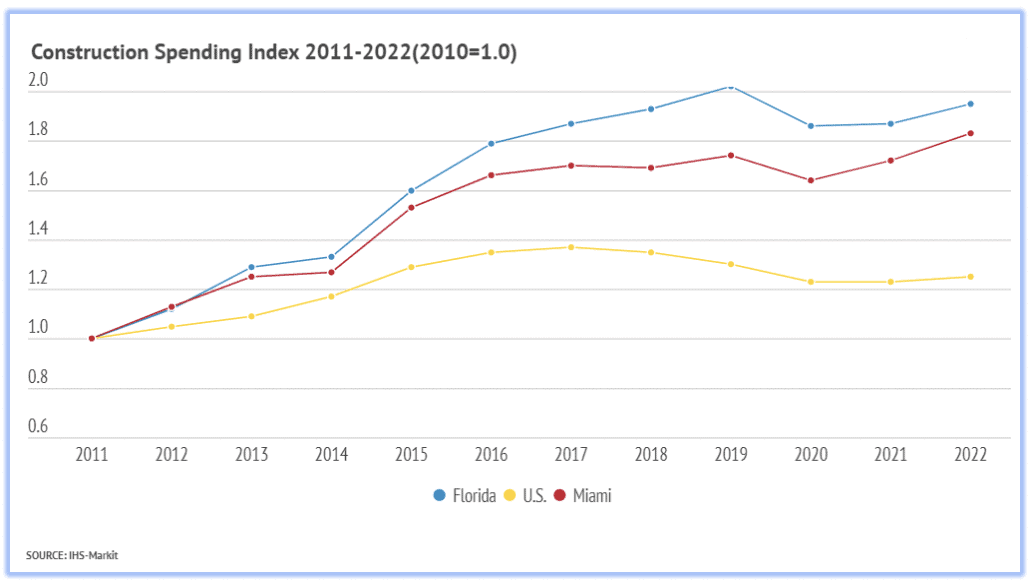 Logistics and Shipping in Florida
With state-of-the-art infrastructure, cargo moves very efficiently in Florida. The state's transportation network includes twenty commercial airports, fifteen major and minor water seaports, advanced highways, and rail networks. With extensive Free Trade Zones in the state, goods can be landed, stored, handled, manufactured, or reconfigured and re-exported under specific customs regulations. Direct cargo and passenger flights to numerous shipping routes connect Florida to the world's leading commercial hubs. Miami International Airport (MIA) controls the north/south cargo flows in the Western Hemisphere, handling 79% of all air imports and 77% of all exports from the Latin American/Caribbean region, and serving as the hub for distribution of perishable products, high-tech commodities, telecommunications equipment, textiles, pharmaceuticals, and industrial machinery.
Below is a detailed map showing the foreign trade zones, interstate highways, commercial airports, and deepwater seaports in Florida: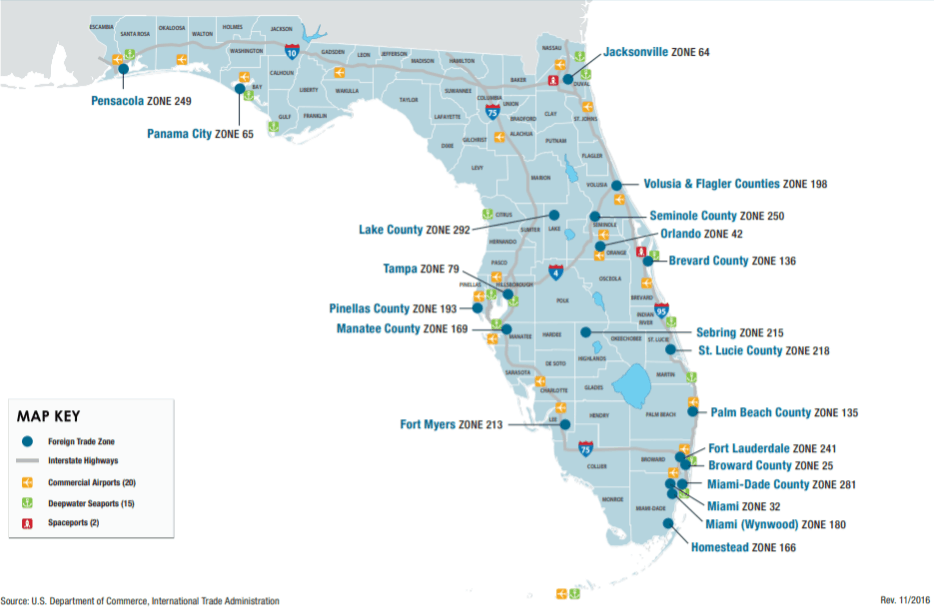 Florida Imports
Florida ranks as the second-largest importer among U.S. states after California with over 604,000 containers.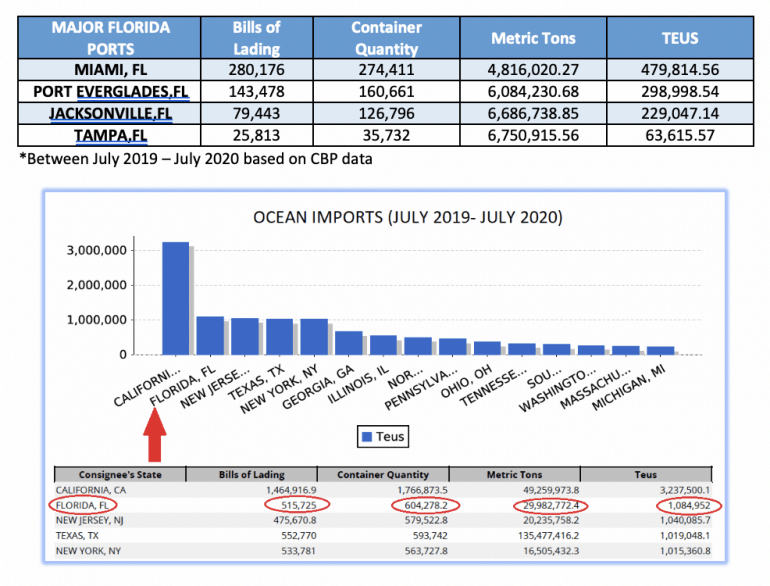 Florida is a major gateway for inbound merchandise from East Asia, Latin America, the Caribbean, and other world regions. Based on data from U.S. Customs and Border Protection (CBP), Florida is hosting more than 80,000 companies who actively imported products into the U.S. in the past 12 months. Florida imports mainly come from East Asia, Latin America, and Europe.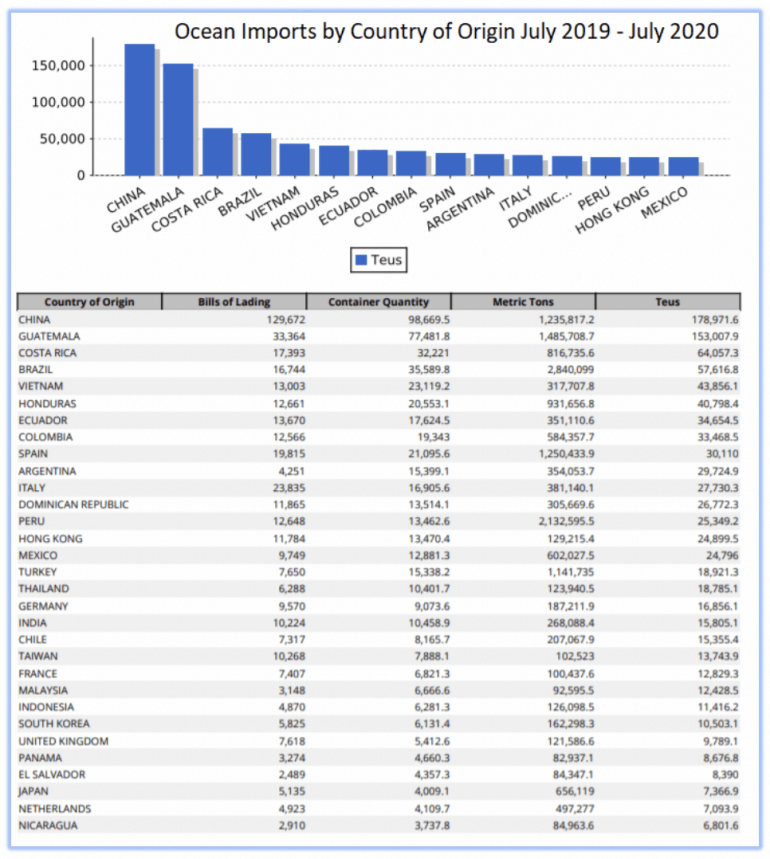 Florida Import Commodities:
1. Furniture
2. Fruits
3. Machinery and Electronics Parts
4. Beverage and Soft Drinks
5. Stone and Construction Materials
6. Apparel and Textile
7. Iron, Steel, and Other Metals
Ocean Freight Service Dynamics for Florida Imports
Regarding Ocean Freight services to Florida, we have three major ports – Jacksonville, Tampa, and Miami Ports – that are all water service options. For example, from China, carriers regard Jacksonville, FL as the U.S. East Coast base port, and Miami, FL, and Tampa, FL as Gulf ports for pricing purposes. For Miami and Tampa ports, carriers strictly implement weight limitations.
From China, all alliances serve Jacksonville Port, but Tampa/Miami is only served by Ocean alliance (COSCO, OOCL, EVERGREEN, and CMA-CGM) and 2M alliance (MSC/MAERSK), limiting importers' options for southern Florida imports.
Overall, space is an important factor for Southern Florida ports. For example, 2M alliance (MSC/MAERSK) have better space allocation to Miami and Tampa from China and Southeast Asia.
Depending on the origin port, certain carriers may have better space allocations throughout different seasons. Importers should consult an experienced logistics provider in order to have access to more refined shipping options based on cargo specifics such as weight, needed free time, final delivery, etc. Port terminal operation schedules, and conditions, differ from one another. Certain port terminals may be less congested than others and using a specific steamship line or alliance who calls less congested port terminals can have advantages in peak seasons for time-sensitive cargo.
Marine Port Terminals: The carriers in the same alliance share the same sailings and call the same port terminals in Florida. Terminal details are shown on the below spreadsheet for Jacksonville, Miami, and Tampa Ports for our readers' information.
Florida Exports
Florida is an exporting powerhouse and accounts for $72.3 billion in goods shipped from and through its borders in 2019. Hosting around 61,000 exporters, Florida is home to one in every five U.S. exporters – the second highest number in the U.S. – making it the seventh-largest exporting state in the country.
Florida's largest export markets are Colombia, Panama, Brazil, and the Dominican Republic. Brazil is a growing market for Florida exports, exporting $4.5 billion in goods to Brazil in 2018, representing 8 percent of the state's total goods exports, followed by Canada ($3.8 billion), Mexico ($3.3 billion), Colombia ($2.4 billion), and Germany ($2.3 billion).
Florida's exports to major world regions:
1. South/Central America and Caribbean
2. APEC Countries
3. European Union
4. Sub-Saharan Africa
Florida Export Commodities:
1. Florida is a major agricultural exporting state, exporting plant products, fresh fruits, processed fruits, and foods.
2. High-end electronics – Florida ranks 3rd among all U.S. states in high-tech exports.
3. Plastics
4. Machinery Parts and Electronic Equipment
5. Paper Products
6. Minerals
Florida's strategic and economic importance will only get more prominent, and will make it a much bigger player in the world in the future. Its extensive infrastructure, business climate, global access, and boundless markets will continue fueling Florida's economy and its transportation activities along with it.
At MTS Logistics, we will continue participating and contributing to the growth of Florida with our shipping and transportation expertise.