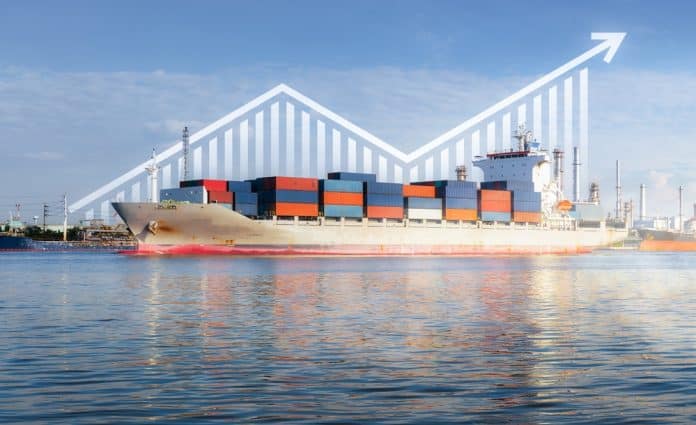 Starting in 2023, we all knew that freight rates would be plunging, and I was thinking that we would see "2019 freight rate levels" by end of 2023.
So, I was expecting more of a gradual price reduction than a sudden one. Coming into July this year, we are seeing freight levels being redder (check out our internal comparison below) than my expectations.
From the U.S. East Coast to the Eastern Mediterranean, India and the Middle East, freight rates are already below 2019 levels and for U.S. East Coast to Asia, like 2019. Northern Europe is still a bit positive, but considering freight rates on that trade lane are in the mid-three figures, a 33% difference is not really that significant.
Gulf ports also had their share of price swings – regions like Asia and Central America already saw lower prices, while many trade lanes are already equalized.
One of the unique attributes of a post-Covid global economy is that there is a slowdown in almost all economies around the globe (except a few like India).
According to Morgan Stanley, the U.S. is expected to grow at 1.2% in 2023, while back in 2019, U.S. GDP growth was 2.29%. More importantly, next year, the expectation for the U.S. economy is 0.8% growth. Meanwhile, in the Eurozone, growth is expected to be 0.8%, while it was 1.58% in 2019. China, the biggest trading partner of the U.S, will only be at 5.7% in 2023 and 4.9% in 2024, while it was 5.95% (which was already decreased) in 2019. And finally, South America is expected to grow only 0.6% in 2023.
What would these numbers mean for U.S. trade and shipping?
These numbers mean that not only will U.S. trade be slow, but globally, the current slowdown will continue. In the past, ocean carriers may have lost money on one trade and may have positioned vessels onto stronger trade lanes and maximized revenue per vessel accordingly. I don't think there will be opportunities to do so for the rest of 2023 and at least for the first half of 2024.
This means that if the drop in ocean freight rates continues, we will get to an unhealthy zone. There is significant risk of ocean carriers removing services instead of operating. A carrier's operation cost is not limited to moving the vessel. Gate in/gate out containers, shuffling full containers in the ports, and getting in and out of ports, are just few costs that carriers are paying for, that are not reflected onto shippers directly. With freight demand globally getting depressed, there is not much of a need to move empty containers to other places, either.
So, if current trends continue, in the upcoming months we may see carriers stepping out of certain services partially and/or fully.
This will trigger a short/midterm availability issue and may drive rates higher than where they are today. More importantly, it will disturb the stability of the global supply chain which has been recovering post-Covid.
I am not sure if there is really a way for this to stop without removing services, though. Consider that shippers will continue to look for the most competitive pricing and carriers will go after market share as long as they have the capacity on those services. We will see what time will show in the upcoming months.