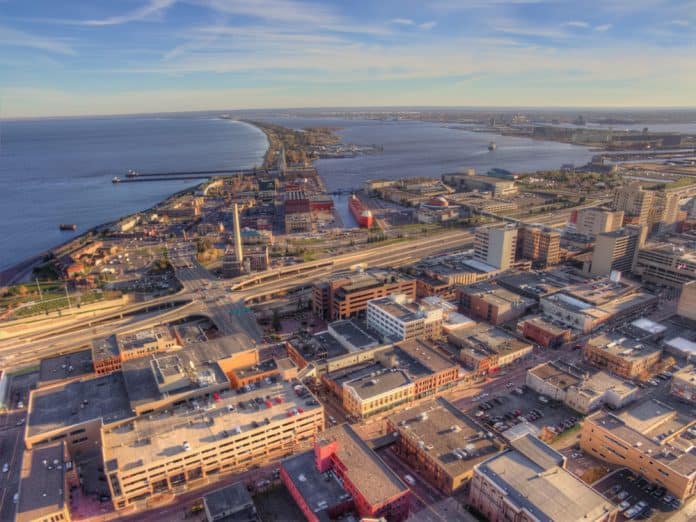 An unlikely candidate for international shipping containers to go amid the global container shortage and shipping slowdown has emerged in the U.S. Midwest region. The port complex of Duluth-Superior has upgraded one of its marine terminals to handle international shipping containers arriving via steamships.
The port complex, managed by the Duluth Seaway Port Authority, has upgraded the Clure Public Marine Terminal to have capacity for processing international steamship cargo. Previously, the terminal could not handle international cargo transported in this manner.
Executive Director of the Duluth Seaway Port Authority, Deb DeLuca, said:
"Our Clure Terminal is a full-service multimodal logistics hub for the Upper Midwest, so it's only natural that we offer the advantages of maritime container handling to complement our land-based network." She added, "We've been nurturing this potential for a while and we're excited to see it coming to fruition. Considering the significant congestion and delays occurring at some coastal ports, we provide a fluid alternative for containers to move inland and bypass those coastal bottlenecks."
The Port of Duluth-Superior made the announcement last week, amid worsening shipping delays and reports of hundreds of vessels again sitting off the California coast near the Ports of Los Angeles and Long Beach, with no end in sight, even after the federal government started to get involved. In a press release, the port said the change was able to come to fruition due to recent infrastructure investments and homeland security upgrades. The upgrades to the port's terminals reported cost nearly $40 million.
With the announcement, the Port of Duluth-Superior becomes the second U.S. port to allow international containers via the St. Lawrence Seaway, a major milestone for U.S. shipping infrastructure. Even though Duluth is an unlikely candidate for alleviating some of the container slowdown crisis, we can all hope in the shipping industry that brighter days are ahead with another port adding this critical capacity at a critical time.