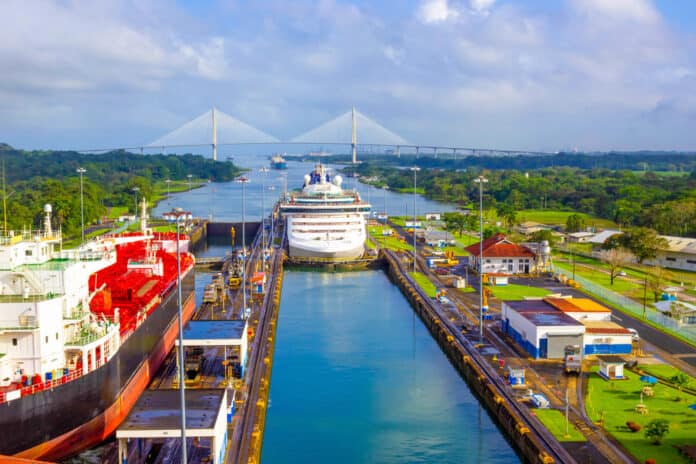 Annually, the Panama Canal facilitates about 6% of world trade.
When drought strikes the Panama Canal, it disrupts the flow of container shipping that takes place daily. The number of ships that can transit the Panama Canal each day has decreased from 38 to approximately 32 transits. The vast majority of U.S. export and import containers — roughly 70% — go through the Panama Canal.
As water levels recede, cargo vessels encounter draft restrictions, limiting their carrying capacity. This has a domino effect on the global supply chain, causing delays, smaller load sizes, and higher operational costs.
In response to the draft restrictions, carriers have introduced surcharges around $300 per container for all cargo transiting through the Panama Canal. These measures stem from weight and size limitations, causing shippers to use more containers and ships, resulting in increased costs and longer wait times.
Traditionally, the rainy season from February to April replenishes inland lake levels in Panama.
Yet, this spring saw rainfall nearly 50% below normal near the canal. This is concerning as Lake Alajuela and Lake Gatun's water is crucial for elevating vessels across the country. These locks, spanning from the Pacific to the Caribbean, are about 85 feet above sea level, and every canal-bound vessel needs roughly 50 million gallons of water.
Panama's history includes previous severe drought experiences, as seen in 2019, affecting the passage of vessels through the canal for nearly a year. To keep canal traffic flowing, the Panama Canal Authority issued over a dozen advisories and reduced vessel weight. Rainfall in both 2023 and 2019 is among the lowest in the century, leading to renewed container ship restrictions by the Canal Authority. The authority implemented water-saving measures in January, adjusting draft levels in April, and further limiting depths to 43.5 feet from July instead of 50 feet.
While June saw a slight improvement in rainfall, some stakeholders are worried that if restrictions continue, shipping companies may choose to use alternative routes.
El Niño is expected to continue its activity, which will worsen droughts as the Pacific Ocean warms. Rainfall in Panama and Central America is frequently reduced by El Niño's dry weather. As a result, it's possible that the water levels in the lakes that feed the Panama Canal will continue to be lower than usual throughout the rest of 2023 and 2024.