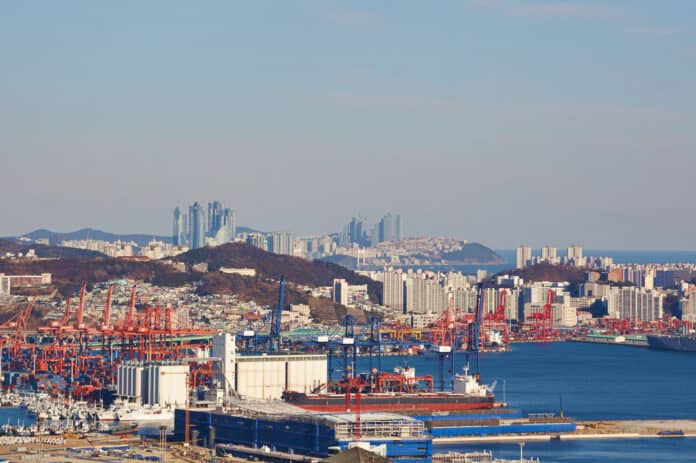 South Korea's largest shipping company, Hyundai Merchant Marine (HMM), is officially up for sale.
HMM's main creditors, the government-controlled banks Korean Development Bank and Korea Ocean Business Corporation, which collectively hold around 40% of HMM's shares, announced their advisors' approval to proceed with the sale this year. The privatization of HMM is expected to move forward after Samsung Securities, a Seoul investment bank, was appointed to find a buyer.
Four potential buyers have emerged in the bidding process for South Korea's HMM. As the initial bidding phase begins, there are media reports indicating that the government is showing a preference for a major conglomerate to acquire the shipping company, with an intention to attract more participants to the process.
The bidding process has seen initial registrations from two shipping companies, SM Group, and Harim.
SM Group has expressed its willingness to invest up to $3 billion to merge HMM with its smaller SM Line, envisioning the creation of Asia's largest carrier. Harim, the parent company of Pan Ocean, which is the largest dry bulk shipping company in the country, has officially filed its registration to participate in the bidding process. Harim had previously acquired Pan Ocean in collaboration with the JKL Consortium seven years ago, and now it appears to be partnering with JKL to bid for HMM.
Additionally, LX Holdings and Dongwon Group, two conglomerates with logistics operations, have completed their registration for the bidding process. LX Holdings, a player in the global logistics industry, anticipates consolidating maritime logistics with its current land logistics and warehouse operations through an acquisition. Dongwon Group, on the other hand, operates in logistics and runs a container terminal in Busan, that can achieve a comprehensive distribution chain by acquiring HMM.
As the process continues, prospective bidders register with Samsung Securities and are provided with the information packet. The deadline for the submission of preliminary bids for HMM is set for August 21. Subsequently, the banks intend to choose a successful bidder and commence negotiations to reach a final agreement with the company. The objective is to conclude the sale of HMM before the end of 2023.
This move could potentially reshape the landscape of the global shipping industry and establish a new powerhouse in the Asian maritime market.
The sale of the HMM stake could have an impact on the South Korean economy, as HMM is a major player in the country's export industry. It could also have an impact on the shipping industry as a whole, as HMM is one of the largest shipping companies in the world. The sale could potentially lead to consolidation in the shipping industry, as other companies may seek to acquire HMM or merge with the company. The full extent of these impacts will depend on the outcome of the sale and the actions taken by the new owners of the company.