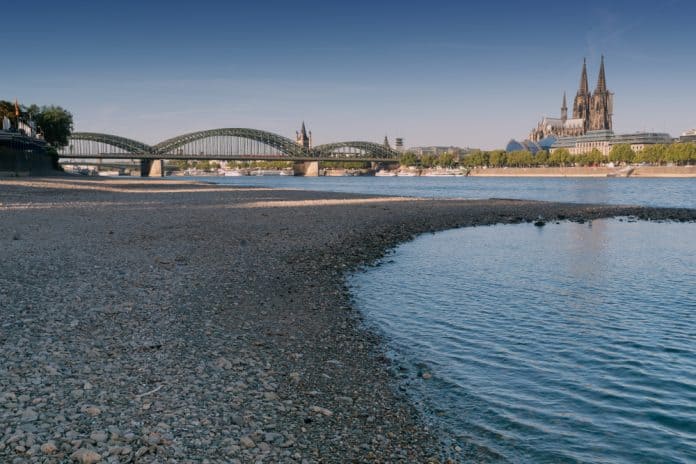 Low, and still diminishing, water levels on the Rhine River in Germany are threatening supply chains of many industries around the country. The river, which acts as a major shipping corridor for Central Europe, has only furthered problems faced by German industry in recent months.
The Problem
The region has been faced with some of the hottest temperatures on record, and a lack of rainfall has the river in tough shape. Some ships have already been unable to travel down the highly relied upon waterway with full cargo hauls – and as the water levels continue to dwindle many more freight boats face the same fate. In a recent development, many are calling for the river to be dredged.
This isn't a new phenomenon, as water levels on the Rhine typically fluctuate, but levels have reached critically low depth earlier than the waterway experienced in the past.
A Proposed Solution
In a recent statement, Transport Minister Volker Wissing called for the river to be dredged as the German shipping strategy remains focused on shifting "more traffic from road to real and waterways." It aligns with a recent study in which German researchers found rail and waterways to have the best cost-benefit ratio of long-term travel plans.
"We need to eliminate bottlenecks on the Rhine at certain points. We need the waterway," Wissing said. However, the "giant project" would take a long time, with a true resolution to the problem not coming until the early 2030s. Wissing went on to say the project would cost around €180 million, with around 40% of the quoted price going to conservation and ecological concerns.
The deepening of the Rhine, while a massive undertaking, would allow for boats to carry up to 200 more tons of cargo than can currently be transported. "That's equivalent to 10 to 15 loaded trucks," Wissing said of the expansion.
The Rhine is deeply tied to many industries in Germany, as economist Nils Jannsen of the Keil Institute for the World Economy noted. "In 2018, when navigation on the Rhine was last hampered by low water for an extended period, industrial production decreased by about 1.5% at its peak," Jannsen said. "It could be an additional burden that shipping is a relatively important means of transporting energy commodities."
With current boats only loading 25-35% of their capacity, the issues faced by the German economy may only be getting worse if the Rhine is any indication.