At MTS Logistics, we have been investing in state-of-the-art technology for many years now. Now, we are announcing our redesigned software which incorporates full PO Management capabilities, too.
We have developed our mobile app, My MTS, from scratch, and launched the MTS Supply Chain and PO Management Suite. My MTS gives clients full visibility of their shipments with multiple milestone events and live vessel tracking from the point that it was picked up from their suppliers until it is delivered to their door. Our proprietary tracking allows clients to see ingate date, sailing date, ISF filing status, port arrival, discharge, customs release status, pick up status, delivery status, and more, including the empty return dates. These just some of the most basic functions that My MTS fulfills along with many other functionalities. It is an interactive and live system.
However, in today's real-time information age, one of the most common obstacles for many importers is the lack of visibility between the time that orders are placed with their suppliers and when they are containerized. After that, the traditional tracking kicks in and tracking history starts.
This is how a traditional forwarding service works:
Get the supplier details from importer
Contact the shipper for booking
Communicate with the importer for booking
Send importer arrival notification before the vessel arrives
And, if importers are lucky, they receive an arrival notification from direct carriers as they see this as courtesy notice. Most of the time, they are not so lucky. A lot can happen between the time that the order is placed and when it is shipped.
In order to address this and give our customers a full control of their supply chain, we have launched the MTS Supply Chain and PO Management Suite, incorporating full PO Management visibility.
With our new solution, we are basically giving the full control of the supply chain to importers along with visibility from the moment the purchase orders are placed with their suppliers.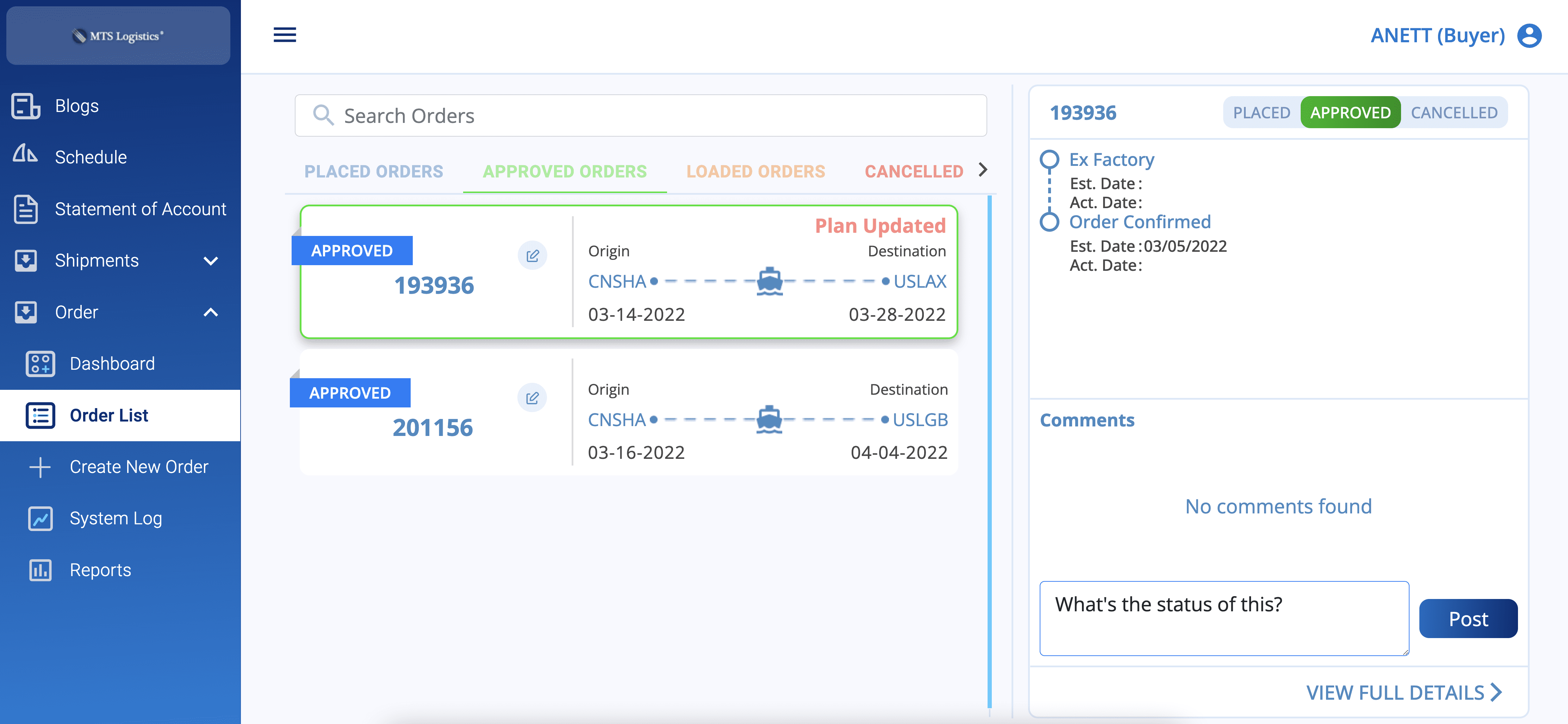 Here's how our process works:
MTS receives the order list from importers either through EDI or direct file upload to our PO Management software.
Then, MTS contacts the factories on behalf of the importers globally.
MTS obtains the status of that order, suggest a shipping date.

MTS provides multiple carrier and service options from premium carriers to regular carriers.

Upon approval, MTS ships the orders, and all this can be followed through the platform, giving our customers full visibility.
If, for any reason, the initial vessel is missed or delayed, new sailing information is provided proactively with more options.
With this new platform, we are also able to manage the customer's direct contracts with the carriers and act as a booking agent on behalf of them.
One of the main lessons learned from the Covid pandemic is that you must build relationships with your carriers, they are not transactional, and you must have options. With this idea, if any of our customers have direct contracts with carriers, we are able to manage their contract by booking directly with carriers, and in the event of having no space availability with direct contract rates, MTS provides options with its own multiple contracts.
Here are more benefits of our new PO Management software:
At the end of the day, importers will gain from this great development as there is full transparency, open communication, and visibility.
All stakeholders are under one platform working for the same order. With full reporting capabilities and a dashboard, we provide more information for those that want to drill down into the data.
MTS will be second set of eyes for the shipment, communicating with the suppliers and breaking the potential miscommunication so you can get your orders with no surprises.
MTS connects the dots from the beginning until the cargo is delivered; this has always been a big task to take on and with this new platform, we are able to do just that.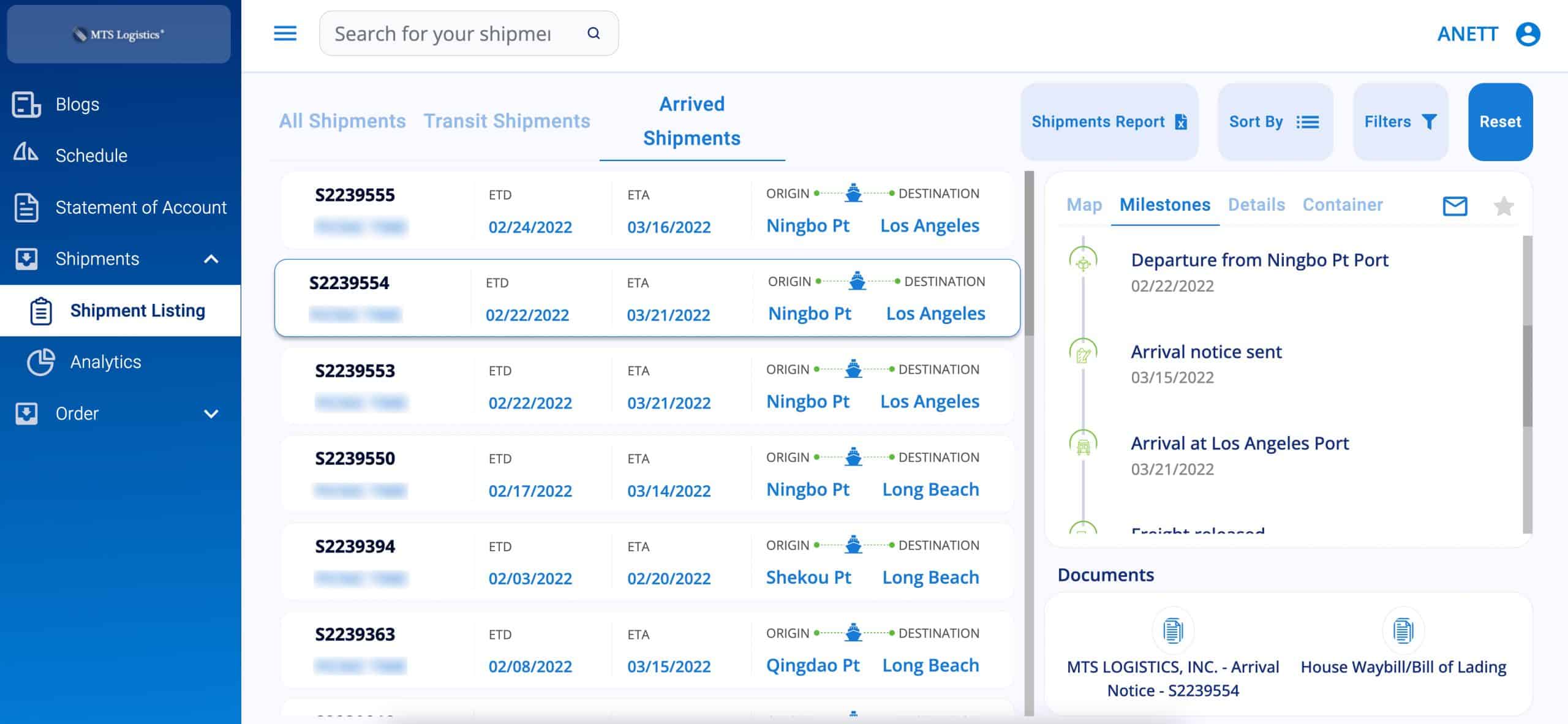 What else should you know about our new PO Management software?
When we manage our customers contracts with other carriers there will be a service charge. However, when we are acting as a NVO, this service is provided at no charge to all our customers.
Our proactive, excellent operations team will be there to support all software operations, and all this will be just additional to our existing capabilities.
The future is digital and MTS Logistics is ready.
Technology is not here to disrupt this very traditional industry, but to improve its processes. Resisting the change will only result in being obsolete and very fast.
These changes are not only good for importers but also for all stakeholders. Tracking your orders should be as easy as tracking your FedEx package and the logistics industry is moving towards that thanks to the incredibly increased interest from VC firms and the extra money coming into the market to improve and streamline processes.
Finding the right balance between the technology and live support is the key for success and with the MTS Supply Chain and PO Management Suite, we are accomplishing that.
To register or login to this new software, click here. Registration is FREE.